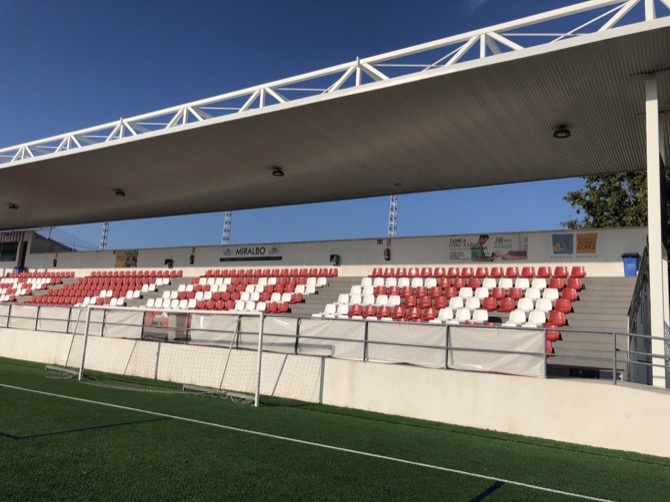 ---
Pre-Season Matches
Click on result for match report (if available)
05/08/2022 – CD JÁVEA 1-0 CD Dénia Juvenil (Caturla)
12/08/2022 – CD JÁVEA 4-2 CE Pedreguer (Javi 3, Juli)
19/08/2022 – CD JÁVEA 1-0 CF La Nucia 'B' (Toni León)
23/08/2022 – CF Crevillente 2-2 CD JÁVEA (Javi 2)
26/08/2022 – CD JÁVEA 0-2 Gorgos CF
Season 2022-2023 ~ Regional Preferente Grupo 3
Click on result for match report (if available)
Opening Round
01 – Sat 04/09/2022, 6.00pm | CD Jávea 1-0 SD Sueca
02 – Sat 10/09/2022, 6.00pm | UD Canals 3-1 CD Jávea
03 – Sun 18/09/2022, 6.00pm | CD Jávea 0-0 CF UD Calpe
04 – Sun 25/09/2022, 6.00pm | CD Dénia 1-1 CD Jávea
05 – Sun 02/10/2022, 5.30pm | L'Olleria CF 2-0 CD Jávea
06 – Sun 09/10/2022, 5.30pm | CD Jávea 1-3 UD Benigànim
07 – Sat 15/10/2022, 6.30pm | UD Carcaixent 0-1 CD Jávea
08 – Sun 23/10/2022, 11.45am | CD Jávea 0-1 UD Castellonense
09 – Sat 29/10/2022, 6.00pm | CD SB Ontinyent 5-0 CD Jávea
10 – Sun 06/11/2022, 11.45am | CD Jávea 1-1 CF Promesas Sueca
11 – Sat 12/11/2022, 5.00pm | CE Alberic Sucemart 1-2 CD Jávea
12 – Sun 20/11/2022, 11.45am | CD Jávea 1-1 Muro CF
13 – Sun 27/11/2022, 5.00pm | CD Olímpic 1-0 CD Jávea
14 – Sun 04/12/2022, 11.45am | CD Jávea 1-2 CE La Font d'En Carròs
15 – Sat 10/12/2022, 7.30pm | CF Cullera 2-1 CD Jávea
16 – Sat 17/12/2022, 5.30pm | CD Jávea 0-3 CF UE Tavernes
17 – Sun 08/01/2023, 5.00pm | Ontinyent 1931 CF 2-0 CD Jávea
Closing Round
18 – Sun 15/01/2023, 11.45am | SD Sueca 0-1 CD Jávea
19 – Sun 22/01/2023, 4.30pm | CD Jávea 2-0 UD Canals
20 – Sat 28/01/2023, 5.00pm | CF UD Calpe 2-2 CD Jávea (played at UD Benissa)
21 – Sun 05/02/2023, 4.30pm | CD Jávea 1-3 CD Dénia
22 – Sat 11/02/2023, 5.00pm | CD Jávea 1-1 L'Ollería CF
23 – Sat 18/02/2023, 4.30pm | UD Benigànim 1-4 CD Jávea
24 – Sun 26/02/2023, 4.30pm | CD Jávea 1-0 UD Carcaixent
25 – Sun 05/03/2023, 11.45am | UD Castellonense 3-1 CD Jávea
26 – Sun 12/03/2023, 11.45am | CD Jávea 2-1 CD SB Ontinyent
27 – Sat 25/03/2023, 5.00pm | CF Promesas Sueca 1-1 CD Jávea
28 – Sun 02/04/2023, 5.30pm | CD Jávea 3-0 CE Alberic Sucemart
29 – Sat 15/04/2023, 5.15pm | Muro CF 0-2 CD Jávea
30 – Sun 23/04/2023, 6.00pm | CD Jávea 2-1 CD Olímpic
31 – Sat 29/04/2023, 6.00pm | CE La Font d'En Carròs 0-3 CD Jávea
32 – Sun 07/05/2023, 6.00pm | CD Jávea 9-1 CF Cullera
33 – Sat 13/05/2023, 6.00pm | CF UE Tavernes 2-2 CD Jávea
34 – Sun 21/05/2023, 6.00pm | CD Jávea 2-1 Ontinyent 1931 CF
---
Group III League Table 2022/23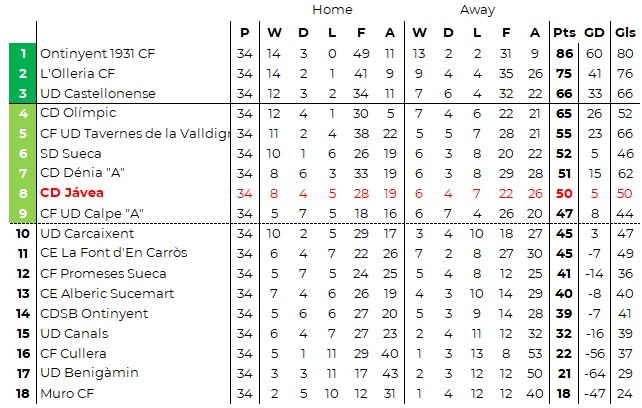 Promotion Play-Offs 2022/23
Semi-Finals
First Leg
03/06/2023 SF4 – Recambios Colón 3-0 Ontinyent 1931 CF
03/06/2023 SF5 – CD L'Alcora 1-1 Callosa Deportivo
03/06/2023 SF6 – UD Castellonense 1-1 CD Soneja
04/06/2023 SF1 – Crevillente Deportivo 0-2 CD Utiel
04/06/2023 SF2 – CD Buñol 1-0 CF La Nucía 'B'
04/06/2023 SF3 – L'Olleria CF 0-0 CD Burriana
Second Leg
10/06/2023 SF6 – CD Soneja 1-1 UD Castellonense (2-3 on penalties)
10/06/2023 SF2 – CF La Nucía 'B' 3-0 CD Buñol
11/06/2023 SF1 – CD Utiel 0-1 Crevillente Deportivo
11/06/2023 SF3 – CD Burriana 4-1 L'Olleria CF
11/06/2023 SF4 – Ontinyent 1931 CF 2-1 Recambios Colón
11/06/2023 SF5 – Callosa Deportivo 0-0 CD L'Alcora
Finals
First Leg
17/06/2023, 18:30 – CF Recambios Colón 1-3 CD Burriana
17/06/2023, 19:00 – UD Castellonense 2-0 Callosa Deportivo
18/06/2023, 19:30 – CF La Nucia 'B' 0-1 CD Utiel
Second Leg
25/06/2023, 18:30 – CD Burriana 1-0 CF Recambios Colón
25/06/2023, 19:00 – Callosa Deportivo 0-1 UD Castellonense
25/06/2023, 20:00 – CD Utiel 3-1 CF La Nucia 'B'
Promoted to the Tercera Federación – Grupo VI
CD Burriana
CD Utiel
UD Castellonense

Also promoted: Ontinyent 1931 CF and CD Soneja as the best classified teams in the Lliga Preferente due to two additional vacancies left by the promotion of Orihuela CF and Torrent CF to the Segunda Federación and no relegations in the other direction to Group VI of the Tercera Federación.
Lliga Comunitat 2023/24 – Qualifiers
Grupo Norte
CD L'Alcora
UD Vall d'Uxó
CD Onda
Alboraya UD
Alquerías CF
CD Almazora
CF Nou Jové Castelló
CD Buñol
CF Recambios Colón Catarroja
Paiporta CF
Manises CF
Ribarroja CF
SC Requena
UE L'Alcúdia
UD Aldaia CF
SD Sueca
Grupo Sur
L'Ollería CF
CD Olímpic de Xàtiva
UE Tavernes de la Valldigna
CD Dénia
CD Jávea
CF UD Calpe
CD Callosa Deportiva
CF La Nucia 'B'
Crevillente Deportivo
CD Eldense 'B'
Racing CF Benidorm
CF Independiente Alicante
FB Redován CF
Santa Pola CF
CD Thader
Hércules CF SAD 'B'
---
CD Javea Squad Statistics 2022/23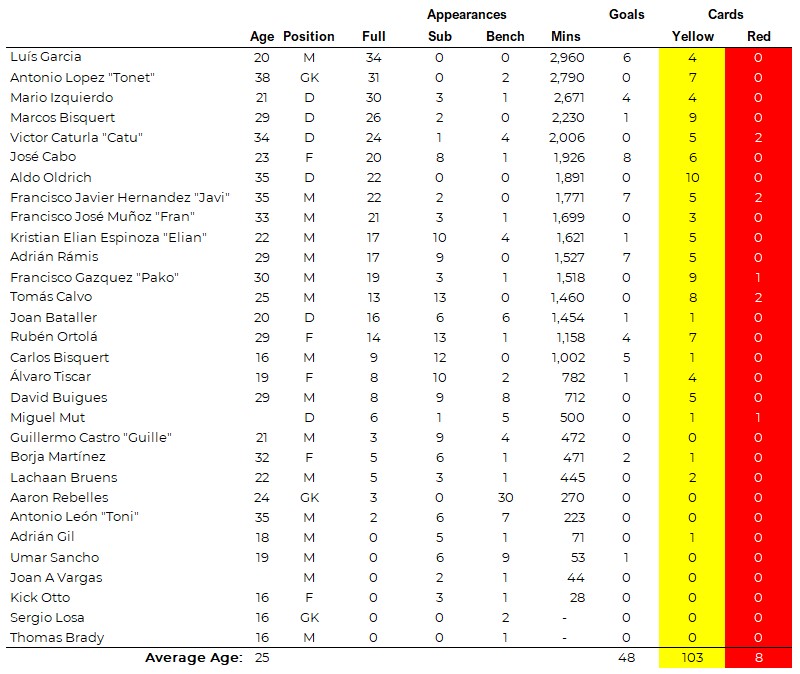 ---
Season 2022-2023 ~ La Nostra Copa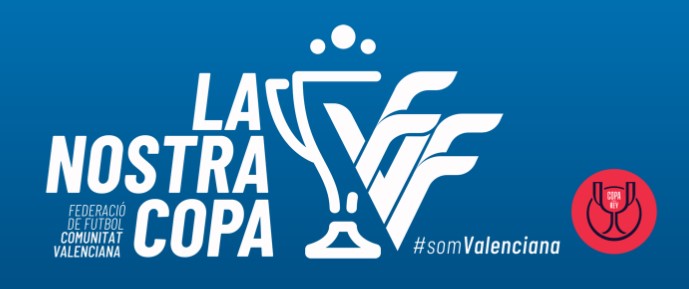 ---
THIRD ROUND
Wed 2 Nov, 8.30pm – CE Pedreguer 1-2 CD Jávea
After an allegation from CE Pedreguer that CD Jávea fielded an ineligible player during their victory, the FFCV Competition Committee kicked Jávea out of the cup and handed victory to Pedreguer.
Final
Saturday 27th May 2023
CD Soneja 1-0 CD Buñol
Polideportivo Municipal de la Eliana
L'Eliana (Valencia)

Due to the promotion of CD Soneja to the Tercera Federación, CD Buñol will be the Valencian territorial representative in the preliminary round of the 2023/23 Copa del Rey.

---