Match Report: CE Alberic Sucemart 1-2 CD Jávea
The equalizing goal was scored by Carlos Bisquert in his debut for CD Jávea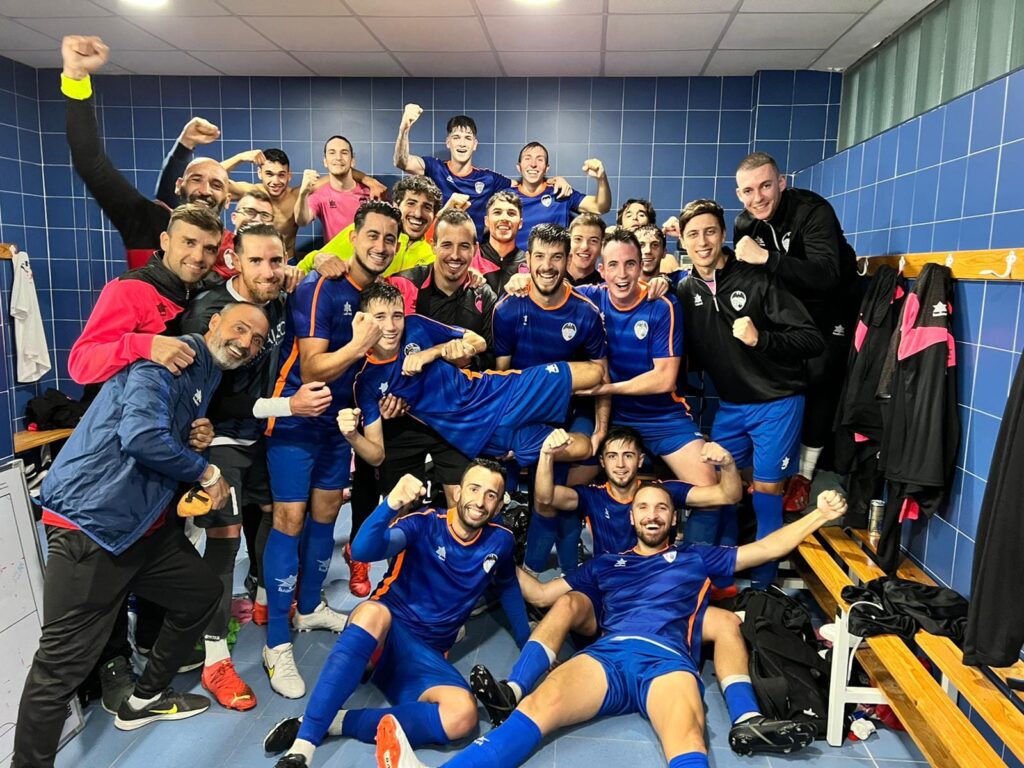 Sunday 13th November 2022 – Mike Smith
Source: XAD Match Reporter
This was a sensational victory for CD Jávea at CE Alberic, a game well played by Juan Carlos's men who claimed the three points in added time, defeating the hosts 2-1 thanks to goals from Carlos Bisquert, making his first team debut for the club, and a last minute winner from Rubéb Ortolá.
CD Jávea devised a serious game with dominance throughout. In the first minutes, they thought that they had gone ahead through Javi Hernandez but the effort was ruled out by the referee: The disappointment saw the team continue to control the game but a rare defensive mistake allowed a shot by Aarón to elude Jávea goalkeeper Tonet and put the home side in the lead after 36 minutes. And then, just before half-time, the home side was reduced to ten men when Sergio Bisbal was shown a second yellow. There was hope for the second period.
In the second half, Jávea ran out in search of a equaliser which eventually arrived on 69 minutes through youth player Carlos Bisquert, who was making his debut with the first team at the age of 16. Alberic dug in and launched several attacks against Tonet's goal but Jávea kept pushing in search of victory and had a couple of occasions until Rubén Ortolá's scored the winner in the 90th minute.
---
CE Alberic Sucemart. Sanchis (Escandell, 46m), Ramirez, Bosca, Tribak, Signes (Gonzalez, 62m), Terol (Navarro, 46m), Campos (Monto, 86m), Bisbal, Albert (Casanova, 73m), Martínez J, Cardos.
Subs not used: Soriano, Martínez D.
CD Jávea. Tonet, Izquerdo, Marcos, Luis García, Ramis, Tomás (Bataller, 57m), Lachaan, Álvaro (Ortolá, 74m), Javi, Fran (Carlos, 57m), Borja.
Subs not used: Aaron (GK), Caturla, Mut, Willy.
Referee: Gabriel Mateu Rosello.
Assistant Referees: Javier Gomez Guzman & Jorge Juan Fuster.
Yellow Cards:
3m – Albert (CE Alberic Sucemart)
32m – Bisbal (CE Alberic Sucemart)
74m – Navarro (CE Alberic Sucemart)
77m – Ramis (CD Jávea)
87m – Martinéz J (CE Alberic Sucemart)
89m – Escandell (CE Alberic Sucemert)
90m – Álvaro (CD Jávea)
Red Card:
44m – Bisbal (CE Alberic Sucemart) second yellow
79m – Soriano (CE Alberic Sucemart) straight red
---
Season 2022-23 Fixtures, Results and Statistics
---

---