MATCH REPORT | Ontinyent 1931 CF 2-0 CD Jávea
The league leaders chalked up their 15th win in 17 games but CD Jávea, under new head coach Julio Ivorra, deserved more.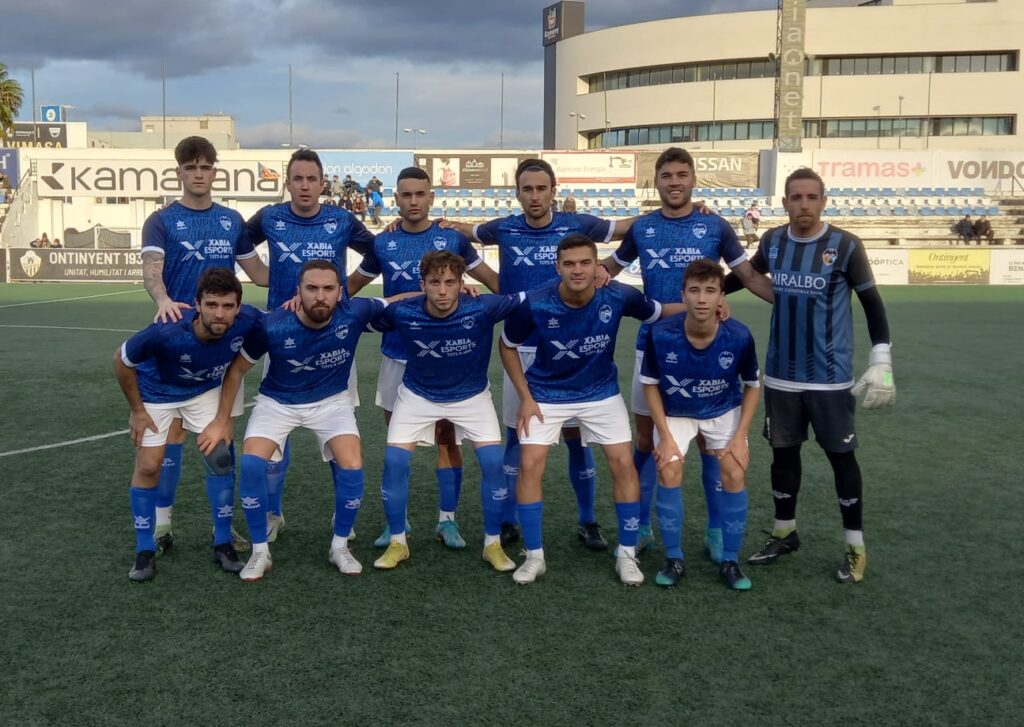 Monday 9th January 2023
Mike Smith
---
It was a baptism of fire for new coach Julio Ivorra as a seriously depleted CD Jávea travelled inland to Ontinyent to take on runaway league leaders Ontinyent 1931 CF. The rojiblancos couldn't count on the experience of Javi Hernandez (suspension), Fran, Paco, Borja, Tomás and Toni (injured) nor the enthusiasm of youngster Willy (ill) and Ivorra was forced to name four youth players for this difficult game, Carlos Bisquert, Álvaro Tiscar, Adrián and Kirck.
Yet, Jávea travelled to Ontinyent with the optimism of a new head coach at the helm, however much misplaced that optimism might have been, on paper at least. The opposition had dropped just four points all season, racking up 14 victories in 16 games, and were favourites to claim their fifteenth and conclude a stunning opening half of the season.
On 17 minutes, they took the lead through Diego Cambra who pushed the ball with confidence past Tonet. A few minutes later, the Jávea keeper had to be on hand to come out best in a one-on-one situation with Pablo Bonet, pushing the ball wide for a corner. Yet, for all the dominance of the hosts, there were confident moments for Jávea and defender Victor Caturla might have scored an unlikely equaliser, but his effort was cleared by Bonet with the keeper beaten. And it might have been all-square at the break had Marcos Bisquert done better with a free-kick, his powerful effort well-saved by the home custodian.
The second half began with continued pressure from Jávea but without reward. And it would be the home side who could score next in a counter-attack that saw top scorer Casti convert a cross from Paco Saéz, sliding the ball just inside the far post to double the advantage. Disappointed but not yet defeated, Jávea continued their push forward to find even just a consolation, soaking up several counter-attacks from the home side, but it was in vain. The game ended 2-0 but, in all accounts, CD Jávea deserved more.
ONTINYENT 1931 CF
Cristian, Rafeta, Chimo Reig (Jorge Soriano, 87m) Pablo Bonet (Andreu Serrano, 81m), Pau Sanchís, Alberto Osoro, Lluis Felipe, Diego Cambra (Alexandru, 63m), Nico Cabanes (Jorge García, 81m), Casti, Juanjo Calvo (Paco Sáez, 63m).
CD JÁVEA
Tonet, Joan, Caturla, Mario, Aldo, Elián (Ramis, 62m), Marcos, Luis García (Adrián, 85m), Carlos (Álvaro, 68m), Cabo, Rubén Ortolá (Kirck, 85m).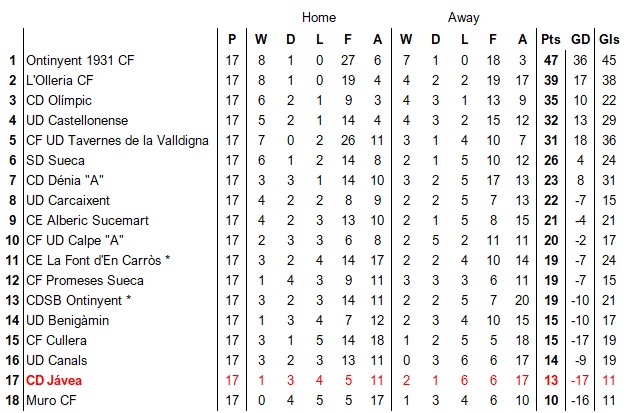 ---
---