Match Report: CD Jávea 1-0 CF La Nucia 'B'
CD Jávea beats La Nucía B with a goal from Toni León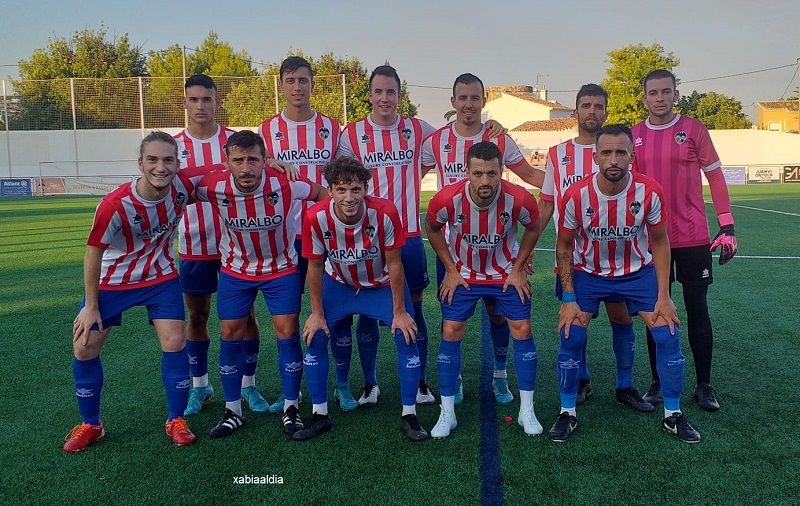 Monday 9th May 2022 – Mike Smith
Source: XAD
Friday evening provided the first real test for Juan Carlos Signes's team as they faced CF La Nucía 'B', a powerful reserve side which finished second in Group IV of the Liga Preferente last season but missed out on promotion to the Third Division after defeat to UD Rayo Ibense in the play-off final.
And thus, they proved to be the most complicated rival so far in the pre-season campaign but CD Jávea stood up to them in an entertaining game, dominating the first half, although there were few scoring chances from either side until an error by the visiting goalkeeper Fernando after just 16 minutes allowed Toni León to pick up the loose clearance and lob the custodian from distance to put Jávea into the lead at half-time.
The second half changed the script a little with the visiting side dominating but the solid Jávea defensive line meant that they could not endanger Tonet's goal in danger. At the other end, Jávea created several chances but were unable to convert them into goals. In response, CF La Nucia intensified their dominance but that solid defence held firm. And then Cabo had a chance to double the advantage, striding forward before being fouled on the edge of the area; the referee gave advantage but the chance was blocked by a defender. Jávea called for a penalty but the foul was at least just outside the area.
Being a pre-season game, both Signes and his counterpart Guille Fernández made numerous changes during the second-half; the Javea head coach was unable to call on Juli, Ramis, Alex and Marcos due to injury.
CD Jávea. Aarón, Joan, Miquel, Paco, Aldo, Fran, Wili, Rubén, Javi, Luís García, Toni León.
In the second half, Tonet, Álvaro, Cabo, Isaac, Caturla, Lahm, Unar, Nick and David took part.
CF La Nucia 'B'. Fernando, Rubén, Mario, Daniel, Enrique, Rodrigo, Pablo, Javier, Iván, Agustín, Jaume.
Also played: Juan de Dios, Alejandro, Kiko, Hugo, Marcos, Borja, Monerris, Miguel Ángel, Miralles, Sergio.
Referee: Juan Ramón Navarro.
Assistant Referees: Miguel Esteve & Víctor Lorente.
Yellow Cards:
n/a
Red Card:
n/a
---
Season 2022-23 Fixtures, Results and Statistics
---

---