Match Report: L'Olleria CF 2-0 CD Jávea
CD Jávea had an early 'goal' ruled out for offside and struggled to contain a side firmly positioned amongst the early pacesetters.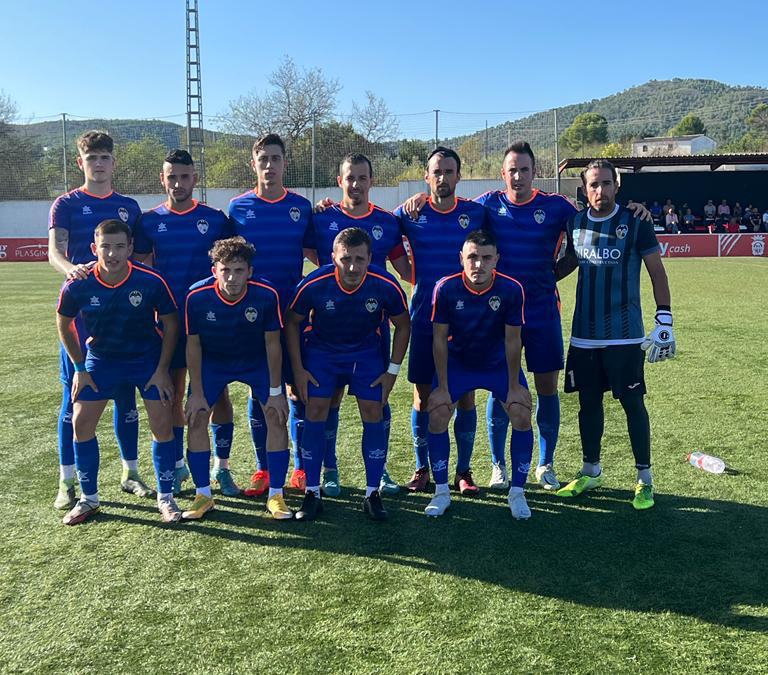 Monday 3rd October 2022 – Mike Smith
Source: XAD
Jávea had a complicated game at the Solana sports centre in L'Olleria, the numerous casualties of head coach Juan Carlos's team complicated matters, with Javi, Marcos, Aldo, Toni all unavailable whilst Ramis limped bravely off the bench in the second half. The positive part was the incorporation of two young people who had already been training with the team such as Umar Sancho and Vargas, although they did not have their chance to play.
Despite the circumstances the team matched the home side in the first half in a fairly even game and Jávea thought that they had gone ahead with a goal from Rubén Ortolá but it was ruled out by the referee for offside. More bad luck was fed to Jávea who conceded 1-0 in the 44th minute, just before half-time.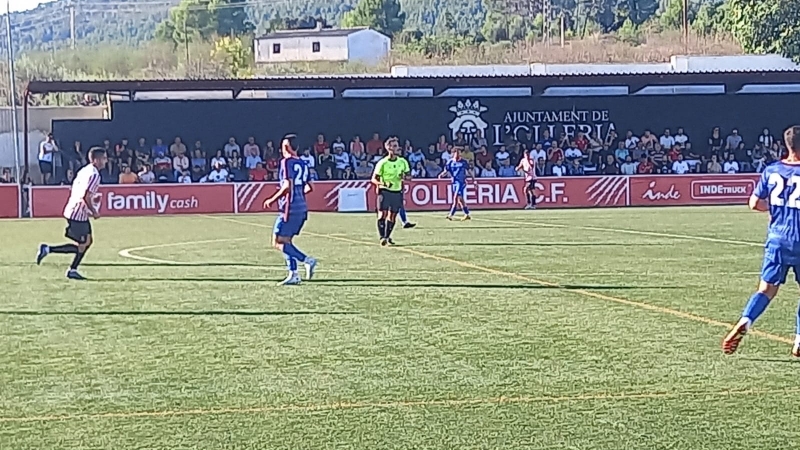 For the scond half, head coach Juan Carlos removed two defenders, Joan and Caturla, and threw on an attacking duo of Willy and Cabo, the latter having a good opportunity almost immediately but his effort went over the crossbar. The second local goal soon came, which made the match more difficult, the home side restricting Jávea to a couple of opportunities from Luís García and Ramis that did not come to fruition.
L'Ollería CF is a very well organised team that knows how to take advantage of their chances and La Solana is going to be a difficult ground to gather points this season.
L'Olleria CF. Rubén, Borja Borredá (Ricardo Gil, 67m), Raúl, Nico Albiñana, Lucho, Emilio Gil, Gatu, (Alex Tormo, 83m), Marc Escrivá (Yeray Pastor, 67m), Nico Cháfer, Gonza (Eric, 77m), Víctor (Carlos Albuixech, 77m).
Subs not used: De Sanfelix (GK), Diaz.
CD Jávea. Tonet, Caturla (Cabo, 46m) Miquel, Joan (Willy, 46m) David, Mario, Paco, Fran, Luís, Rubén (Ramis, 71m), Tomás (Álvaro 87m).
Subs not used: Aaron (GK), Lachaan, Umar.
Referee: Alberto Lopez Toral.
Assistant Referees: Javier Bernabeu Campello and Juan Belmonte Javier.
Yellow Cards:
28m – Gatu (L'Olleria CF)
43m – Borja Borredo (L'Olleria CF)
66m – Tomás (CD Jávea)
67m – Mario (CD Jávea)
82m – Tonet (CD Jávea)
86m – Luis (CD Jávea)
Red Card:
None.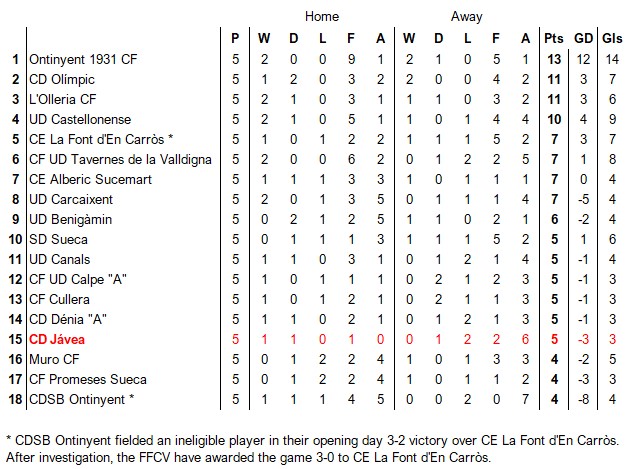 ---
Season 2022-23 Fixtures, Results and Statistics
---

---