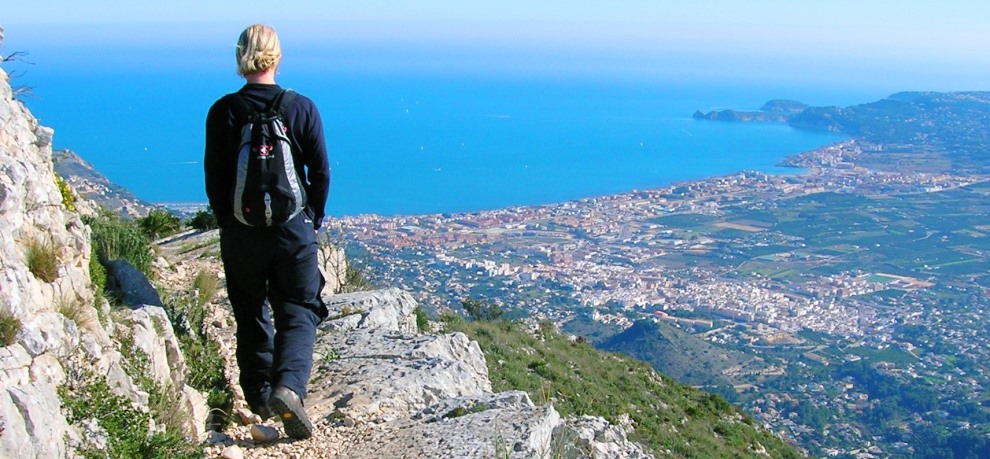 Jávea offers so much more than sea, sun and sangria. From the huge hulking mass of Montgó which extends its protective arm into the sea to the wide open natural spaces of Granadella to the south, the municipality offers plenty of scope for walkers of all ages and all abilities. Five official routes exist, almost 45km of trails opening up the beauty of both the countryside and the coastline and perfect for a brief afternoon saunter along the sea-cliffs or an energetic day-long push to mountain summits. There are gentle strolls winding through the orange groves of the plain or cultural wanders through the narrow streets of the historic centre. There are more energetic wanders to the castle of Granadella or to the iconic windmills of La Plana as well as the amazing carved carverns of Cova Tallada. And there are challenging scrambles to the great open cavity popularly known as the "Eye of Montgó" and, of course, to the very summit of Montgó, standing over 750m above sea level and dominating the town to the north.
There also is plenty to offer within a short drive from the coast, including Aitana, the highest mountain in the region rising to 1,559m, and the enigmatic Barranco del Infierno, a popular hiking destination which is also known as 'La Catedral del Senderismo' – the 'Hiking Cathedral' – can be explored on the testing PR CV-147, a 15km route that boasts some 6,000 steps carved by the Moorish population that once lived in the area.
So put on those boots, pull on the rucsac, fill the water bottle and get out WALKING IN JAVEA.
---
---
"Climb if you will, but remember that courage and strength are nought without prudence, and that a momentary negligence may destroy the happiness of a lifetime. Do nothing in haste; look well to each step; and from the beginning think what may be the end."

EDWARD WHYMPER (1840-1911)
Mountaineer / Explorer / Author
---