Match Report: CD Jávea 0-1 UD Castellonense
A depleted Jávea side falls to defeat at the hands of UD Castellonense.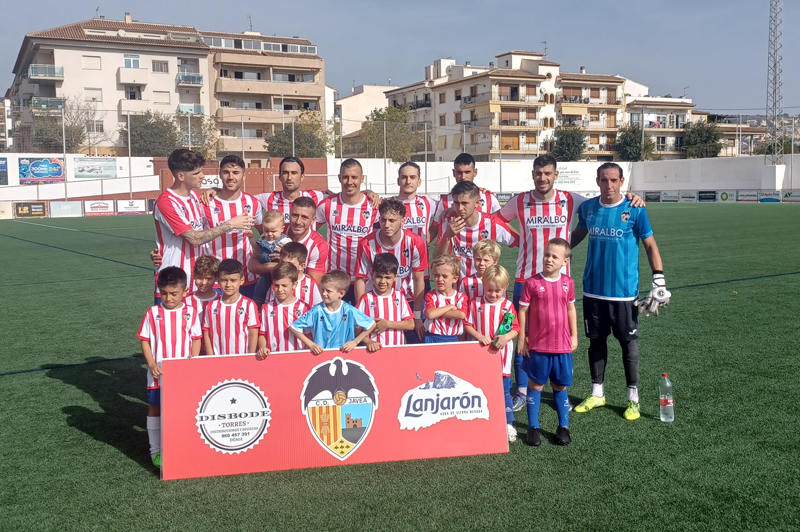 Monday 24th October 2022 – Mike Smith
Source: Match Reporter XAD
The first morning home game of the season did not go as expected for CD Jávea, a team that continues to suffer with an extended casualty list made even worse by an injury picked up by Tomás Calvo during the warm-up which forced head coach Juan Carlos to re-shuffle his side and introduce Willy to the starting line-up and bring in Vargas on the substitutes bench.
Inevitably, the match began with the visitors in control in the first minutes before CD Jávea started to dominate and Cabo twice brought danger to the Castellonense goal. The first opportunity saw the young striker break free of two players but his cross into the centre couldn't find a finisher. The second saw the goalkeeper do well to tip the ball out for a corner – which came to nothing.
Castellonense continued to deepen on the right side and Tonet makes a good save from a shot by Gil and the visiting team pressed hard against the home goal. In a good play at the edge of the area, a shot from former Jávea player Mas forced Tonet into a great save, pushing the ball out for a corner after it hit the crossbar.
The key play for Jávea cam when Willy stole a ball in deep in his own side and charged forward but his shot hit the post with the keeper beaten. The visitor's launched an immediate counter-attack, won a debatable free-kick and scored what would turn out to be the only goal of the game reaches the only goal of the game through Albert who hit the ball low and into the bottom corner of the net.
The second half began with the experienced Marcos coming on for Willy and, until Caturla's expulsion for a second yellow, both teams cancelled each other out as they sought to score defining goals. Jávea had its chance in the final minutes through a centre from Paco that Mario finished off with a header but straight into the hands of the keeper. CD Jávea tried hard to find the equaliser but the final whistle arrived too soon. However, their fight and dedication on a quite warm morning warm was appreciated by the supporters.
CD Jávea. Tonet, Joan (Buigues, 83m), Mario, Caturla, Luis García, Ramis, Paco, Cabo (Mut, 60m), Willy (Marcos, 46m), Álvaro (Vargas, 55m), Fran.
Subs not used: Aaron (GK), Sancho, Toni.
UD Castellonense. Ferrer, Gil, Alberto Sanchis (Hervas, 68m), Prats (Vaquero, 85m), Mas, Martínez, García, Florez (Castells, 85m), Villanueva (Perez, 75m), Joan Sanchis, Albert.
Subs not used: Doaz (GK), Penalva, Spiranelli.
Referee: Juan José Donate Robles.
Assistant Referees: Raul Ferrandez Tovar and Mario García Coves
Yellow Cards:
19m – Gil (UD Castellonense)
36m – Caturla (CD Jávea)
39m – Martínez (UD Castellonense)
58m – Caturla (CD Jávea)
74m – Ramis (CD Jávea)
89m – Paco (CD Jávea)
89m – Vaquero (UD Castellonense)
Red Card:
58m – Caturla (CD Jávea) · double caution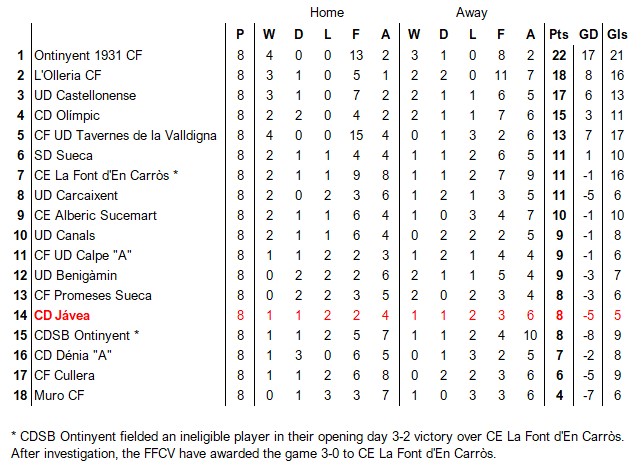 ---
Season 2022-23 Fixtures, Results and Statistics
---

---