Match Report: CD Jávea 1-0 SD Sueca
An early goal from Rubén Ortolá secured all three points in the opening game of the season.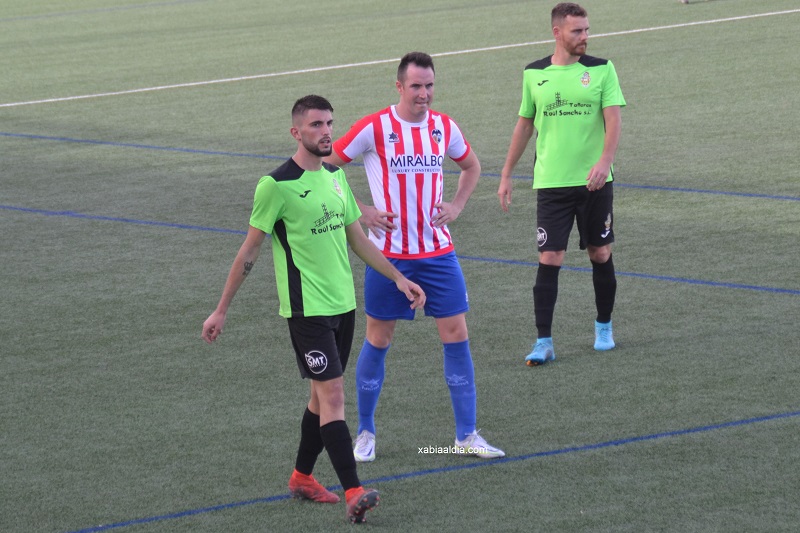 Monday 5th September 2022 – Mike Smith
Source: XAD
It was a hard-fought victory for CD Jávea against a difficult Sueca side which pushed the home side until the very last minute. Directed by head coach Juan Carlos Signes, returning to the club to take the helm during the summer, the home side showed great spirit and dedication with some great football being played, especially from the experienced due to Javi Hernandez and Paco Gazquez. The effort paid off with a 1-0 victory on the opening day of the season.
The game started in the best possible way for CD Jávea, whose team was a mix of experience and youth. On six minutes, a characteristic long throw from captain Aldo Michan resulted in the opening goal of the season being scored by Rubén Ortolá who, despite being overwhelmed by his marker, managed to poke the ball home with an angled effort which nestled in the net at the far post.
SD Sueca gathered their efforts and on the 14th minute they thought that they had won a penalty but, after consulting his assistant, the referee changed his mind since the attack had developed into an offside position. That didn't deter the visitors and they had several clear chances to equalise, the closest being a shot from Jesús López which was well blocked by Joan. At the other end, Luís García almost doubled the advantage for Jávea but smashed his shot into the side netting.
The second-half was noticeably slower in the opening minutes as both teams sought to take control of the midfield and attacks on goal were few. On 75 minutes, Sueca had an opportunity to find that equaliser but the final pass to the charging forward line was too long. Jávea coach Juan Carlos decided to change things up a bit; both Javi and Paco had given their all so it was time for Willy Castro, Lachaan Bruens and Tomás Calvo to take over the centre of the park.
As the game ticked away to a conclusion, SD Sueca pushed harder for the elusive equaliser but the Jávea defence stood firm with both young central defender Miguel Mut and Mario Izquierdo making great debuts for the club.
CD Jávea. Tonet, Joan, Miquel, Mario, Aldo; Luís García, Marcos (Willy, 70) Fran, Paco (Lacchan, 80); Javi (Tomás, 80) y Rubén Ortolá (Cabo, 27).
Subs not used: Aaron (GK), Caturla, Toni.
SD Sueca. Lopo, Jordi Melo (Esteban, 62), Pablo, Migue, Juanvi (Fos, 84), Juanjo, Gómez (Ángel, 62), Jesús, Salom (Carrasco, 79), Tudela (Toni, 79), Bernat.
Subs not used: Exposito (GK), Ortega.
Referee: Juan Ramón Navarro Martínez
Assistant Referees: Cristian Gallardo Minguez and José Martínez Vilches.
Yellow Cards:
31m – Pablo (SD Sueca)
34m – Lúis García (CD Javea)
53m – Marcos (CD Jávea)
82m – Aldo (CD Jávea)
89m – Cabo (CD Jávea)
89m – Tonet (CD Jávea)
Red Card:
None.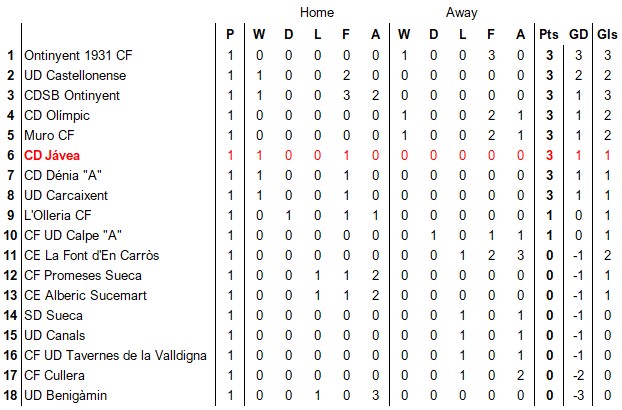 ---
Season 2022-23 Fixtures, Results and Statistics
---

---