Match Report: CD Olímpic 1-0 CD Jávea
Another player is added to the growing casualty list as the rojiblancos fall to defeat in Xativa.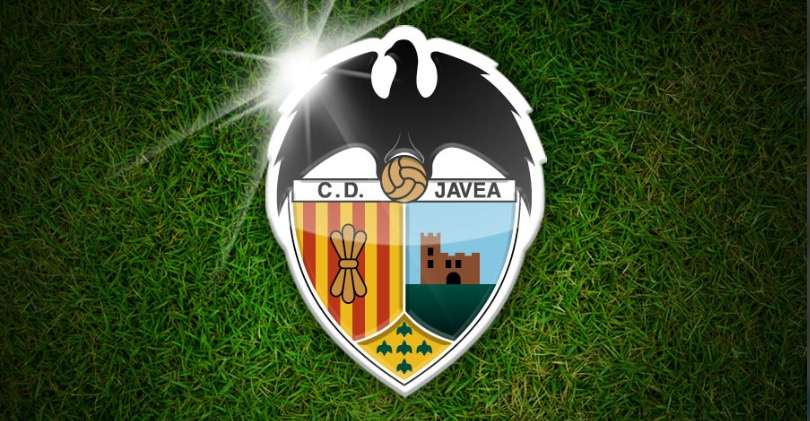 Monday 28th November 2022 – Mike Smith
Source: XAD Match Reporter
CD Jávea returned from Xàtiva with defeat and another casualty after Borja Martínez suffered an injury during the warm-up and had to be replaced by Rubén Ortolá. It is yet another setback for Juan Carlos Signes' men with the five key players already sidelined through injury.
The match began with control of the local side who mounted several dangerous attacks against Tonet's goal and it was inevitable that after a quarter of an hour they would score but it was cancelled for offside, a lucky break for the rojiblancos. For the moment.
After that early scare, Jávea began to take control of the game but the first and only goal of the game arrived after 34 minutes and it was the home side which would score it through skipper José Miguel Rueda. In response to the goal, CD Olímpic took more control in the centre of the field, anticipating a reaction from Jávea, Adrián Ramis having the best chance just before half-time but he couldn't convert the cross from Ortolá that might have forced an equaliser.
The second half started just as the first ended, with the home side in control of the game but there were few chances at either end. Jávea brought on David Buigues and Carlos Bisquert, hoping that youth would have their chance. But the hosts fought back, inflicting many fouls and receiving a flurry of yellow cards from the referee in response. But their efforts, legal or not, stopped Jávea and the game ended in victory for the home side, who maintain their unbeaten record at home and stay in third spot, but well behind runaway leaders CF 1931 Ontinyent.
CD Jávea drop to 15th spot. Next weekend, they will be entertaining CE La Font d'En Carròs, who suffered a home defeat to CD Dénia on Saturday and slide into the bottom half of the table.
---
CD Olímpic. Lahoz, Vida, Aracil (Esteve, 46m), Rueda, Bernabeu, Aquino, Fuster, Roig, Guillen, Barbosa (Corbolan, 70m), Casas (Mateu, 75m).
Subs not used: Sánchez (GK), Gómez, Ferrer.
CD Jávea. Tonet, Mario, Marcos, Caturla, Luis Garcia, Ramis, Ortolá (Toni, 67m), Tomas, Álvaro (Carlos, 82m), Javi, Fran (David, 82m).
Subs not used: Aaron (GK), Bataller, Mut, Willy.
Referee: Juan José Ubeda Cuadros.
Assistant Referees: Andrés García Gimeno & Valentin Ov Chukov.
Yellow Cards:
36m – Marcos (CD Jávea)
43m – Aracil (CD Olímpic)
44m – Roig (CD Olímpic)
49m – Esteve (CD Olímpic)
53m – Ortolá (CD Jávea)
67m – Casas (CD Olímpic)
69m – Barbosa (CD Olímpic)
81m – Rueda (CD Olímpic)
89m – Bernabeu (CD Olímpic)
Red Card:
none.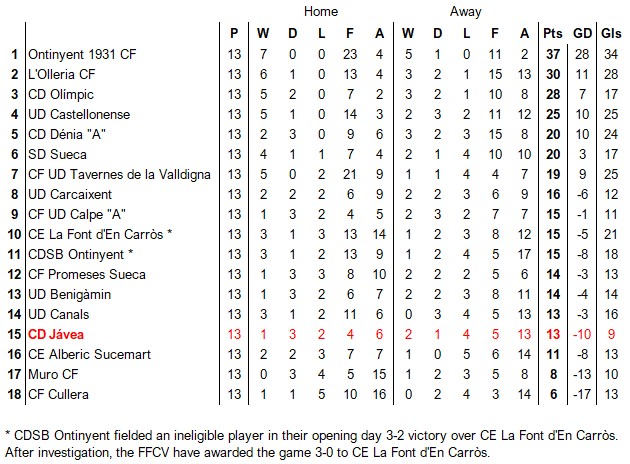 ---
Season 2022-23 Fixtures, Results and Statistics
---

---