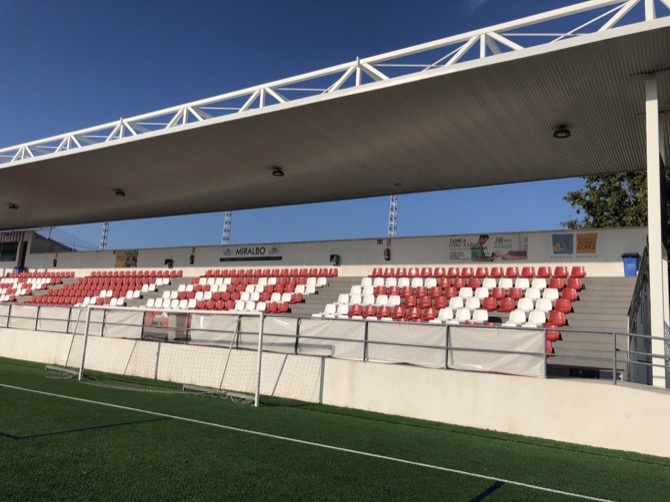 ---
Season 2021-2022 ~ Regional Preferente Grupo 4
Click on result for match report (if available)
Opening Round
01 – Sat 04/09/2021, 7.15pm | CE Pedreguer 1-2 CD Jávea
02 – Sat 11/09/2021, 6.00pm | CD Jávea 1-1 Muro CF
03 – Sun 19/09/2021, 11.45am | FC Atletico Benidorm 0-4 CD Jávea
04 – Sat 25/09/2021, 5.30pm | CD Jávea 4-1 CE La Font d'Encarros
05 – Sat 02/10/2021, 7.30pm | Racing d'Algemesi 1-2 CD Jávea
06 – Sun 17/10/2021, 11.45am | CD Jávea 0-0 L'Olleria CF
07 – Sat 23/10/2021, 6.00pm | CD Contestano 1-2 CD Jávea
08 – Sun 31/10/2021, 11.45am | CD Jávea 1-1 SD Sueca
09 – Sun 07/11/2021, 11.30am | CF La Nucia 'B' 2-2 CD Jávea
10 – Sun 14/11/2021, 11.45am | CD Jávea 0-1 CF UE Tavernes
11 – Sat 21/11/2021, 6.30pm | Ontinyent 1931 CF 2-1 CD Jávea
12 – Sun 28/11/2021, 11.45am | CD Jávea 1-2 CD Dénia
13 – Sat 11/12/2021, 5.00pm | CD Jávea 0-4 CF Gandía
14 – Sun 19/12/2021, 11.45am | Racing CF Benidorm 'A' 2-1 CD Jávea
15 – Sun 09/01/2022, 11.45am | CD Jávea 1-2 CF UD Calpe 'A'
Closing Round
16 – Sun 16/01/2022, 4.30pm | CD Jávea 0-0 CE Pedreguer
17 – Sun 23/01/2022, 5.00pm | Muro CF 3-2 CD Jávea
18 – Sun 30/01/2022, 4.30pm | CD Jávea 4-3 FC Atletico Benidorm
19 – Sun 13/02/2022, 4.30pm | CE La Font d'Encarros 0-0 CD Jávea
20 – Sun 20/02/2022, 11.45am | CD Jávea 3-2 Racing d'Algemesi
21 – Sat 26/02/2022, 5.00pm | L'Olleria CF 0-1 CD Jávea
22 – Sun 06/03/2022, 11.45am | CD Jávea 3-1 CD Contestano
23 – Sat 12/03/2022, 5.00pm | SD Sueca 1-1 CD Jávea
24 – Sun 27/03/2022, 6.00pm | CD Jávea 0-0 CF La Nucia 'B'
25 – Sat 02/04/2022, 5.00pm | CF UE Tavernes de la Valldigna 3-0 CD Jávea
26 – Sun 10/04/2022, 5.00pm | CD Jávea 1-1 Ontinyent 1931 CF
27 – Sun 24/04/2022, 5.00pm | CD Dénia 1-1 CD Jávea
28 – Sun 01/05/2022, 6.00pm | CF Gandía 6-0 CD Jávea
29 – Sat 07/05/2022, 6.30pm | CD Jávea 1-1 Racing CF Benidorm 'A'
30 – Sat 14/05/2022, 6.00pm | CF UD Calpe 2-2 CD Jávea
---
Group IV League Table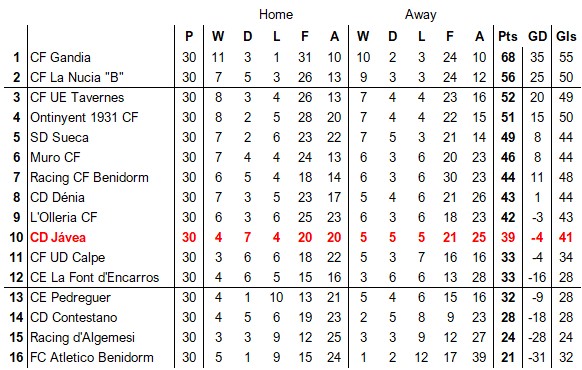 Regional Preferente Promotion Playoffs
Semi-Finals
FIRST LEG
Saturday 21st May 2022
(E5) CD Buñol 2-0 UD Vall de Uxó
(E3) UD Castellonense 1-0 CF Gandia
(E1) Ribarroja CF 0-1 Crevillente Deportivo
Sunday 22nd May 2022
(E2) CD Thader 0-1 Patacona CF
(E4) CF La Nucia "B" 3-2 UD Aldaia CF
(E6) CD Burriana 0-0 UD Rayo Ibense
SECOND LEG
Saturday 28th May 2022
(E4) UD Aldaia CF 1-2 CF La Nucia "B"
(E2) Patacona CF 0-0 CD Thader
Sunday 29th May 2022
(E3) CF Gandia 4-0 UD Castellonense
(E5) UD Vall de Uxó 2-1 CD Buñol
(E6) UD Rayo Ibense 3-1 CD Burriana
(E1) Crevillente Deportivo 4-1 Ribarroja CF


Finals
Municipal Campo de Quart de Poblet
Friday 3rd June 2022
Patacona CF 5-3 Crevillente Deportivo
Saturday 4th June 2022
CF Gandia 1-0 CD Buñol
Sunday 5th June 2022
UD Rayo Ibense 1-1 CF La Nucia 'B'
UD Rayo Ibense win penalties 3-1
Promoted to the Third Division: Patacona CF, CF Gandía and UD Rayo Ibense.
---
CD Javea Squad Statistics 2021/22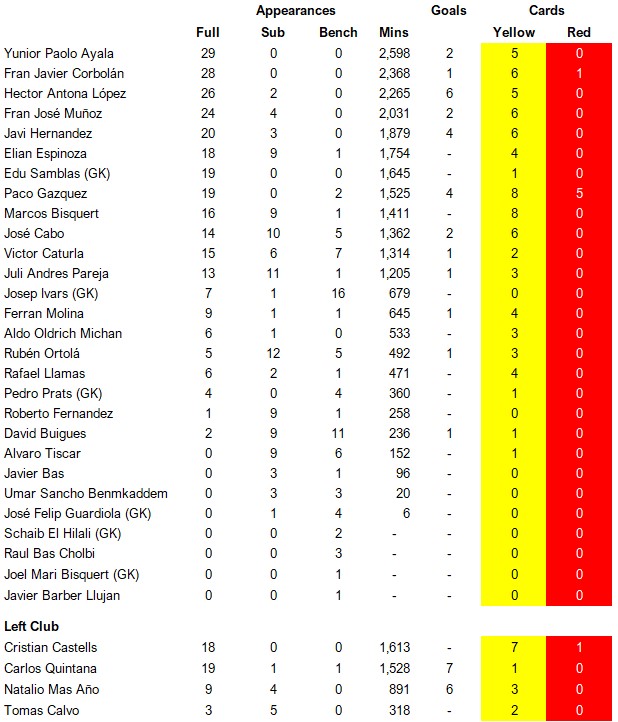 ---
Season 2021-2022 ~ La Nostra Copa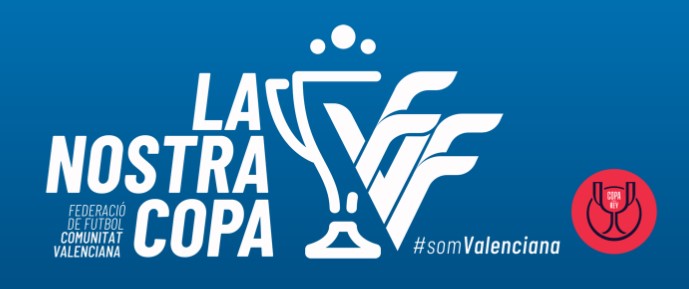 Round 4 – Fri 03/12/2021. 8.00pm | CF UD Calpe 4-1 CD Jávea
---
---
Become a Club Member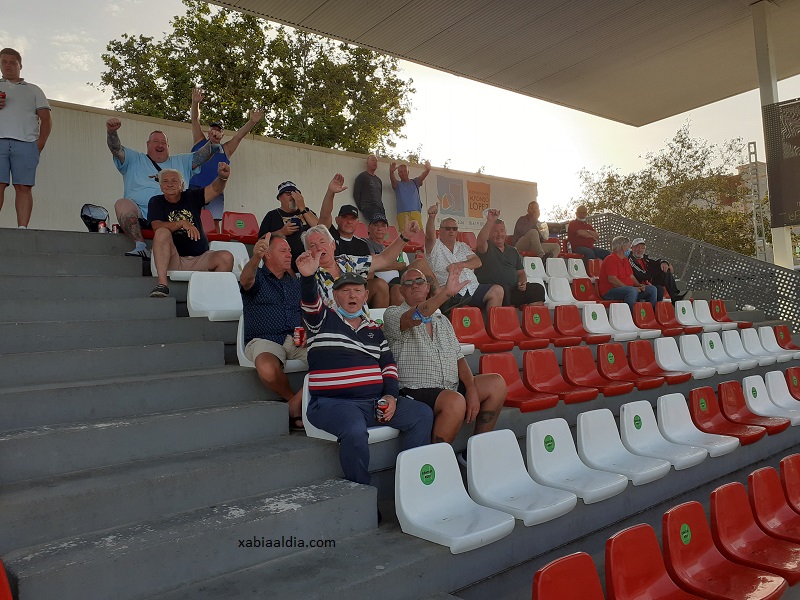 The contribution of the partners and collaborating companies is essential to carry out the management of the club and the training of the students of the school.

Become a member and you will be helping to make CD Jávea a better club.
Prices
Standard: 50 euros / year
Young Person (up to 25 years of age): 25 euros / year
Senior Citizen (over 65 years of age): 25 euros / year
Contact the offices of the football club or apply at the gate at the next first team home game.
---
Squad 2021-22
Squad Numbers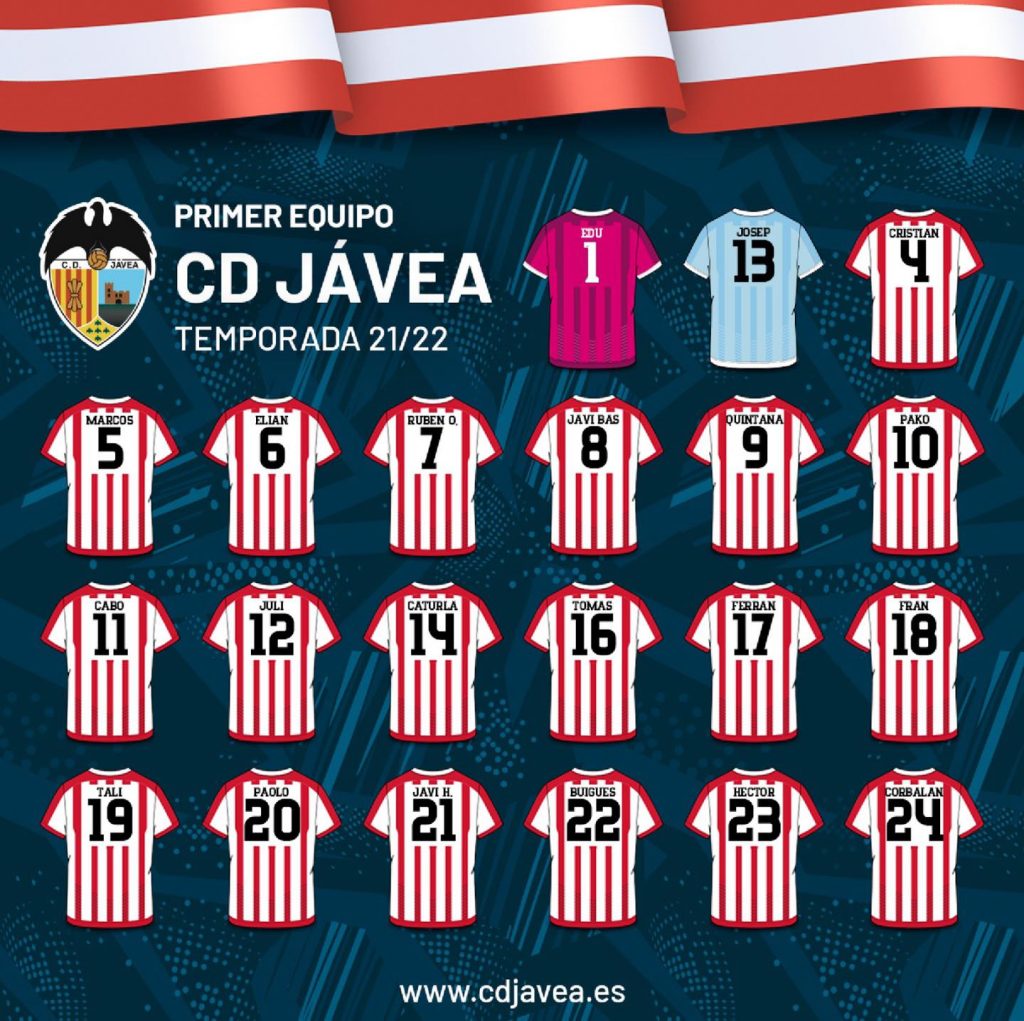 PLAYERS IN
Carlos Quintana Herrero (F) from Rayo Lliria C.F. (34, Segovia)
Fco Javier Corbalán Calero (M) from U.E. Tavernes (25, Dénia)
Natalio Mas Año "Tali" (F) from UE L'Alcúdia (24, Benifaió)
Fco José Muñoz Lora-Villar "Fran" (M) from Villajoyosa CF (31, Benidorm)
Enrique Sirerol Mayor (M) from Pego CF (Dénia)
Rubén Ortolá (F) from CF UE Calpe (28, Jávea)
Elian (D) from unknown (Jávea)
Christian Castells from CFI Alicante (36, Sueca)
---
Pre-Season Matches
06/08/2021 – CD JÁVEA v SD Sueca
10/08/2021 – CD JÁVEA v La Nucia Juvenil DH
14/08/2021 – Pego CF v CD JÁVEA
17/08/2021 – CD JÁVEA 3-0 Benitatxell (Cabo 2, Quintana)
21/08/2021 – CD JÁVEA – Villajoyosa CF
24/08/2021 – CD Polop v CD JÁVEA
28/08/2021 – CF La Nucia v CD JÁVEA
---