CD Jávea fight back to force share of the spoils
Two second-half goals from Tali saw the rojiblancos fight back from a 0-2 half-time reverse and stay top of the table.
Monday 8th November 2021 – XÀBIA AL DÍA with Mike Smith
---
CD Jávea remain two points clear at the top of Group IV of the Regional Preferente after a tough 2-2 draw at CF La Nucia "B". Two goals from Natalio Más Año – "Tali" – in the second-half secured a share of the spoils, an outcome which looked unlikely after the home side stormed into a two goal lead in the opening 25 minutes.
CD Jávea seemed to suffer the Sunday morning blues in the impressive Camilo Cano sports city in La Nucia. Once again, they knew that a win would put them four points clear after CF UE Tavernes could only draw at home with Ontinyent 1931 CF the previous evening but that only seemed to make them nervous and lacking some intensity in the opening half. After 16 minutes, Antonio Diez put the home side ahead and eight minutes later Pablo Ruiz doubled the advantage. The rojiblancos were on course to suffer their first defeat of the season.
However, head coach Manuel Esteban made a couple of key changes at half–time, bringing on Rafa Llamas and Javi Hernandez for Victor Caturla and Marcos Bisquert respectively, and the game changed radically in favour of CD Jávea.
Leading striker Quintana thought he'd pulled one back but his effort was ruled out by the referee when it seemed clear to everyone else that it was a goal. And then Tali came to the fore, scoring on 71 minutes to give some hope to Jávea. And the determination paid off just two minutes from time when he scored the equaliser to force a share of the spoils.
Next weekend, CD Jávea surely face their biggest test of the season when they host second-place CF UE Tavernes at the Campo d'Esports Municipal, the first true six-pointer of the campaign. A win for the rojiblancos will confirm their claim as one of the best teams in the group. However, Tavernes are a tough nut to crack and the home side will call upon the people of Jávea to come out and become the twelfth man in the stand.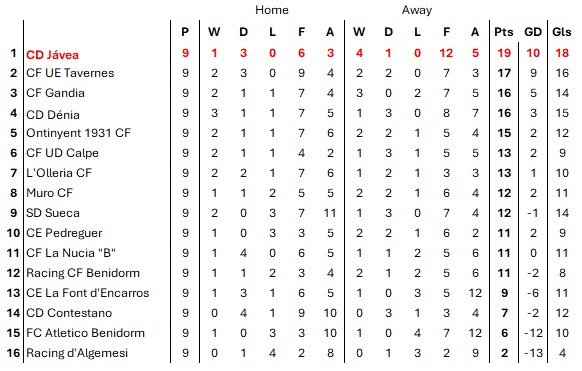 CF La Nucia "B". Molto, Izquierdo (Caler, 80′), Santos, Ibañez, Ruiz, Calvo (Palao, 68′), Diez (Tekon, 80′), Rivera, Espinosa, Savall, Murillo. Subs not used: Lussing (GK), Marina de la Casa, Fernandez, Zazo.
CD Jávea. Pedro, Castells, Bisquert (Hernandez, 45′), Quintana, Caturla (Llamas, 45′), Calvo (Espinosa, 67′), Muñoz, Mas, Ayala, Antona, Corbolan (Pareja, 83′). Subs not used: Ivars (GK), Gazquez, Cabo.
Referee: Alberto Lopez.
Assistant Referees: Álvaro Luis Gonzalez and Emilio José Pastor.
Yellow Cards:
6′ – Ibañez (CF La Nucia "B")
30′ – Mas (CD Jávea)
36′ – Calvo (CF La Nucia "B")
43′ – Corbolan (CD Jávea)
51′ – Calvo (CD Jávea)
59′ – Gazquez (CD Jávea)
60′ – Llamas (CD Jávea)
62′ – Muñoz (CD Jávea)
67′ – Quintana (CD Jávea)
77′ – Izquierdo (CF La Nucia "B")
---
Related Link
---

---