Edu saves Jávea from a thrashing against Calpe
CD Jávea suffer seventh consecutive defeat in return to competitive football after the Christmas break.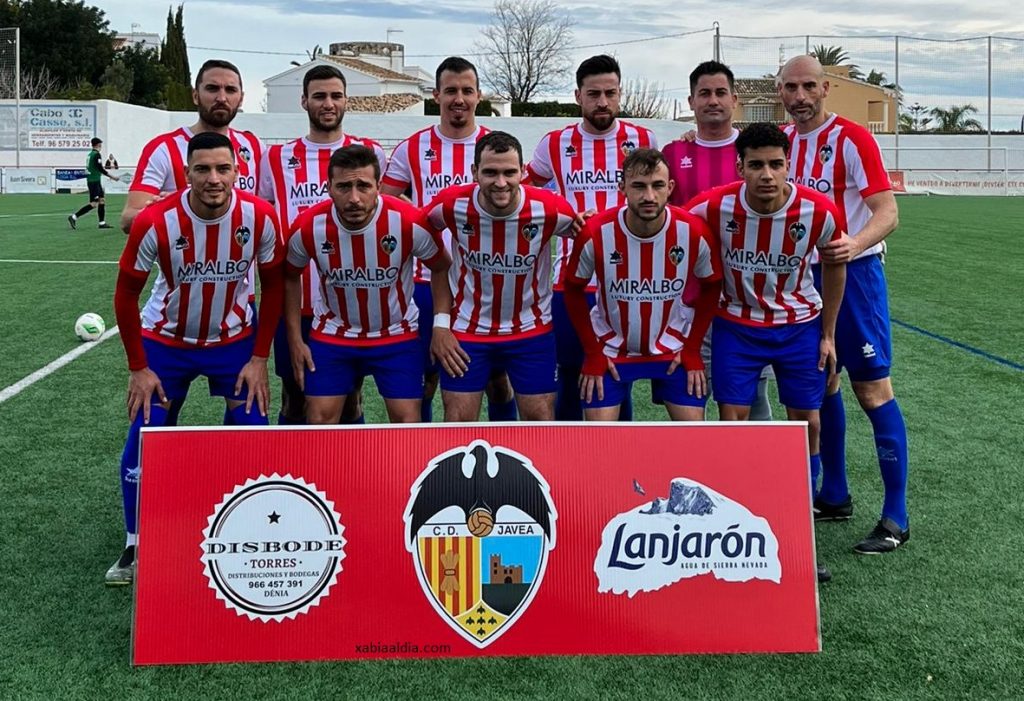 ---
Monday 10th January 2022 – XÀBIA AL DÍA with Mike Smith
---
CD Jávea 1-2 UD Calpe
Same old, same old. CD Jávea returned to competitive football on a windy Sunday lunchtime with what, on paper, appeared to be a much stronger squad after several key players returned from injury, including the hugely experienced goalkeeper Edu Samblas. And thank goodness for his return, for that experience served to prevent the home side from suffering a thrashing at home to UD Calpe. Yes, a new year but an old feeling, one of defeat as the rojiblancos chalk up seven straight losses.
The familiar sensation arrived after just ten minutes when former Javea player Juan Cruz Jorrín smashed home from around six yards, leaving Edu no chance, and putting Calpe into an early lead. Six minutes later, in a rare advance into the opposition penalty area, Jávea's Carlos Quintana appeared to be hauled down in a crowded box just as he steadied himself to take a shot as the ball dropped in front of him but the referee was having none of it and waved away appeals from the home side.
A few minutes later Calpe might have doubled their advantage through Borja de la Fuente but goalkeeper Edu was on hand to block his shot well when it seemed certain that the striker would score. Back at the other Quintana's weak header was easily picked out of the air by Calpe's goalkeeper Cassius Ruiz.
On 25 minutes, Jávea forced an equaliser, a goal at the far end greeted by almost silence since it was scored in the most unlikely manner. Some good work by Corbalan down the right saw the midfielder find enough room to fire in a cross. It seemed rather innocuous, falling apparently harmlessly into the crowded box. But leading scorer Natalio Mas – "Tali" – got his head onto the ball which looped defying physics over the stranded keeper and into the far left of the goal. There was a momentary pause – was that a goal? The referee pointed to the spot and the players reacted in celebration. Muted applause broke out in the stands, the home fans still apparently confused as to what had happened, how it had happened. Where's a replay screen when you want one?
On 29 minutes, Calpe might have restored their lead when Jorrín broke free of a static defensive line and ran alone towards goal with only the custodian to beat. Edu charged forward and timed his brave dive perfectly, falling to the striker's feet on the edge of the area and somehow pushing away the ball to safety. And that was the last real effort of the first half.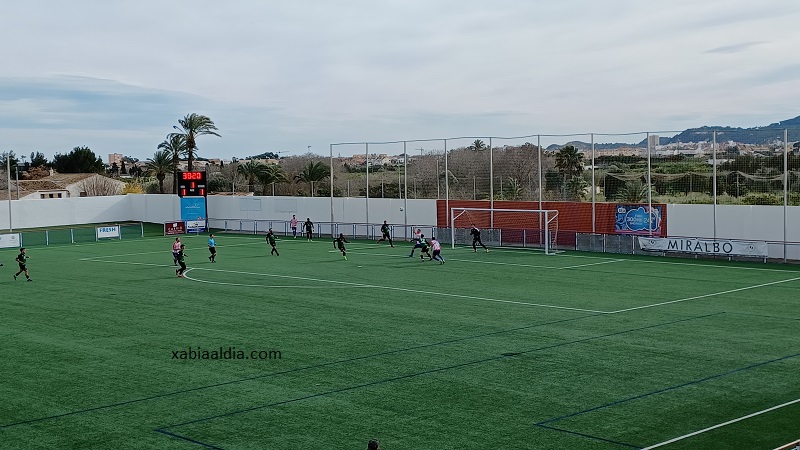 The second half began more even with Jávea starting to find their strength and confidence to launch wave after wave of attack on the Calpe goal. Just before the hour mark, Jávea won a free-kick just a few yards outside the area and dead centre of the goal. Head coach Manuel Esteban opted to bring on veteran midfielder Javi Hernandez to take the kick; he has been known to score a few outstanding goals from this exact spot – but not today. He opted to try and roll the ball under the leaping wall but his effort was almost comical as it rolled with any lack of speed into the arms of the keeper.
Jávea forced a succession of corners but they came to nothing; both Javi and Paco tried to find a head inside the box but the Calpe defence stood firm. And then, on 74 minutes, a goal, very much against the run of the play, and its scorer Jorrín will probably never score an easier one. Some great play down the right saw Calpe's Vergillos fire in a low cross which Edu seemed to leave for his defence to clear. But they didn't and Jorrín found himself unmarked just a yard or two in front of goal and simply side-footed the ball into the net to put the visitor's back in front.
Two minutes later, it got worse for Jávea when Paco was dismissed with a straight red card. Tussling for the ball with Jorrín right in front of the home bench. the Jávea man clearly lost his cool and swung a fist at the Calpe striker, who inevitably hit the floor and lay prostrate, unmoving. The referee had no choice and produced a red card, the Javea's man second dismissal of the season.
Equality was restored five minutes later when Calpe's Ayala was shown a second yellow for a crunching tackle of Javi on the line, clear frustration as the Javea's man skipped around the lumbering giant who had no option but to scythe down the player and then expressed his innocence as the referee once again had no other option than to show a second yellow, even if it just served to calm down the two sides as the final few minutes became rather heated.
Jávea rallied and pushed for the equaliser with substitute Álvaro Tiscar have two real chances to put the ball in the back of the net but lady luck was not accompanying the young midfielder. With another flurry of yellow cards, the referee finally brought the game to an end. Whilst the away side celebrated, the home fans drifted off in silence, the memory of a glorious start to the season now more distant.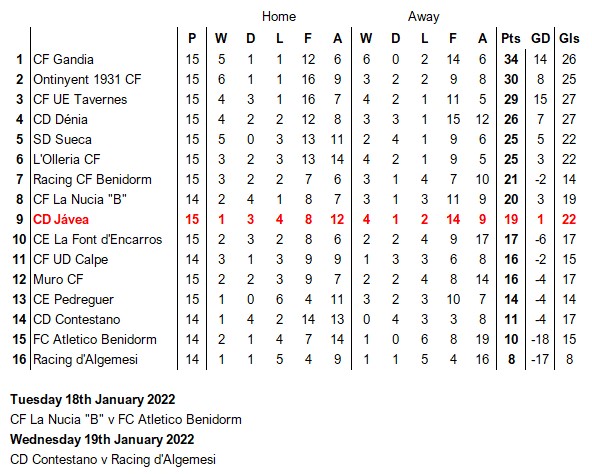 CD Jávea. Samblas, Castells, Bisquert (Cabo, 75m), Juli (Javi, 59m), Quintana (Álvaro, 75m), Paco, Muñoz (Rubén, 89m), Tali, Ayala, Hector, Corbalan.
UD Calpe. Cassius, Vergillos, Gomez, Rosero (García, 66m), De La Fuente (Fogorosin, 79m), Mosquera, Vanneste (Azzouz, 79m), Ayala, Jorrín (Fogoros, 89m), López.
Referee: Juan José Donate Robles.
Assistant Referees: Pedro José Martínez Rivera & Adrian Parra Rodriguez.
Yellow Cards:
34m – Bisquert (CD Jávea)
34m – Rosero (UD Calpe)
44m – Hector (CD Jávea)
53m – Tali (CD Jávea)
67m – Ayala (UD Calpe)
90m – Rubén (CD Jávea)
90m – Javi (CD Jávea)
Red Cards:
78m – Paco (CD Jávea)
83m – Ayala (UD Calpe)
---
Related Link
---
---
For many years, you've told us how much you love what we're doing and some of you have even asked for ways to say thanks. For us, there really is nothing easier to show someone how much you appreciate their efforts than buying them a beer (or a wine; or even a coffee) – it's so simple. Click on the link below to find out more.

---