CD Jávea lose five goal thriller at Muro CF
Paco and Caturla both hit the post as Muro claim all three points with last minute winner.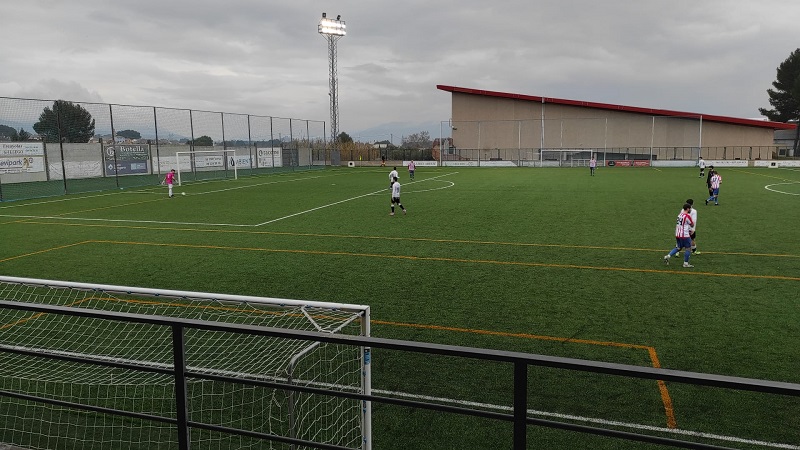 ---
Monday 24th January 2022 – XÀBIA AL DÍA with Mike Smith
---
Muro CF 3-2 CD Jávea
CD Jávea's wait for a first victory since October 23rd remains on hold after a heart-breaking defeat at Muro CF, a five-goal thriller being claiming by the home side after a last minute goal. However, there were positives to bring back from the match as, despite the result, the Jávea side put in a far better performance than in recent weeks and things might have been different had shots from Paco and Caturla not hit the woodwork, especially the latter attempt which came in the dying seconds of the game.
After a goalless first half, the home side took the lead on 47 minutes through Pablo Almendros but the lead lasted just two minute when Jávea's Carlos Quintana scored his fifth goal of the season to equalise.
On 67 minutes, Paulo Ayala put Jávea into the lead before the home side equalised on 78 minutes through substitute Arturo Martí in virtually his first touch of the game. And then, with the clock ticking towards 90 minutes, Muro's Navar Marto delivered the crushing blow to Jávea by scoring what would be the winner. And to make things worse, Paco Gazquez, who had returned to the starting line-up after serving a one-match suspension, was sent off for his second match in succession after receiving a second yellow.
CD Jávea drop to 11th spot with 20 points, worryingly closer to the drop zone than the top three. Next weekend, CD Jávea host FC Atletico Benidorm, struggling at the bottom of the table with just one victory in eight on the road. This must be the perfect opportunity to find the winning formula once again.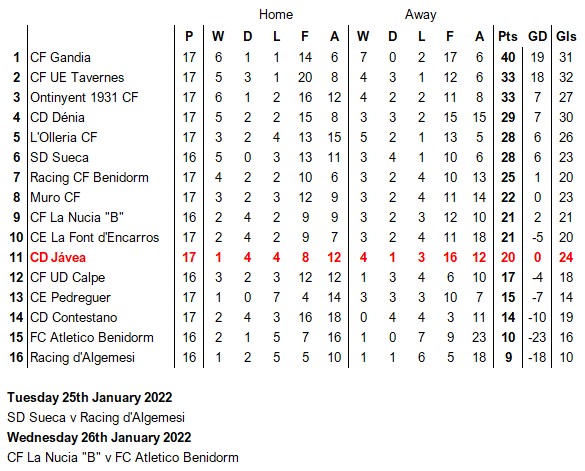 Muro CF. Martínez, Frances, Murillo, Arnau, Rodrigo, Ibañez (Martí, 75m), Botella, Almendros, Carretero (Martínez, 83m), Marto, Coronado. Subs not used: Giner, Torella, Orts, Colomer, Palmer.
CD Jávea. Samblas, Juli, Quintana (Tali, 83m), Paco, Cabo (Bisquert, 83m), Caturla, Ferran (Elian, 65m), Fran (Héctor, 65m), Paolo, Javi, Corbalan.
Referee: Pablo Daniel de la Serna Alvarez.
Assistant Referees: Juan Diego López Cano & Alberto de Pas Tur.
Yellow Cards:
26m – Murillo (Muro CF)
33m – Marto (Muro CF)
48m – Rodrigo (Muro CF)
58m – Paco (CD Jávea)
84m – Botella (Muro CF)
90m – Paco (CD Jávea)
Red Cards:
90m – Paco (CD Jávea) – second bookable offence
---
---
---