Last minute goal secures three points for CD Jávea
The goals were scored by Hector, Juli and Cabo.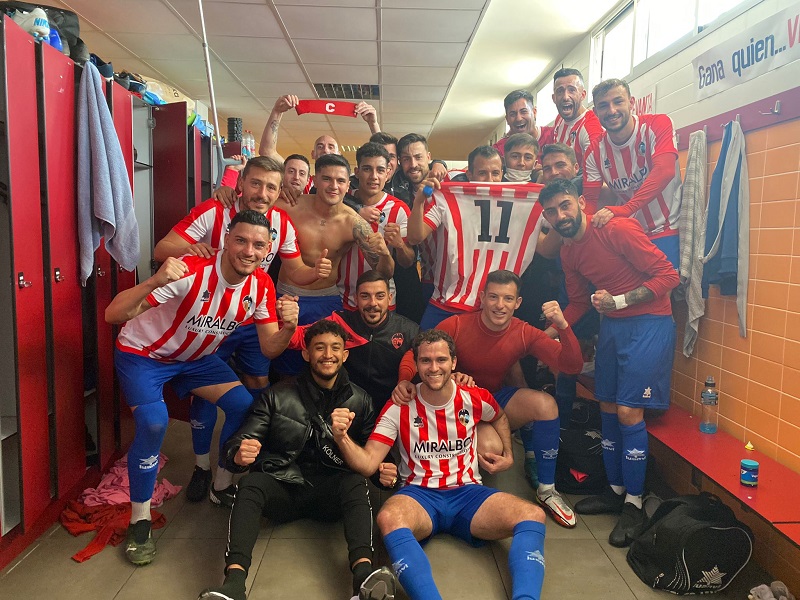 ---
Monday 21st February 2022 – MIKE SMITH
Translated from an original article published on Xàbia AL DÍA
---
CD Jávea 3-2 Racing d'Algemsi
A classic football match was played out at the Campo Municipal d'Esports Xàbia on a breezy Sunday morning, an encounter in which neither side held anything back and produced five goals and a stunning comeback by CD Jávea.
At kick-off, Racing d'Algemesi were sitting two points adrift at the bottom of the Group 4 table and, on paper at least, they should have provided the home side with an easier chance to recover their season which once looked so promising. However, it was the visitors who took lead after just three minutes when some excellent play down the right finished with a well-placed shot by Pablo Fuster which easily beat keeper Edu. Jávea responded immediately and might have equalised on three occasions, Juli first smashing the ball into the side netting, then hitting a post before leading scorer Quintana saw a great chance to score well-blocked by a defender.
For all the pressure, however, the home side couldn't find the back of the net and it was Algemesi who would score next to put themselves into a commanding lead after just 17 minutes. Some rare indecision from Cristian allowed Leo Castro to take the ball and beat the advanced Edu from 40 yards. This was not going according to plan.
Algemesi continue to pour forward and another defensive mistake from Marcos almost ended in a third for the visitors were it not for a great intervention from Corbolán. Edi himself had to be on perfect form as his goal was peppered with shots from the edge of the area. And then Jávea scored on 35 minutes through Héctor to offer a glimmer of hope that the match was salvable in the second half.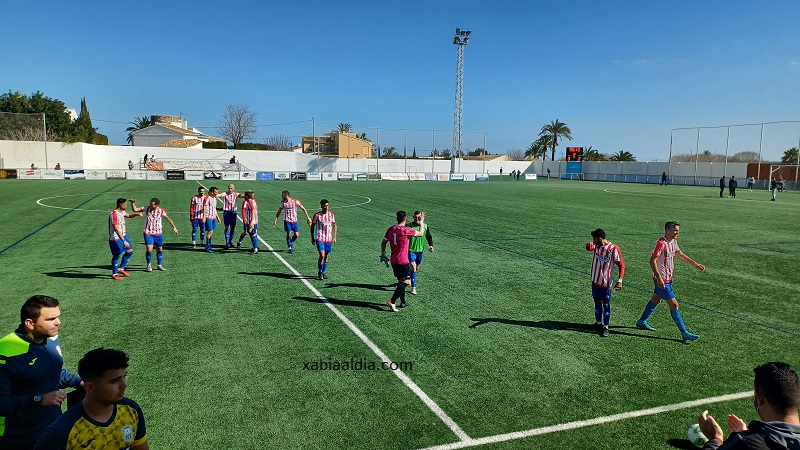 Jávea looked much more positive in the second period with Quintana hitting the post early on. Algemesi still looked strong but the home side started to contain them, doing everything they can to ensure that the match remained in their grasp. On 67 minutes, Jávea made three changes with Roberto, Cabo and Elian coming on for Quintana, Marcos and Fran, and the home side seemed to be reactivated by them.
With the home fans urging them on, Jávea went just wide through Paolo and the home side continue to search for that elusive equaliser. It came on 84 minutes when Juli hit home after some great play from Cabo before the substitute himself beat his marker in time added on to place the ball between the legs of the advancing keeper and secure all three points for Jávea. CD Jávea climb to 9th position.
Next Saturday 26th, CD Jávea travel to L'Olleria, kick-off 5.00pm. The two sides played out a dull 0-0 draw in Jávea last October.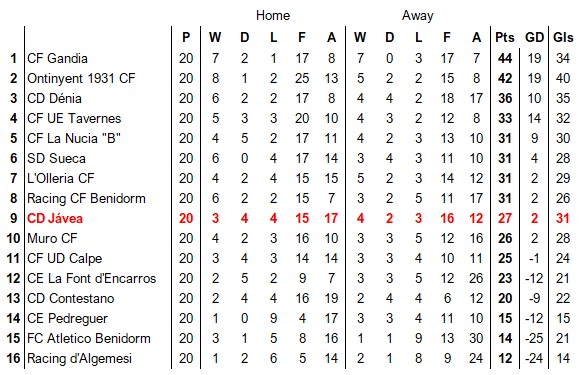 CD Jávea. Edu, Cristian, Marcos (Cabo, 67m), Juli, Quintana (Roberto, 67m), Paco, Fran (Elian, 67m), Paolo, Javi, Hector, Corbolan. Subs not used: Ivars (GK), Ortolá, Caturla, David.
Racing d'Algemesi. Jaume, Manzanares (Rios, 72m), Tudela, Martínez (Saouf, 72m), Roca (Penalva, 51m), Fuster, Castro, Aliño, Clari, Pryyma, Dura (Guerrero, 65m). Subs not used Soler (GK), Garcia.
Referee: David Oliver Aguilar.
Assistant Referees: Alejandro Martínez Barquero & Adrian Tortosa Gil.
Yellow Cards:
20m – Javi (CD Jávea)
29m – Marcos (CD Jávea)
31m – Hector (CD Jávea)
44m – Cristian (CD Jávea)
60m – Manzanares (Racing d'Algemesi)
63m – Paolo (CD Jávea)
81m – Edu (CD Jávea)
90m – Aliño (Racing d'Algemesi)
90m – Rios (Racing d'Algemesi)
90m – Saouf (Racing d'Algemesi)
Red Cards:
90m – Clari (Racing d'Algemesi); straight red.

---
Fixtures, Results and Statistics
---
---

---