CD Jávea slip to 7th after fourth successive league defeat
Former players Alvaro and Guerrero scored to heap more misery on Jávea.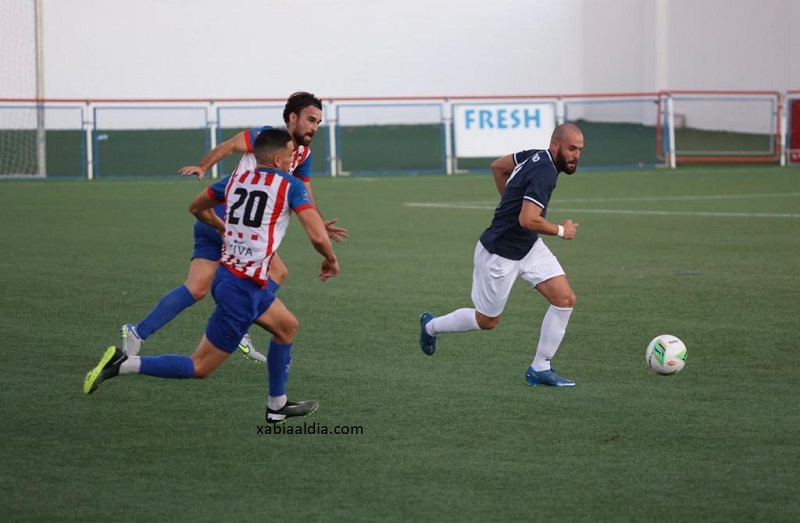 Monday 13th December 2021 – XÀBIA AL DÍA with Mike Smith
---
CD JÁVEA 0-4 CF GANDÍA
CD Jávea suffered a bruising defeat at home to league leaders CF Gandía on Saturday evening, slipping to seventh in the league after recording their fourth successive league defeat. The rojiblancos have not won a game after a 2-1 away victory at CD Contestano on October 23rd and head coach Manuel Esteban must be feeling the pressure to turn around a run of seven league and cup games without a win.
Esteban was able to name senior players Ferrán Molina and Carlos Quintana in the starting line-up, the two influential figures making a tentative return from injury. Pedro Prats took his place between the sticks, the vastly experienced goalkeeper Edu Sánchez still a couple more weeks away from a return whilst tenacious midfielder Javi Hernandez forced to watch from the sidelines.
The Gandia side that took to the field had a few familiar faces, not least bearded striker Juanma Guerrero, who finished CD Jávea's top scorer in 2019/20 and 2020/21, as well as tricky midfielders Álvaro López and Michael Tomas. They looked a confident side as they strode onto the pitch, a contrast to a Jávea side who seemed overawed.
Unsurprisingly, it was CF Gandia who dominated the game, especially in the centre of the field, passing the ball with confidence and calling on Jávea to work hard to weather the storm. Yet, it was the home side which had the first real chance of the game when Héctor's powerful shot from the edge of the area had to be deflected away for a corner – which came to nothing.
But, for all its pressure, it was inevitable that Gandía would open the scoring. The visitors had almost scored when a great cross from Mauro Melo on the left was pushed away by goalkeeper Pedro and had a couple of further half chances that might have been better. Yet it seemed that Jávea might just reach the break on level terms. And then that man Guerrero pounced on a huge defensive mix-up, picked up the loose ball and lobbed it high over the advancing keeper with characteristic confidence to put Gandía into a narrow half-time lead.
The second half saw Jávea try to find a way back into the game and Ferrán might have equalised but his low shot was well-blocked by the goalkeeper's foot an deflected for a corner – which came to nothing.
Just after the hour mark, Gandía put the game beyond doubt with two great goals. First, Álvaro smashed home from a narrow angle on the right, Pedro have little chance to block such a powerful shot. And then, two minutes later, Mauro Melo was able to take advantage of more defensive fragility to sneak the ball under the advancing Pedro to make it 3-0.
Head coach Esteban made changes to try and stop what had the potential to be a bruising rout. However, there was little doubt that the visitors had secured three points to remain at the top of the table and scored a fourth through substitute Francesc who only had to push the ball into an empty net after the Jávea defense was left flat-footed again.
Jávea tried to find something for the beleaguered home fans to cheer and a shot from Héctor was well-blocked by the keeper whilst the custodian had to be on form once again just before full-time to stop shots from substitutes José Cabo and Rubén Ortolá. The final whistle arrived to cheers from the visiting fans, stunned silence from the home fans.
And the game was not without its casualties as Jávea injury list continues to play havoc with the season. Defender Victor Caturla had to helped from the field on 52 minutes, his replacement, Marcos Bisquert, having to be carried from the pitch at full-time. In addition, both Ferrán and Quintana had to come off early, hopefully more of a precaution than a flare up of their injuries.
Next weekend, Jávea travel down to Benidorm to take on a side just one point behind them. It must be a chance to put some points on the table before the Christmas break.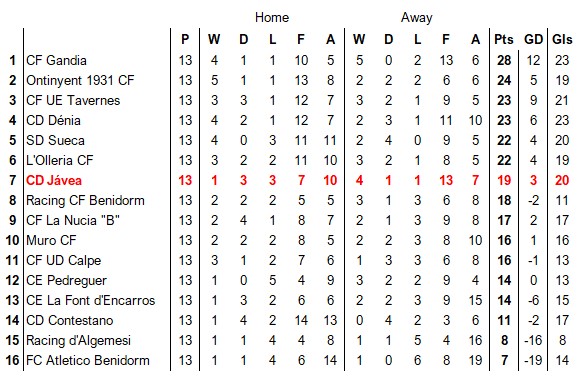 CD Jávea. Prats, Castells, Quintana (Ortolá 75m), Héctor, Caturla (Bisquert 52m), Llamas (Juli 66m), Ferrán (Cabo 66m), Muñoz (Elian 66m), Paolo, Tali, Corbolan. Subs not used: Ivars (GK), Buigues.
CF Gandía. Coronado, Mallol, Brines, Segou, Guerrero (Moral 70m), Chafer, Álvaro (Alcon 78m), Marti (Vidal 70m), Suagar, Melo (Pericos 83m), Michael (Martínez 78m).
Referee: Alejandro Pomares Murphy.
Assistant Referees: Yeray García Adsuar & Raul Sánchez Simarro.
Yellow Cards:
27m – Ferrán (CD Jávea)
45m – Coronadro (Gandía CF)
55m – Llamas (CD Jávea)
---
Related Link
---

---