CD Jávea and SD Sueca cancel each other out in very close match
A second half goal from Paolo cancelled out first half opener from home side.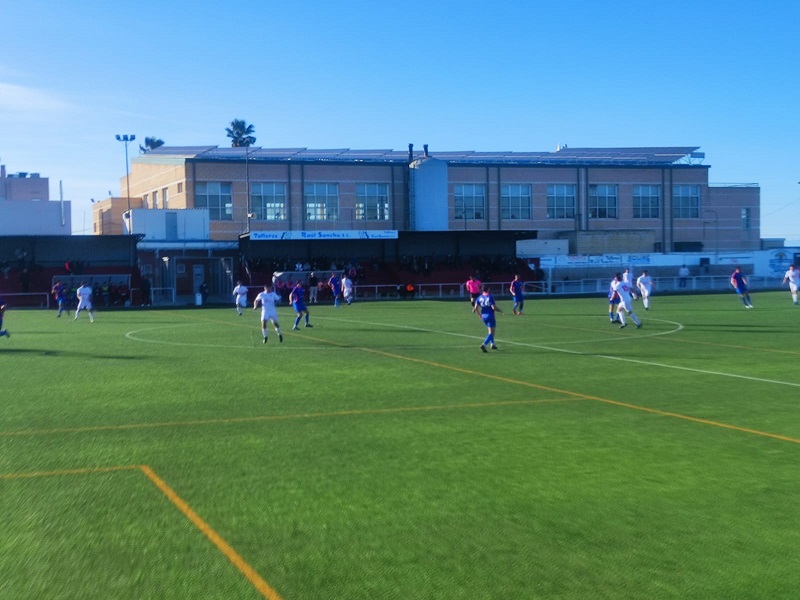 ---
Monday 14th March 2022 – MIKE SMITH
Source: original article – Xàbia AL DÍA
---
SD Sueca 1-1 CD Jávea
The match between SD Sueca and CD Jávea began with many precautions by both teams. In the first half, both defences suppressed the forward lines well and hardly any chances were created. However with five minutes to go before the break, SD Sueca took the lead through Calzado in a confused play in which Jávea claimed offside. It is worth highlighting Rubén's injury, who after half an hour could not continue and he was replaced by Quintana. The break was reached with the home side one goal to the good, although Jávea was better in this first half.
The second half began with a scare in Edu's goal when SD Sueca hit the post, before Jávea equalised from a free kick taken by Marcos that Paolo headed into the net. From that point, it was the locals who pressed more but without creating danger on Edu's goal.
Next weekend there is no action due to the March 19th Día del Padre / Fallas celebrations. Football returns the following weekend when CD Jávea will be hosting third place CF La Nucia "B".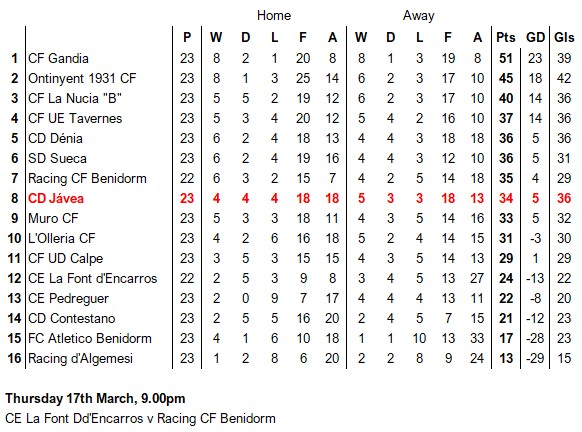 SD Sueca. Exposito, Ocheda (Fos, 64m), Sanjuan, Melo, Bernaldez, Carrasco (Altur, 64m), Salvador, Calzado, Chahboune (Salom, 50m), Mico (Sansaloni, 75m), Gómez. Sub not used: Femenia (GK).
CD Jávea. Edu, Marcos, Elian, Ortolá (Quintana, 37m), Juli, Cabo (Roberto, 85m), Caturla, Javi, Paolo, Hector, Corbolan. Subs not used: Ivars (GK), Paco, Álvaro, Sancho, Buigues.
Referee: José Carlos Caballero Carrillo
Assistant Referees: Ismael Marco Moreno & Daniel Joaquin Romero López
Yellow Cards:
29m – Carrasco (SD Sueca)
44m – Elian (CD Jávea)
64m – Marcos (CD Jávea)
67m – Salvador (SD Sueca)
89m – Melo (SD Sueca)
90m – Paolo (CD Jávea)
90m – Corbolan (CD Jávea)
90m – Buigues (CD Jávea)
---
Fixtures, Results and Statistics
---
---

---