CD Jávea concludes season with another draw
A goal each from Cabo and Paco secures a point and a 10th spot finish for the rojiblancos.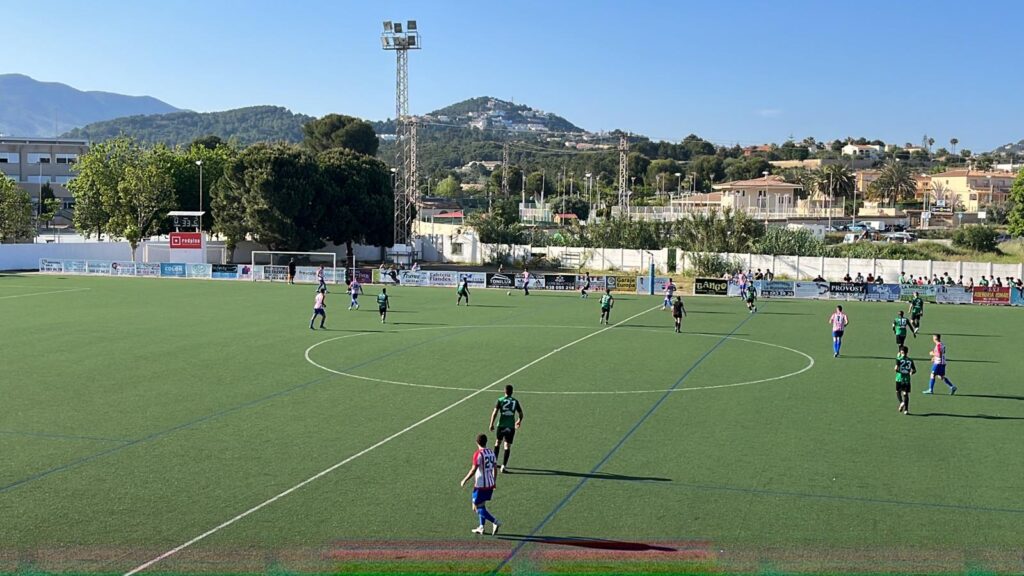 ---
Monday 16th May 2022 – Mike Smith
Source: original article – Xàbia AL DÍA
---
CF UD Calpe 2-2 CD Jávea
CD Jávea concluded the 2021/22 season with a 2-2 draw at CF UD Calpe. It was a match in which both sides had nothing to play for other than pride, having already secured their position in the Regional Preferente for another season.
In the warm evening sunshine, Jávea went ahead on 18 minutes through José Cabo and doubled the advantage three minutes later through Paco. The hosts pulled one back on the stroke of half-time through Mosquera.
In the second half, Calpe equalised on 54 minutes through Sturz and then dominance alternated between the two teams, both having chances to claim all three points. A notable event of the second half was the debut of Juveil A keeper Joel Guardiola between the sticks, giving a fine performance for the final quarter of an hour.
CD Jávea finished 10th, their lowest position since the 2012/13 season, whilst CF UD Calpe claim one spot behind in 11th spot. CD Dénia win the crown for the best team in the Marina Alta, finishing 8th, thanks to a 4-2 win over L'Olleria CF.
CF UD Calpe. Hernandez, Mosquera, De La Fuente (López, 74m), Sturz, Vanneste (Fages, 74m), Ayala (García, 55m), Ivorra (Viveros, 55m), Fogorosin (Greco, 55m), El Meziati, Azzouz. Subs not used: Ruiz.
CD Jávea. Ivars (Joel, 74m), Aldo, Bisquert, Elian, Ortolá (Roberto, 70m), Paco (Álvaro, 70m), Cabo, Caturla, Fran, Javi, Corbolán (Buigues, 70m).
Referee: Maria Romero Navarro.
Assistant Referees: Omar Miralles Sánchez & Agapito José Ochoa Rico.
Yellow Cards:
21m – Vannaste (CF UD Calpe)
56m – El Meziati (CF UD Calpe)
85m – García (CF UD Calpe)
85m – Bisquert (CD Jávea)
85m – Álvaro (CD Jávea)
Red Card:
None.
Results – Jornada 30
The Promotion Play-Offs and Relegation
Gandia CF had already claimed the championship, whilst CF La Nucia "B" finished runners-up and both will enter the promotion play-off phase. CF UE Tavernes finished third but did not claim one of the best third-placed finish spots that were available, which went to Ribarroja CF (Grupo II) and CD Thader (Grupo V).
The draw for the semi-final pairings in the play-offs will be taking place this week, although there are already two established ties: Crevillente Deportivo (V) v Ribarroja CF (II) and Patacona CF (II) v CD Thader (V). The other four ties will be drawn: three champions against three runners-up and two runner-up against each other. The three finals will played in one match at a neutral venue to be determined; the three winners will be promoted to the Third Division.
At the other end, CE Pedreguer, CD Contestano, Racing d'Algemesi, and FC Atletico Benidorm are relegated to the Primera Regional.
Next season, the Regional Preferente will return to the four groups that it had before the pandemic.
Saturday 14th May 2022
Racing CF Benidorm 1-3 CF Gandía
Racing d'Algemesi 2-1 CD Contestano
Muro CF 3-1 CF UE Tavernes
CF UD Calpe 2-2 CD Jávea
FC Atlético Benidorm 1-2 CF La Nucia "B"
CD Dénia 4-2 L'Olleria CF
CE Pedreguer 3-2 Ontinyent 1931 CF
CE La Font d'En Carròs 2-5 SD Sueca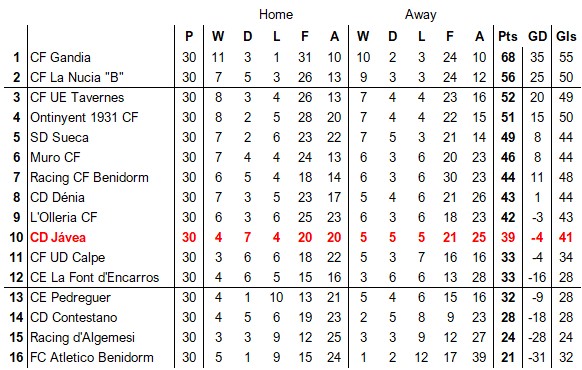 ---
Fixtures, Results and Statistics
---

---