CD Jávea crash out of Nostra Copa after heavy defeat to Calpe
Injury-plagued Javea suffered heaviest defeat of the season in the inaugural regional cup competition.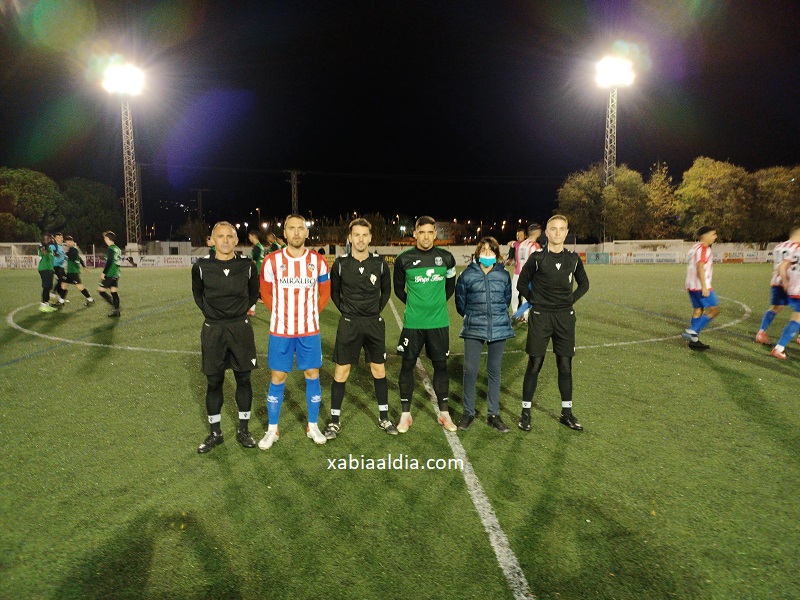 Saturday 4th December 2021 – XÀBIA AL DÍA with Mike Smith
---
CF UD CALPE 4-1 CD JÁVEA
La Nostra Copa was not a tonic for CD Jávea, in fact quite the opposite. The current run of bad form continues without offering any sign of recovery after a bruising 1-4 defeat at Calpe in the debut in this new competition, the champions of which will compete in next season's Copa del Rey.
Head coach Manuel Esteban was forced to name several fringe players in the starting line-up due to the growing list of injuries and, if anything positive can be noted from the game, it would be the first start for young player Álvaro Tiscar as well as senior side debuts for Gorka Espasa and Raúl Llidó.
Calpe head coach Antonio Villaescusa, facing his former club, named a more competitive starting line-up which took the lead after just 16 minutes through former Jávea player Juan Jorrin, an opening goal that was heavily protested by the Jávea players who insisted that the player was clearly offside in the build-up-
Six minutes later, Calpe doubled its advantage through a lucky goal from Borja de la Fuente, his shot from the edge of the area deflecting off a defender, leaving goalkeeper Pedro Prats flat-footed. A couple of minutes afterwards, Calpe's David García was involved in an off-the-ball incident with Jávea's Victor Caturla, a clash which the former will have considered himself lucky to have got away with just a yellow card.
CD Jávea lacked any power in attack and rarely threatened the host goal, the closest they came to pulling something back might have come from a cross-shot from Álvaro. Then, as the seconds ticked away to the break, Calpe's Jorrín might have done better and perhaps should have put the game beyond doubt.
The second half continued in very much the same vein. On 52 minutes Jorrín made it 3-0 and, three minutes later, a defensive error allowed Lavi López to increase the home side's tally to four.
All too late, there was some reaction from Jávea. A header from José Cabo sailed over the bar before substitute Natalio Más "Tali" pulled one back on 70 minutes.
Calpe might have scored a fifth goal, a chance for Jorrin to claim a hat-trick but his effort was blocked by the keeper. With the minutes ticking away, Javea looked to reduce the deficit, to make the scoreline a little more respectable, but a free-kick from Marcos hit the post and a shot from Paco was deflected away for a corner. And that was it. The final whistle confirmed Calpe's progression in this new regional cup competition whilst Javea made the short journey back up the coast to reflect on their first taste of cup action for almost 30 years and prepare for the arrival of league leaders CF Gandia next weekend.
CF UD Calpe. Hernandez (Ruiz, 59m), Vergillos, Viveros, Garcia (Sturz, 59m), De La Fuente, Mosquera, Vanneste, Ayala (Campos, 41m), Jorrin (Fernandez, 73m), Azzouz, Lopez. Subs not used: Fogoros, Agron,
CD Jávea. Prats, Marcos, Elian (Llido, 46m), Ortola, Juli (Tali, 60m), Alvaro (Gorka, 68m), Paco, Cabo, Caturla, Buigues (Hector, 60m), Corbalon. Subs not used: Ivars (GK), Paolo.
Referee: Alvaro Garcia Navas.
Assistant Referees: Javier Galdon Cruz & Adrian Castillo Lopez.
Yellow Cards:
9m – Jorrin (UD CF Calpe)
9m – Fernandez (UD CF Calpe)
16m – Paco (CD Javea)
24m – Garcia (UD CF Calpe)
25m – Cabo (CD Javea)
63m – Mosquera (UD CF Calpe)
78m – Gorka (CD Javea)
86m – Llido (CD Javea)
88m – Corbalan (CD Javea)
---
Related Link
---

---