Last minute goal settles big game in favour of UE Tavernes
CD Jávea lose top spot in a tough home game against close rivals Tavernes.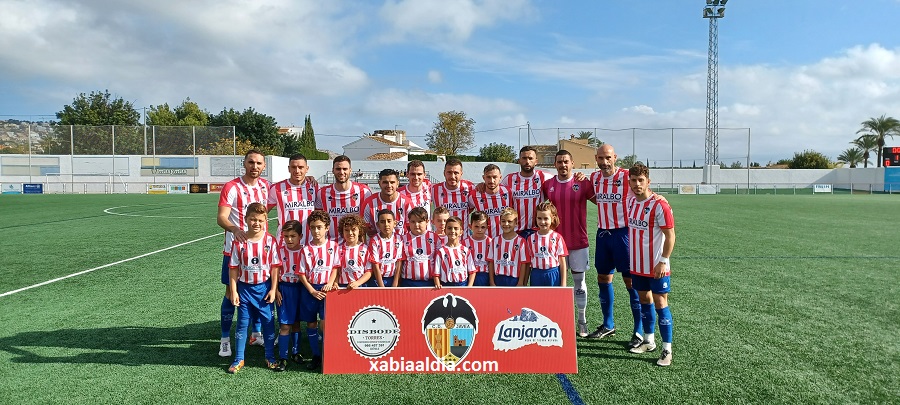 Monday 15th November 2021 – XÀBIA AL DÍA with Mike Smith
---
A last minute goal broke the hearts of the majority of the fans in the stands, the biggest attendance of the season turning out to support their local side in the clash of the top two at the Campo d'Esports Municipal. A tight game saw few chances for either side before Tavernes substitute Joan Talens slid the ball between the legs of goalkeeper Pedro Prats to claim all three points for the visitors, who leapfrog Jávea into top spot.
On a warm Sunday late morning, both sides started the game somewhat nervously but it was the home side which could have taken the lead in the opening minutes when Javi's powerful 30 yard free-kick was well-deflected by the acrobatic Tavernes keeper Xumi; the corner came to nothing. The rest of the first-half was a rather tepid midfield battle which the visitors began to dominate. And they might have taken the lead on 31 minutes if Adrià Sabater had been a little more accurate, beating the keeper on the far left side but his shot crashed against the bottom of the right-hand post and Jávea managed to clear to safety.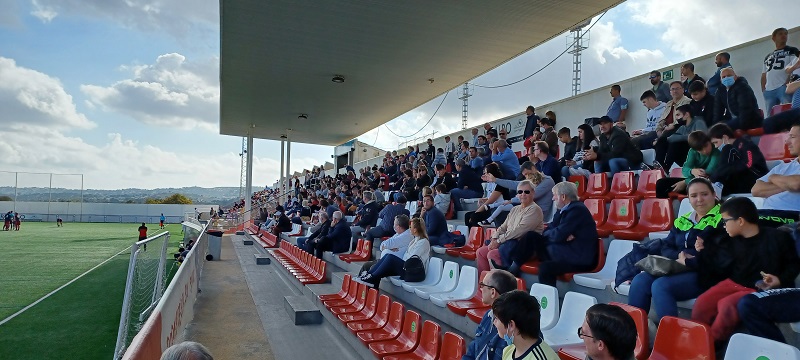 The second-half continued in a similar style with Tavernes have an opportunity to take the lead but keeper Pedro did well to block a solid shot from Jordi Expósito. Jávea needed to lift their game but it was a side without Ferrán, Paco and joint leading scorer Quintana who could only try and encourage their team-mates from the stands.
As the clock ticked on to 90 minutes, Tavernes got the break they needed when Talon collected a long ball on the edge of the area and slid it with confidence between the legs of the advancing Pedro to give his side the lead.
With five minutes time added on, Jávea tried to seek the equaliser but that clock ticked on quickly and the final whistle arrived to the delight of the sizeable travelling army of fans who see their side leapfrop over Jávea to go one point clear at the top of the table.
Next weekend, Jávea have another difficult game at Ontinyent, who are just a point behind after defeating CD Dénia 2-1 at home.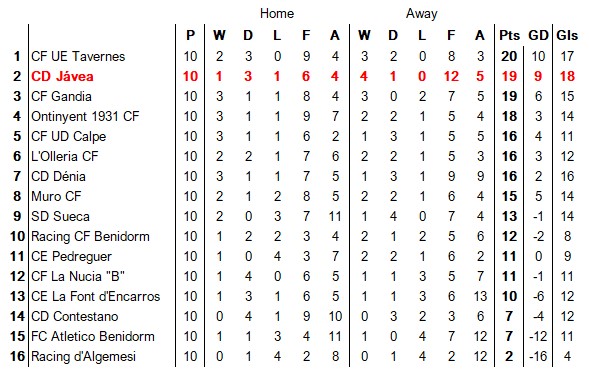 CD Jávea. Pedro, Llamas, Castells, Bisquert (Tomas), Elian (Ortolá), Muñoz, Mas, Ayala, Javi, Hector (Cabo), Corbalan. Subs not used: Raul Bas, Pareja, Ivars (GK), Caturla.
UE Tavernes. Vidal, Palomares, Hayrapetyan, Exposito, Alberola E, Miñana, Salom, Peris, Seral, Alberola D, Sabater. Subs not used: Sanfelix (GK).
Referee: José Romero Perez.
Assistant Referees: Álvaro Luis Gonzalez and Marcos Osorio Ramirez.
Yellow Cards:
30′ – Castellas (CD Jávea)
43′ – Javi (CD Jávea)
54′ – Ayala (CD Jávea)
67′ – Exposito (UE Tavernes)
80′ – Llamas (CD Jávea)

43′ – Dani Fliquete (CD Jávea First Team Assistant Coach)
Red Card:
86′ – David Mira (CD Jávea – coaching staff)
---
Related Link
---

---