CD Jávea suffer sixth successive defeat and slip to 9th spot
Javea dominate much of the game but are punished for taking their foot off the pedal in the final 15 minutes.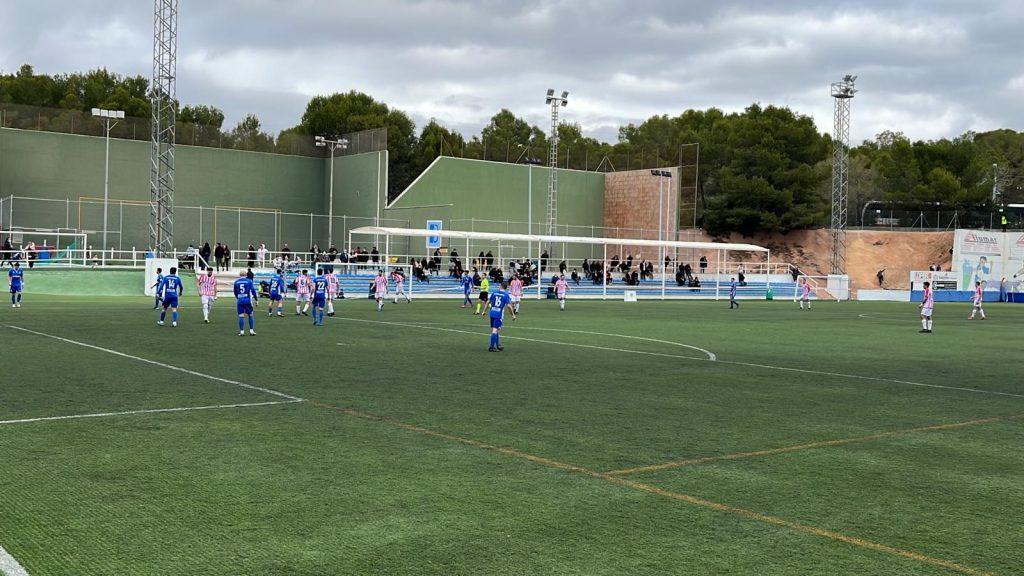 Monday 20th December 2021 – XÀBIA AL DÍA with Mike Smith
---
RACING CF BENIDORM 2-1 CD JÁVEA
On October 23rd, CD Jávea topped the table after a 2-1 away win over CD Contestano. There was an air of confidence sweeping through the club. It had not topped the table for a couple of decades; the good times were returning, surely. A 0-4 home defeat last weekend summed up the journey since that day. Six successive defeats and an injury list that seems to constantly regenerate itself each week. With the festive break approaching, CD Jávea were clearly looking to sign off with a win.
There were signs of that recovery at Benidorm on Sunday morning, with experienced goalkeeper Edu Sánchez able to return to his place between the sticks and tricky left-back Juli Pareja making a rare start. And it was Jávea who controlled the opening minutes of the game, determined as they were to enter the break with a victory.
However, that injury curse struck again after just 11 minutes when Ferrán Molina was forced to abandon his contribution to the game and was replaced by keen striker José Cabo. Struggling with the dimensions of the training pitch, neither side made much of an impact on goal until the latter stages of the first half. First, Jávea almost opened the scoring when a long ball launched by Edu was nodded on by Natalio Más – Tali – for Quintana but the striker could only fire the ball into the side netting. A minute later, Jávea did indeed take the lead through Tali himself before the home side rallied just before the half-time whistle and might have forced a penalty after some confusion in the area.
The second half began with Jávea dominating once again. A powerful shot from Quintana was well blocked by Benidorm defender Álvaro and then Jávea's Hector López hit the post. It seemed inevitable that the away side would double its advantage, Benidorm being so overwhelmed that they could barely break out of their own half. Another shot from Hector, this time from outside of the area, forced the Benidorm keeper Sergio into a great save and Hector again might have scored with one of the clearest opportunities of the game, but his effort was well-blocked by defender Álvaro who apparently appeared out of nowhere.
Jávea continued to pour forward and might have forced a penalty when substitute Rubén Ortolá felt that his shot was clearly deflected wide by the hand of a defender but referee Aljenadro Serna was having none of it, despite the appeals.
And then Jávea seemed to settle for the one goal advantage and allowed Benidorm to step forward and seek out their own chances. Inevitably, on 78 minutes, César Ortiz forced an equaliser, nodding home with perfect accuracy from a corner. Four minutes later and they found themselves in the lead through Juanlu de la Rosa who was able to get around the defence and score what would be the winner.
CD Jávea now sit in 9th spot, 12 points adrift of CF Gandía at the top, having recorded six successive league defeats and suffering a remarkable injury list that has removed several key players from competition. The festive break can't have come soon enough, almost three weeks without competitive football which may allow head coach Manuel Esteban not only to recall some of those players for the game against CF UD Calpe on January 9th but also analyse why his side seem to throw in the towel so easily in games. Three weeks to get the season back on track.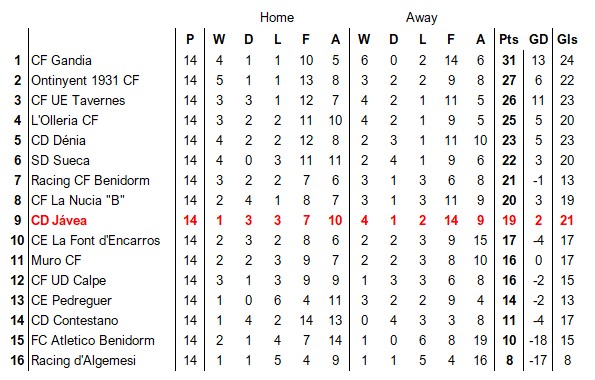 Racing CF Benidorm. Alvarez, Martinez (Pimienta, 62m), Camarasa, Ortiz (Martinez, 85m), Gato, A.Perez, C.Perez (Ubeda, 8m), Castillo, Lopez, Gallego, De la Rosa. Subs not used: Fructuoso (GK), Alguaca, Albaladejo.
CD Jávea. Sánchez, Elian, Juli (Llamas, 86m), Quintana (Ortolá, 66m), Paco (Tiscar, 86m), Ferrán (Cabo, 11m), Muñoz, Tali, Paolo, Hector, Corbolan (Buigues, 86m). Subs not used: Raul Bas, Ivars (GK).
Referee: Alejandro Serna Vazquez.
Assistant Referees: Javier Lopez Soler & Gonzalo Maria Monera Lucas.
Yellow Cards:
11m – Juli (CD Jávea)
34m – Ortiz (Racing CF Benidorm)
41m – Gato (Racing CF Benidorm)
44m – Castillo (Racing CF Benidorm)
57m – Cabo (CD Jávea)
65m – Hector (CD Jávea)
86m – Muñoz (CD Jávea)
90m – Tali (CD Jávea)
90m – Ortolá (CD Jávea)
---
Related Link
---

---