Referee denies victory for CD Jávea in Dénia
CD Jávea played a remarkable second half in the Montgó derby.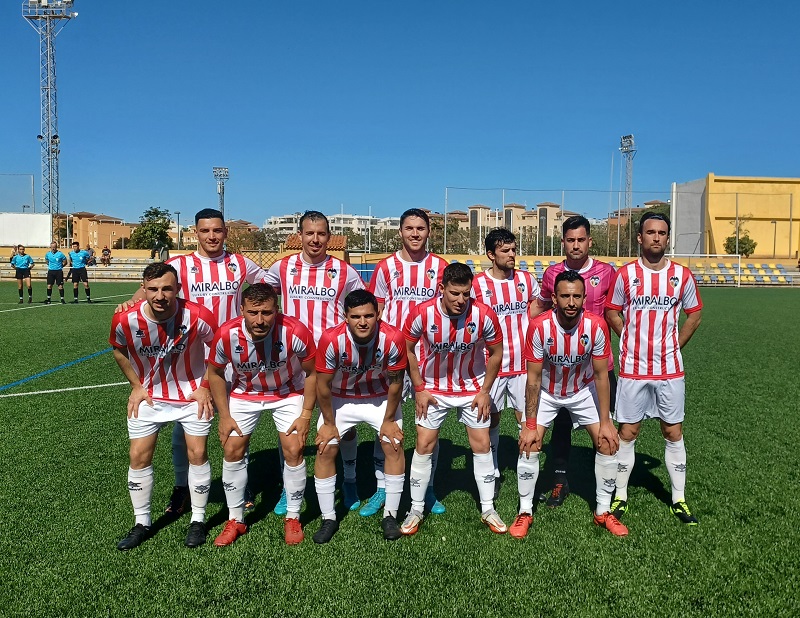 ---
Monday 11th April 2022 – Mike Smith
Source: original article – Xàbia AL DÍA
---
CD Dénia 1-1 CD Jávea
CD Jávea and CD Dénia had to settle for a share of the spoils in the Montgó derby, a game in which neither side had anything to play for except for pride and this was reflected both on the pitch and in the stands where the attendance was small for such as inconsequential game as it was.
The first half reflected that and was quite a dull 45 minutes with few scoring chances, Paco coming closest with a volley shot that went wide. However, for all the lack of opportunities, the hosts managed to get on the scoreboard on 38 minutes when a defensive error allowed Pablo Segui to roll the ball into the back of the net to give the home side the advantage. In the dying seconds of the first-half, a corner from Aldo saw the home keeper deflect the ball onto the crossbar before the whistle blew for a foul on the custodian. The first half ended 1-0 to CD Dénia.
The second-half was dominated by Jávea, playing their best football for some time, but they still struggled to create opportunities in front of the host's goal. Striker Rubén Ortolá was brought on for David Buigues and Jávea looked more dangerous, eventually equalising on 74 minutes after some great play by Elian down the flank saw his cross smashed home by Javi to bring the scores level.
With the goal, Jávea looked confident and appeared to have scored again through Ortolá but the referee judged the player to have done so from an offside position, even through the player was actually onside in front of the defence when he received the pass from Javi. Despite protests from the visiting players and bench, the referee stood by the decision.
Dénia had a chance to snatch the win in the final minutes but Panucci's hurried shot sailed high over the crossbar and thus the game ended 1-1.
CD Dénia. Marti, Segui (Lobo, 75m), La Peña, Ribes, Gonzalez, Piñero (Cheli, 46m), Álvarez, Renzo (Ronda, 60m), Ivars (Palacios, 13m), Ramis (Feliu, 75m). Subs not used: Trabison (GK), Gonzalez.
CD Jávea. Edu, Aldo, Elian, Paco, Cabo, Caturla, Fran, Paolo, Javi, Buigues (Ortolá, 71m), Hector (Roberto, 79m). Subs not used: Prats (GK), Álvaro, Barber.
Referee: Cristian Selva Vicente.
Assistant Referees: Enrique Vicente López Herraiz & Lucia Torremocha Gómez.
Yellow Cards:
23m – Aldo (CD Jávea)
34m – La Peña (CD Dénia)
43m – Piñero (CD Dénia)
46m – Ribes (CD Dénia)
67m – Paco (CD Jávea)
79m – Javi (CD Jávea)
89m – Caturla (CD Jávea)
Red Card:
89m – La Peña (CD Jávea) second yellow
Results – Jornada 27
Wednesday 20th April 2022
CD Contestano 1-3 Muro CF
Friday 22nd April 2022
SD Sueca 0-1 CD Pedreguer
Saturday 23rd April 2022
Racing d'Algemesi 0-0 CE La Font d'En Carròs
L'Olleria CF 2-2 CF Atletico Benidorm
CF UE Tavernes 2-1 Racing CF Benidorm
CF La Nucia "B" 1-0 CF UD Calpe
Sunday 24th April 2022
CD Dénia 1-1 CD Jávea
Ontinyent 1931 CF 1-1 CF Gandía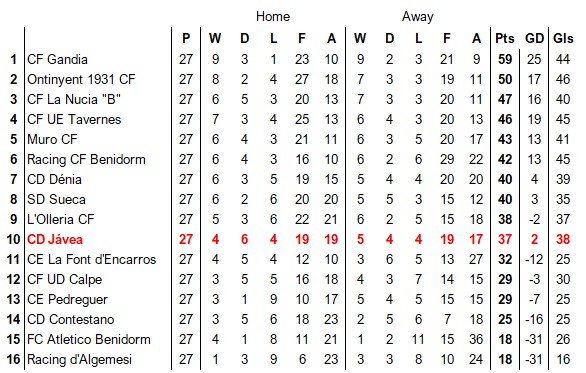 ---
Fixtures, Results and Statistics
---
---

---