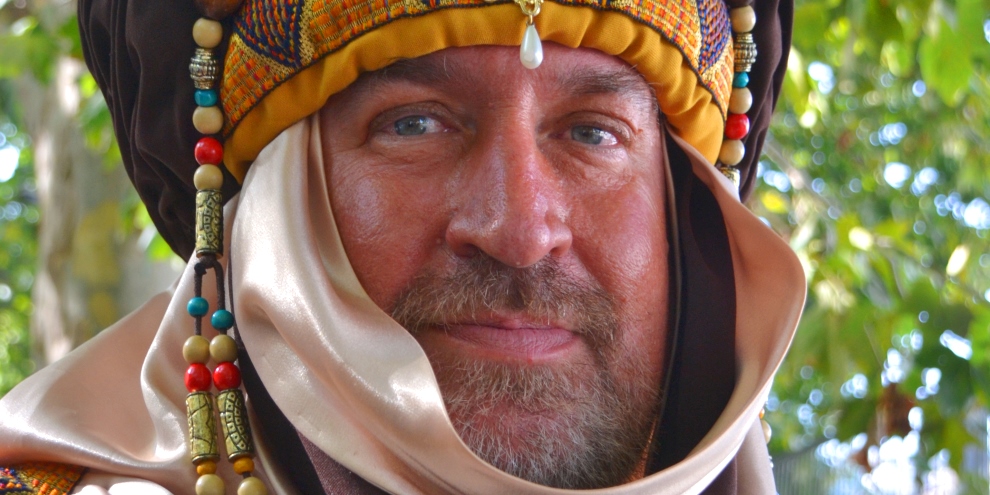 The huge bass drum pulsates through my body as we move forward slowly along the road, a cymbal crashing violently on every step. Either side of us the street is lined with people, some cheering, some applauding, some even bemused by it all. But everyone is smiling. I pick out familiar faces in the crowd. Their curious expressions turn into sudden realisation as they recognise me. They wave, they call out, there's the occasional choice word. But all I can do is smile and give them a wink in return.
A few minutes earlier we were waiting patiently to start. It's mid-July and it's hot. Very hot underneath the heavy costume. It took much of the afternoon to get ready. It's now the evening. We've already been wearing it – enduring it – for some hours now, waiting patiently for our time to pass through the grand arch and begin the journey. Beads of sweat roll down our faces. We hope the make-up holds up. People mill around us, offering refreshing sips of water. We express our gratitude.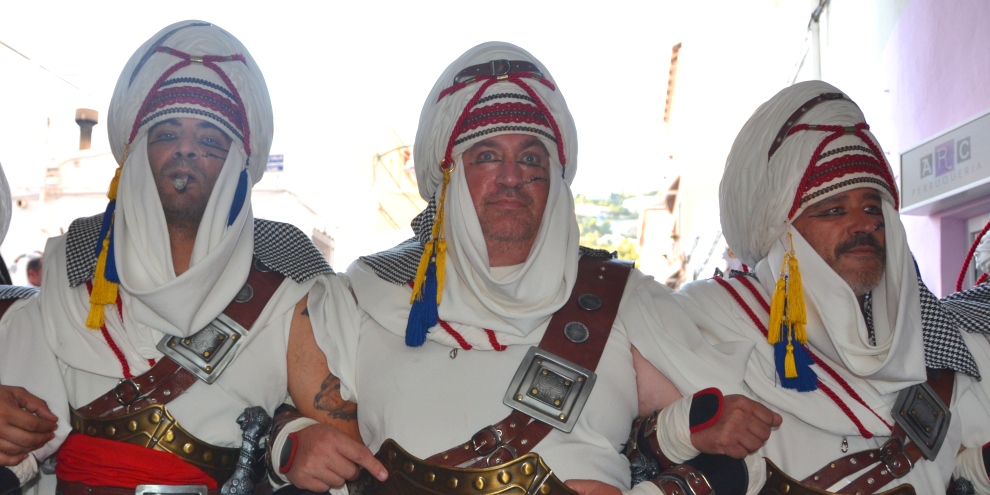 Reacting to an unseen cue a big bass drum starts pounding a slow deep beat that seems to shake the very ground beneath us. Instinctively we start to sway in unison. The time has almost come. Shouts of encouragement sweep down the line in waves as we slowly start to walk down the hill. As we enter the archway the noise is tremendous. The pounding bass drum echoes off the walls around us. We lift our chins and smile. This is fantastic.
In front of us our grand captain leads the way as we pass through the archway, encouraging the cheers from those on either side whilst keeping a careful eye on our progress, keeping us in rhythm, keeping us smiling. We pass down the slope and turn to face up the main road, lined on either side by people all looking in our direction. There is perhaps a moment of nerves. A tiny gulp. Here we go! The bass pounds. BOOM.BOOM.BOOM. This is fantastic.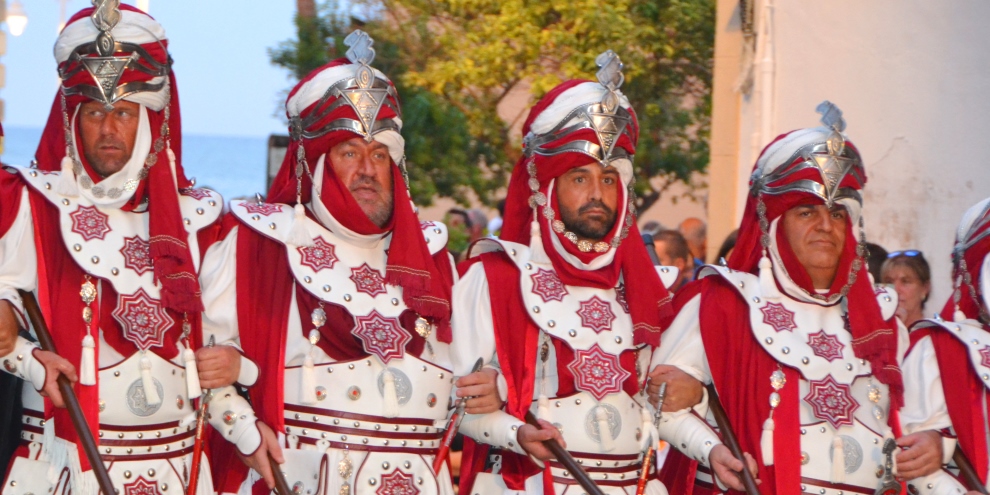 Every few minutes we're called to a stop but we still sway in time to the music, waiting for the next cue to step forward again, cheering loudly as we do so. Behind us the band plays a familiar tune, the big bass drum still pounding its three beats to keep us in time. We have cold bottles of water secreted around us but we can't drink it. Not yet. But we want to. So much. But this is still fantastic.
And then, before I know it, it's all over. We've covered barely 700 metres in an hour or so. But it seems like only five minutes have passed since we made our way through the arch and down the slope to join the procession. However, as we unlink ourselves, my body confirms that it's been a lot longer. As we make our way back to our headquarters, we get stopped for photos. And we do so. It's a great pleasure and an absolute honour to do so. We answer the inevitable questions as honestly as we can. Yes, it is hot. No, it's not uncomfortable, not too much anyway. Yes, I need a beer (are you buying?). No, I don't mind the questions.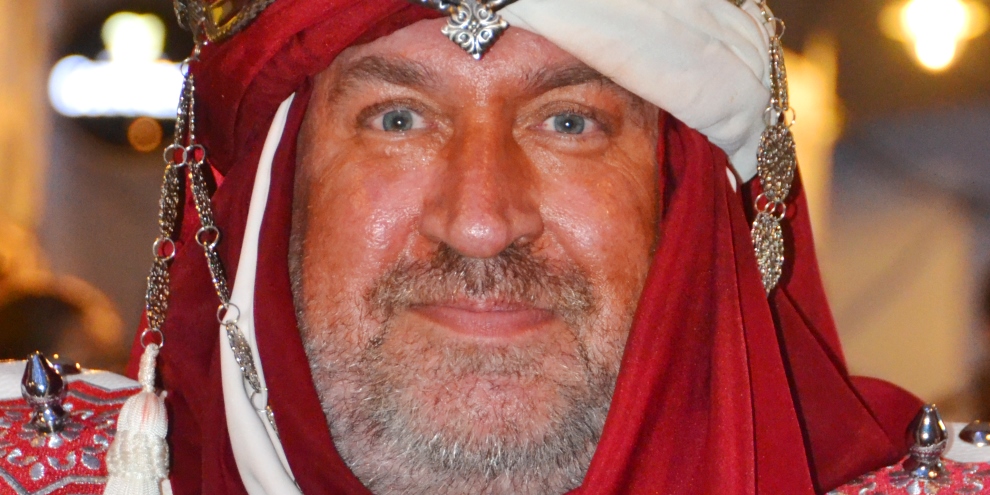 And then I find myself sitting on a plastic chair in the middle of a closed street. Someone passes me a cold beer. It doesn't last long. I've already dispensed with the head-dress and the heavy shoulder pads and cape. Now just let me enjoy another beer and savour the moment. I'll take off the rest later. I can hear the big drums pounding in the distance. The procession is still going on. But I'm done. I lean back and close my eyes. I'm exhausted. But it was worth it. Totally. It was fantastic.
It's been almost two decades since I first became aware of the Moors & Christians festival. I was on a family holiday in Moraira and we happened to be in town at the time that its people were celebrating this amazing fiesta. I'd never seen anything like it before. The exotic music of the Moors filled the air as they swayed magnificently down the narrow street, tunes that seemed to be from a bygone magical and somewhat mysterious era. And then arrived the Christians, marching proudly to majestic music which announced their confidence. A couple of nights later we were able to enjoy a brief experience by joining one of the companies in a very informal – and somewhat alcohol-fuelled – march around the town. I don't remember much. But I do remember wanting more.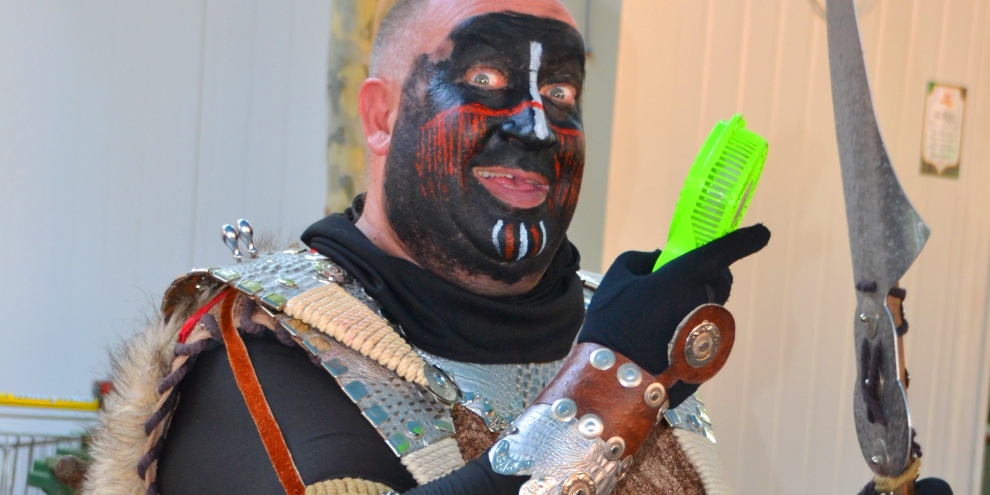 A couple of years later we finally made the great leap in moving permanently to Spain and we experienced the Xàbia version of this fantastic fiesta. And the desire to participate had not waned one bit. Like many people, I watched from the sidelines as the colourful companies marched confidently past me and wondered just how I could get more involved, to take part, to become one of those painted Moors.
In 2015, as part of our desire to make our fiesta guide into something more than just a list of dates, we decided that it would be a nice angle to spend some time with a group as its members prepared for the parades, to discover more about the effort behind the scenes and more about the people behind the masks and make-up who gave up their free time (and hard-earned cash) to contribute to such a fantastic procession. We had become friends with people in several groups, both Moorish and Christian, but eventually decided on the Schaitans, a modest filà whose members demonstrated an unrivalled passion for the fiesta.
That year we accompanied them as they prepared themselves for the two parades, experiencing both the excitement and stress of getting ready for the occasion, often in cramped and hot conditions inside their modest headquarters. Elbows inadvertently dug into the backs of colleagues as costumes of many layers were donned, words exchanged, mostly in jest, sometimes in frustration. There was a moment when a collection of spears suddenly slid from their precarious position in the corner of the room, producing a grand cacophony which did little to ease the nerves. On several occasions we had to put down the cameras and step in to assist as heavy layer upon heavy layer was added to the costume. Tempers frayed at times but it was never in malice but more of a desire to ensure that the group looked as fantastic as possible. In final preparations, black tape secured boots too big or too small to the feet, safety pins provided temporary adjustment, all of which would be unseen by the general public when the company finally made its entrance through the archway. And it felt great to be involved, if only as a witness. I knew I wanted more.
The following winter I approached the Schaitans to express my desire to become more involved with them. Unfortunately their membership drive for that year had been closed but I was lucky for there was still an opportunity to become involved in the following years' final procession since the main bulk of the company would be assisting with the captain company of that year in their final stunning procession. I could be involved as a guest to represent the Schaitans. I jumped at the chance.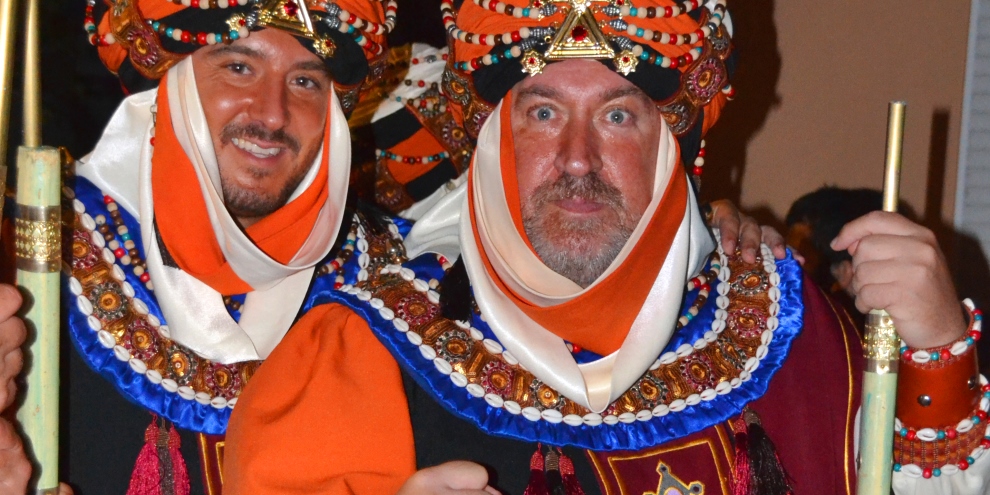 I knew most of the group so it was an easy transition. During the spring we gathered together for a lunch before a rehearsal in the gardens of a house on the outskirts of the town, music blaring from a stereo system. Having had experience of drill in the armed forces, I found the experience quite easy, having been very aware of what is left and what is right for some years. Others didn't find it so and we spent at least a couple of hours marching up and down the garden, practising turns, working out how to split the line for narrow sections and how to come back again in a smooth and impressive action that would attract deserved applause from the spectators. It was hard work and quite repetitive but absolutely essential. It would all be worth it.
The day arrived. The members of the group joining the captain company had already started their preparations during the morning and it was to be a long process that involved extensive make-up, prosthetics and lenses in the eyes. That afternoon we had lunch and then rested a while before getting ready. Most of the old hats simply closed their eyes and dropped off, snores soon filling the enclosed space. But I was too excited and the time to start getting ready couldn't come soon enough. I was handed my costume and would be pairing up with someone else so that we could dress each other and make sure we looked absolutely fabulous. It was hot and beads of sweat had to constantly wiped away as someone applied some modest make-up to my face. When I had finished, I stood outside in the relative coolness of the open air, waiting for the moment to move to the start area. Passers-by stopped to take photos and I obliged proudly. And then all of a sudden we moved to the archway and my heart started pounding. The moment had arrived. Almost 20 years after discovering this fantastic fiesta, here I was about to take part in my first procession.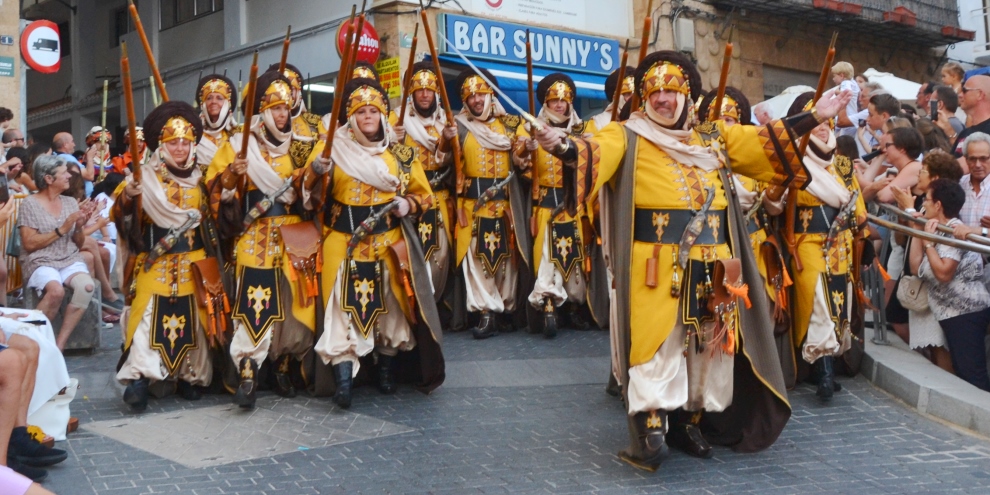 A few years later, in 2019 I had the opportunity to be a 'captain' of a squad. It was the 20th anniversary of the Filà Schaitans and they wanted to celebrate in style with the main squad complementing two further 'guest' squads. One of those would be made up almost entirely of friends of mine so it seemed natural that I should put myself forward to be its captain, leading the squad at the front as it made its way through the streets of the port. We had several practices of our own throughout the year; just one other person in the squad had experience of taking part in such a parade. During the fiesta week all three squads gathered together for lunch and a further practice before one final rehearsal on the day of the parade. Everyone was nervous, especially me. I'm not a bold person in public but I had a passion for the Moors & Christians so I hoped all would be okay. And it would be.
As we passed through the archway, I looked back at my squad, gave them a few words of encouragement and then we were off. It was quite possibly the best experience of my life. My natural shyness disappeared in a flash as I held up my arms in triumph as we marched down the slope and into the road. The crowd cheered and clapped. Not many of them new that it was probably the first squad entirely manned by foreigners to parade in Xàbia. And we made the most of it. At the end, we cheered and hugged each other. We'd cracked it, we'd made a convincing squad and we fully deserved the beers back at the HQ later on. Several of the squad decided that they had enjoyed it so much that they accepted an invitation to join on a permanent basis. The bug had bitten them.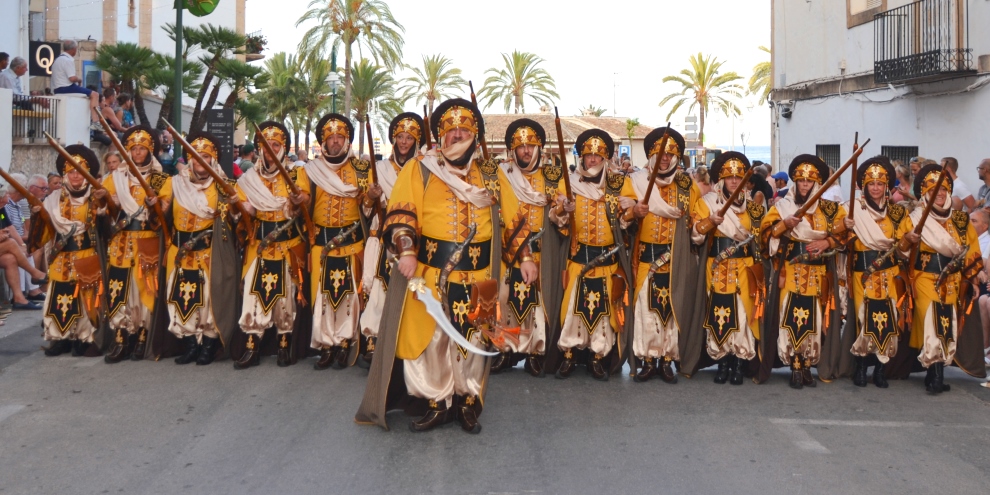 In March 2020, the COVID-19 pandemic forced us to remain in our homes for several weeks and to reduce close social contact for much longer. Clearly, the 2020 festivities had to be cancelled (although we were able to enjoy 'Mig Any' just a few weeks before lockdown was imposed) and, as the world fought strain after strain of the virus, the 2021 edition couldn't happen, although we remained in touch and even held our own, socially controlled, gathering in that summer for just one day.
In 2022, we returned. The 'Mig Any' celebrations brought huge emotions to the surface and there were plenty of tears as the filaes marched down through the archway for the symbolic short parade through the port. And then, in July 2022, the music and colour returned.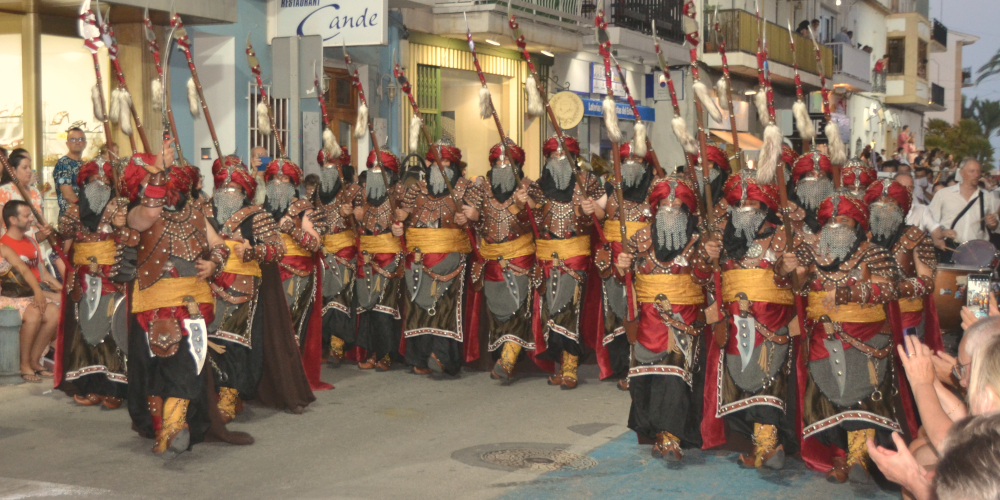 Ultimately it's been worth every cent of the many euros that I've contributed in terms of subscriptions, donations, lottery ticket sales, etc. It is an expensive hobby and it's certainly not a case of turning up in July and enjoying the fiesta. Meetings take place once a month, often twice a month, and last well into the night as we discuss the forthcoming year, the state of finances, the costumes and anything else Moors and Christians. I perhaps don't share the absolute passion of many other members of the Schaitans but I have loved every minute of it. I have loved "becoming a Moor".
Update: In 2022, after six years with Filà Schaitans, I decided to take on a new challenge by joining another Moorish team, Filà Baharis, who I've known for some years. It will be great to experience the fiesta with them and I'll be reporting more as we celebrate the next edition in the summer of 2023.
---
---
---