Turisme Valencia produces new brochures with 281 tourist experiences to encourage Bono Viaje reservations
The objective is to promote, through Bonoviaje 2022, the commercialization of the experiential-based offers of the companies in the Creaturisme initiative.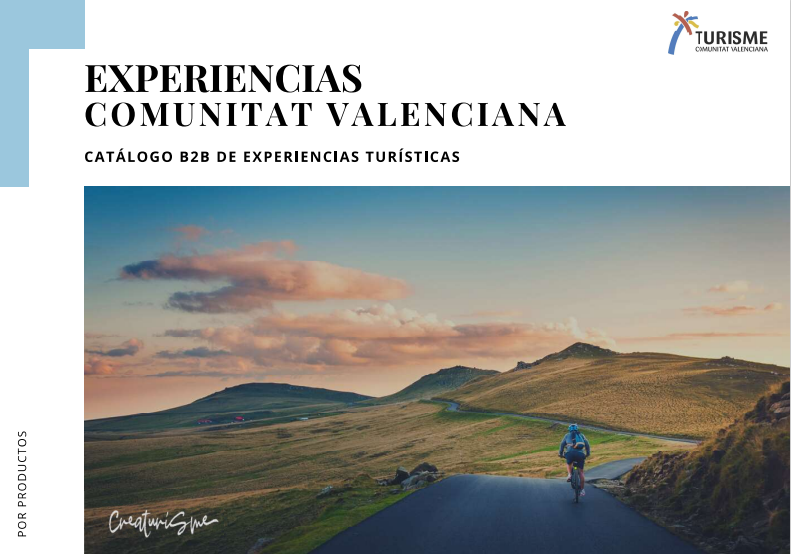 ---
Monday 17th January 2022 – PRESS RELEASE with Mike Smith
---
Turisme Comunitat Valenciana has prepared new B2B Tourist Experiences brochures aimed at travel agents and operators in the sector, with the aim of promoting the Valencian tourism business fabric, coinciding with the start of the first reservations of the first period of the 2022 Bono Viaje initiative, which begins today Monday 17th January.
This is a promotional tool that aims to promote the marketing of the experiential-based offer of companies and entities adhering to the Creaturisme programme, the Generalitat Valenciana's strategy for developing highly specialized tourism product initiatives.
Specifically, Turisme has produced two brochures, one focused on products and the other on destinations, which include a total of 281 experiences and in which 141 Creaturisme companies have participated.
Tourist experiences are included within the 19 products that make up each of the three lines of strategic action that make up this initiative (cultural tourism, active tourism and natural and rural tourism).
According to Turisme officials, these figures show that the Comunidad Valenciana has a dynamic and proactive tourism industry that works in harmony with the Public Administration, taking advantage of the initiatives and instruments offered by it.
Seminar for more than 100 travel agencies
Last Friday, Turisme Comunitat Valencina presented this initiative through an informative webinar in which more than 100 travel agencies that are members of the Creaturisme program took part.
This event also had the participation of technicians from Turisme Comunitat Valenciana, with the objective that the attending tour operators become familiar with the varied portfolio of attractive products presented by the Creaturisme companies.
Based on these new reports, the aim is to stimulate the creation of synergies and commercial agreements that allow collaboration between tourist intermediaries and companies, helping the participating agents to promote the commercialization of their services.
Likewise, it should be noted that these two new B2B Tourist experiences brochures will be used in future promotional actions in which Turisme Comunitat Valenciana participates, such as fairs, workshops and national and international destination presentations. In this way, it is expected to give visibility to the offer of tourist products and resources in our region, placing it as a leading destination on the international scene.
2022 Bono Viaje Update
The 2022 Bono Viaje initiative presents different conditions for applicants, who can choose between a short stay with a minimum of two consecutive nights, opting for a 50% discount of up to 400 euros, or a long stay, with a minimum of 5 consecutive nights, which would qualify for a 60% discount of up to 600 euros.
During 2021, nearly 120,000 people traveled with the Bono Viaje and more than 1,500 travel agencies and tourist accommodation were part of it, data that shows the effectiveness of this instrument in supporting the reactivation of a tourism industry hit by the pandemic. For this 2022 the same good result is expected as during the first edition.
---
Related Links
---
For many years, you've told us how much you love what we're doing and some of you have even asked for ways to say thanks. For us, there really is nothing easier to show someone how much you appreciate their efforts than buying them a beer (or a wine; or even a coffee) – it's so simple. Click on the link below to find out more.

---