CD Jávea prepares for a complicated match against UE Tavernes
CD Jávea look to inflict defeat on powerful side UD Tavernes this evening.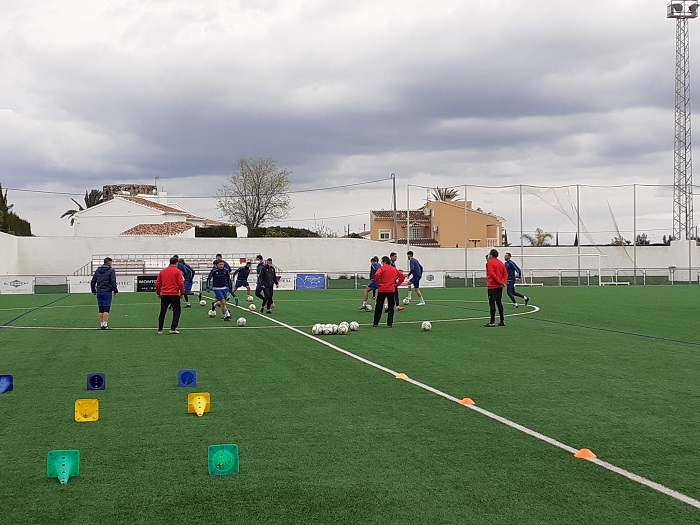 Friday 19th March 2021 | XÀBIA AL DÍA, translated by MIKE SMITH
CD Jávea has a difficult game this Saturday from 6.00pm against La Safor side UD Tavernes, a team which currently sits in second position in the Group V league table, and returned to competition with a 3-0 home win against CD Pedreguer.
Taking advantage of the San José bank holiday, CD Jávea trained on Friday with all the available squad. Toti returns after serving his one-match suspensions whilst key defenders Paolo and Ayoze, who both withdrew injured during last weekend's 2-2 home draw against Universitat d'Alacant, seem to have recovered.
XAD spoke with head coach Diego Miñana, who explained that although it was a band holiday, they decided to train in the morning. He also spoke of last weekend's game: "we drew the conclusions that we already knew, we had a great first half with the team slotting back into playing but the injuries to Ayoze and Paolo as well as the onset of fatigue during the second-half influenced the final result, we ended up exhausted".
With regards to today's match, Miñana recognises that the opposition is a serious candidate to claim a promotion play-off spot at the end of the season. They also finished third last season, but fell at the first hurdle in the play-offs, losing 1-4 to Group I champions CD Benicarlo, so they are a powerful team to face.
For CD Jávea, he acknowledges that a complicated stage faces the team, with six games every 3/4 days to recover the full season after competitive football was suspended as the third wave spread across the region. "The squad is very limited, most of the squad have jobs, and we will have to adapt the sessions to the competition". Ayoze and Paolo are expected to recover for the game but the squad is suffering the normal effects of the enforced suspension of the league and the senior side have been forced to call up a couple of players from the reserves, Campayo and Vargas. Miñana admits that he would like to be able to sign a new player because the rest of the season is going to be long with two games a week at times.
---
Click below to read the original article in Spanish on Xàbia AL DÍA

---