Provincial fire service strengthens summer coverage with second helicopter
The additional aircraft will operate out of the base in San Vicent del Raspeig.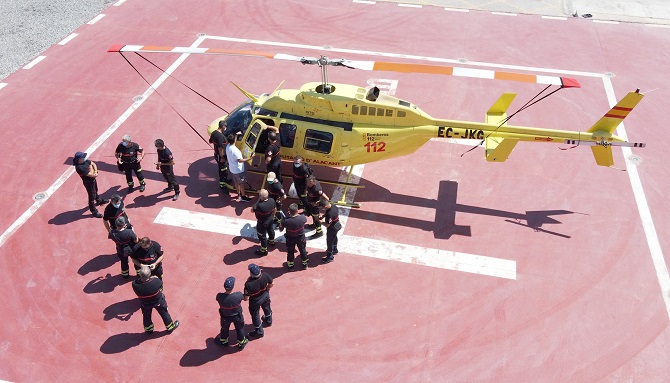 Wednesday 9th June 2021 – XÀBIA AL DÍA with Mike Smith
---
The Provincial Fire Service will have two helicopters at their disposal to provide emergency services during this summer. As it did in 2020, the provincial service will strengthen its coverage with a second aircraft with a capacity for six passengers plus pilot that will operate out of Parque Central de San Vicent del Raspeig from June to September this year.
The responsible provincial secretary Javier Sendra explained that the additional helicopter, which has already entered service, will be used mainly for the detection, coordination, management and extinction of firest fires as well as attending in major emergencies. "The inclusion of this helicopter will reduce reaction times and provide a more precise view of incidents, including the behaviour, magnitude and progress of fires." These reconnaissance tasks, and the information obtained by them, will help to develop more precise and efficient fire-fighting plans.
The arrival of an additional aircraft in the province for the summer season also include the activation of the Sant Pola-Baix Vinalopó and Pilar de la Horadada-Vega Baja surveillance patrols from July 15th to September 15th. In each area and their immediate surrounding zones, a mobile service formed by a corporal and three fire-fighters will provide a patrol between 10.00am and 10.00pm, attending to incidents as required.
Sendra explained that "the tasks that the surveillance checkpoints will carry out are the same as those carried out by the stations. When an emergency is received, both the patrol and the unit of the fire station in the affected area will be activated … the caveat is that the patrol arrives first and is the one who evaluates and advises if the fire-fighting unit needs to be mobilized".
Finally, Sendra explained that both services are necessary during the summer "since it is at this time of year when there is an exponential increase in the population and, therefore, a notable increase in traffic density, two factors that suppose, in practice, an increase in the time of arrival to any incident".
---

---