Xàbia windsurfer Jacobo Ramón triumphs at Alicante Nautical Week
Pablo Momparler was second in Bic Techno sub15, Mateo Carbonell and Arthur Baker, third in their category, the Baker sisters, third in 420 and Marta Sánchez, third in Formula Kite.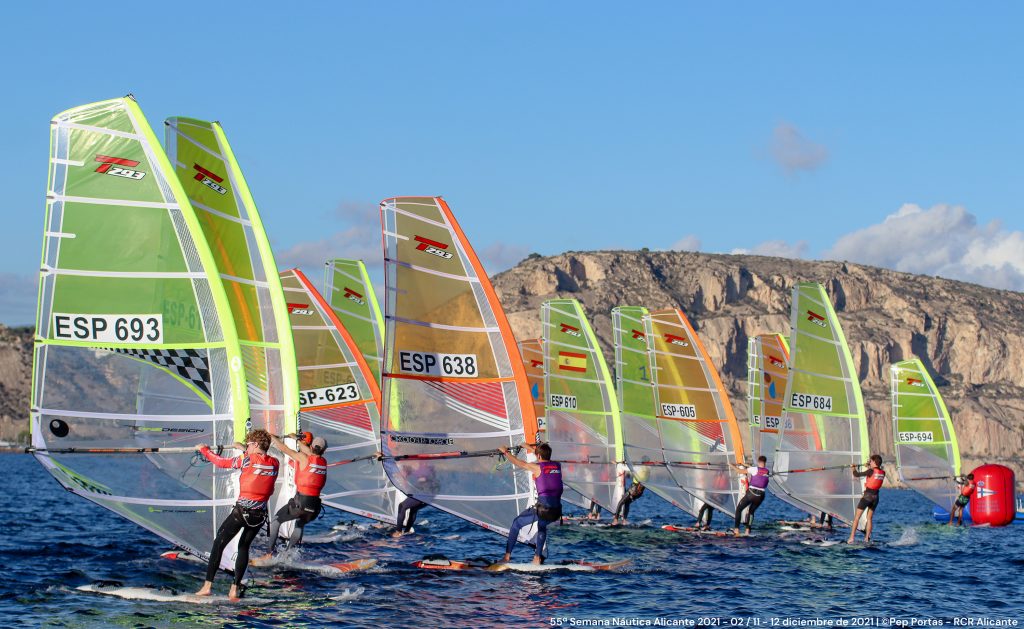 ---
Tuesday 14th December 2021 – PRESS RELEASE with Mike Smith
---
Jacobo Ramón, representing Club Náutico Jávea, was the best in the Bic Techno Plus category, in the 55th edition of the Alicante Nautical Week, which was held last weekend at the Real Club Nautical Regattas of Alicante.
The event was marked by the lack of wind and only two rounds could be completed in the two days. In both, Ramón was the best of all the participants.
He was not the only one to get on the winners' podium. Pablo Momparler was second in the Bic Techno Sub15, finishing third and second in two heats, whilst Mateo Carbonell and Arthur Baker claimed third spot in the Optimist Sub13 classification and Amelie and Elisabeth Baker finished third best in 420, the same position that Marta Sánchez achieved in Formula Kite.
Club Náutico Jávea attended this weekend's event in Alicante with a great team made up of Momparler and Ramón as well as Alex Serrat (5th BicTechno), Mauro Guijarro (7th: BicTecho Sub17), Jorge Momparler (5th: BicTechnoc Sub15) and Noor Saidi (7th: BicTechno Sub 15). José Luis Boronat Roda also attended Alicante, finishing seventh in the Copa de España de Raceboard.
Mateo Carbonell and Arthur Baker, the best in Optimist
In addition, the tests for the Optimist class were also disputed, and among the more than 90 sailors of the Optimist A fleet, there were those from Club Náutico Jávea, of which four made it into the top 25. Mateo Carbonell finished 8th overall and 3rd best in Sub13 category, Fernando Puig (11th), Liam Woods (21st), Vivi Alonso (23rd), Begoña Pérez-Manglano (33rd), Kevin Lenis (42nd), Carlota Gómez (46th), Mauro Poveda (58th) and Elena Pérez Manglano (60th).
Meanwhile, in Optimist B there were 96 participants, four from the Club Náutico Jávea finished in the top 15. Arthur Baker claimed the best position (9th overall and 3rd Sub11 category) whilst Lewis McGregor finished 12th and Charlie Crosbie 13th. Also competing were Pelayo Poveda (24th), Elisaveta Konak (31st) and Marc Puig (60th).
During the December 'puente, the 420 class and Formula Kite tests were disputed and there was also a successful presence of the sailors from Club Náutico Jávea; the sisters Amelie and Elisabeth Baker and Arantza Reig and Lucy Crosbie. The Baker sisters finished 3rd (with a 2-5-3-1 partial) and the Reig-Crosbie duo were 4th in the general classification (whose partial was 3-3-2-4). Meanwhile Marta Sánchez, finished 3rd in Kite Formula.
---