Xàbia will not have a smoke-free beach for now
Councillor for Services has admitted that sometimes prohibiting something has the opposite effect.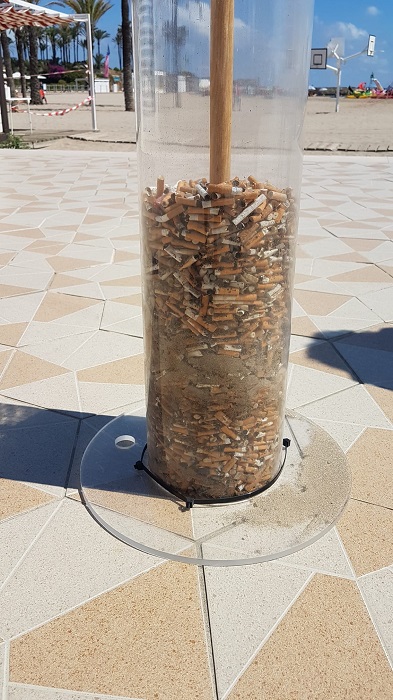 Monday 7th June 2021 – CARLOS LÓPEZ with Mike Smith
---
Xàbia Council has decided not to create a smoke-free beach for now, one in which beach users will not be permitted to smoke, according to councillor Kika Mata (Services) who was responding to a question from the spokesman of Ciudadanos, Enrique Escrivà.
Asking the question, Escrivà took advantage of the fact that May 31st is World No Tobacco Day and that the regional health ministry in the Comunidad Valenciana has been promoted various initiatives to develop smoke-free beaches, with 53 already declared as such across the region.
However, the matter is not currently on the municipal political agenda and the councillor for Services actually admitted that after the cigarette butt collection campaign started by the Rotary Club Jávea last summer, they were surprised that there were many more cigarette butts along edge of La Grava beach from restaurant users. She added that there is a lot more awareness on the beach and that sometimes prohibiting something has the opposite effect.
The councillor explained that it is intended to repeat the campaign with the Rotary Club Jávea but Escrivà regretted that the local government has, once again, left everything to the responsibility of the residents and beach users without any political commitment.
Cala del Francés opening this summer
Compromís Councillor Vicent Colomer asked councillor Isabel Bolufer (Town Planning) about conversations with the Lambert family that owns the land that gives access to Cala del Francés. The councillor replied that the owners will allow the path to be open this summer but that discussions about the possibility of making a new access path on the land has not come to fruition.
---
Cast Your Vote
[IT_EPOLL id="8781″][/IT_EPOLL]
---

---