Red Cross to be awarded new contract for lifeguard and beach surveillance service
Subject to final documentation phase, the Red Cross will be responsible for lifeguard and beach surveillance service for next two years.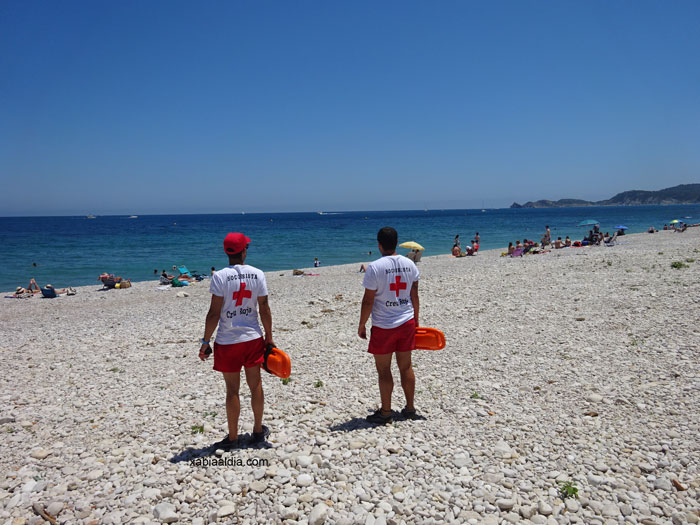 Friday 4th June 2021 – CARLOS LÓPEZ with Mike Smith
---
Xàbia Council has confirmed in a statement that it has proposed that the two-year contract for the beach lifeguard and surveillance service has been awarded to the Red Cross and Vectalia.
It has already been reported by XAD that the bid submitted by the Red Cross stood out for its technical profile and today Friday there was a meeting of the assessment panel in which its submission was confirmed as the one with attracted the best score, obtaining 99.9 points out of a possible 100 – broken down into 40 points for technical profile, 20 points for improvements (which all bids had to fulfill) and 39.99 for the economic offer, which was 448,569 euros compared to an opening bid price of 453,100 euros.
Vectalia wins contract for surveillance in the coves
It is also proposed that Vectalia be awarded the contract for the security surveillance and access control service for the beaches of Xàbia, worth some 95,872.66 euros.
Through this contract, the capacity of the Arenal and La Grava beaches will be controlled along with the coves of La Granadella, Portitxol-Barraca, Ambolo (which is officially closed) and, for the first time, Cala Blanca.
In both cases, the winning companies must provide all the required documentation before contracts are signed, although it is the intention that these services will be up and running "as soon as possible".
---
Related Links
---

---