Xàbia returns to Casa Mediterráneo and will host consortium's environmental journalism awards
The mayor and general director of the consortium signed an agreement for the municipality's return to the consortium.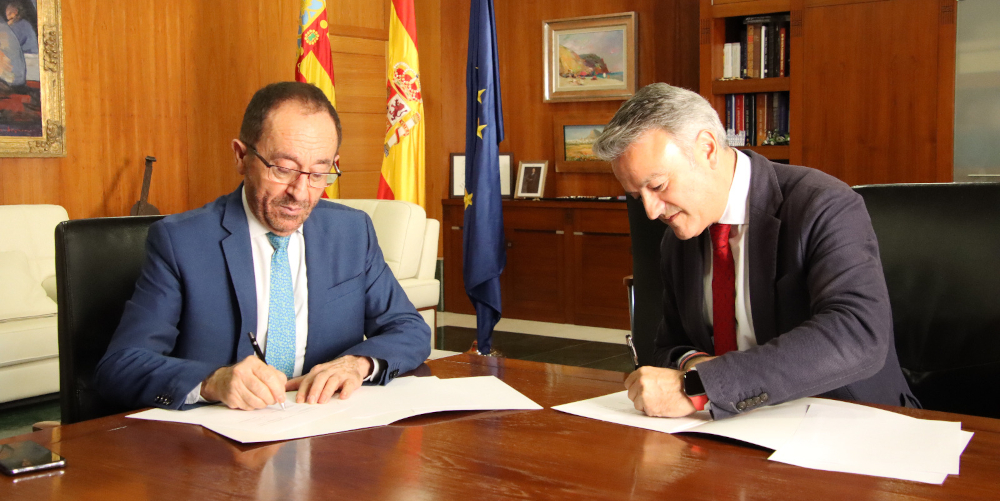 Friday 13th January 2023
Mike Smith
Mayor José Chulvi and the general director of Casa Mediterráneo, Andrés Perelló, has signed an agreement that formalizes the return of the municipality to the governing council of the consortium.
Founded in 2009, Casa Mediterráneo is a major public diplomacy instrument whose main goal is to foster mutual knowledge and to bring Spain and the other Mediterranean countries closer together on different areas such as culture, economy, climate change, gender equality or scientific and technological innovation.
Related Link: Xàbia invited to return to Casa Mediterráneo Consortium
Perelló highlighted the symbolism of the return of one of the consortium's founding members to the Casa Mediterráneo and announced the first two projects with which the organisation will extend its activity during 2023 to what he described as "an absolutely Mediterranean town such as Xàbia".
The first appointment will be a concert of the Ensemble Casa Mediterráneo which has been scheduled for Saturday 25th March at the fortress-church of San Bartolomé, the resident orchestra of the diplomatic institution under the baron of Ignacio García Vidal, director of the RTVE orchestra.
Related Link: Council to request new health centre in the Arenal
The second activity will be the hosting of the Xàbia Casa Mediterráneo Awards for Environmental Journalism that will honour journalists or writers who demonstrate work to raise awareness and defend the land and marine environment, especially in the Mediterranean area.
The general director admitted that he has been excited about the start of what he called a "new journey of collaboration" and thanks all the municipal groups of Xàbia Council for their support by voting unanimously for the return of the municipality to the consortium.
Related Link: ELS COLORS DE LA MÚSICA | Ensemble Casa Mediterráneo
Mayor José Chulvi added that it was an opportunity for Xàbia to become part of the Casa Mediterráneo again, something that "reinforces our images as a municipality devoted to the Mediterranean and a defender of its lifestyle and culture" whilst he also expressed his enthusiasm for the consortium by verifying the presence that Xàbia will have on its agenda. He added that hosting the environmental journalism awards will also contribute to making the town's strategy and efforts visible in protecting the environment and boosting culture.
---
---