Xàbia Red Cross asks for help to supply its food warehouse
The NGO is also looking for volunteers to help with the refugees who arrive from Ukraine, especially those who can speak Ukrainian or Russian.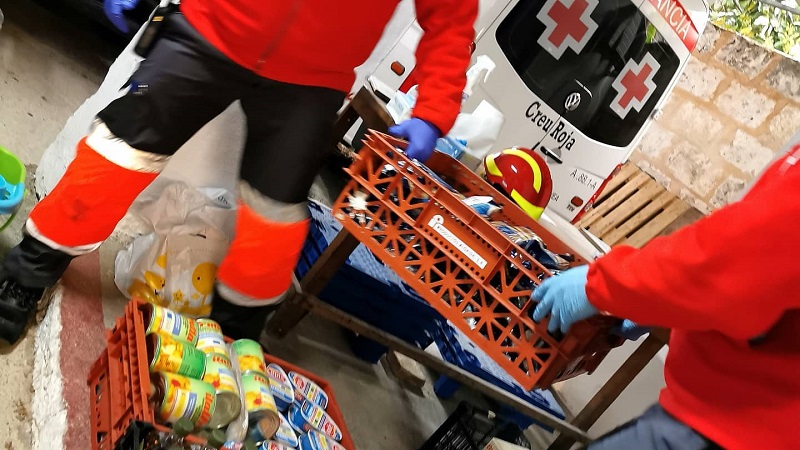 ---
Friday 11th March 2022 – Mike Smith
Source: original article – Xàbia AL DÍA
---
The local branch of the Cruz Roja has launched an urgent request for citizens help to supply its food warehouse since it is running out of stock due to logistical problems derived from the international supply crisis.
As reported by municipal sources, they urgently need non-perishable food or hygiene products to continue carrying out ordinary distributions among their users, since the Cruz Roja helps many families in Xàbia to overcome their day to day needs.
Also, the NGO is trying to anticipate the extraordinary demand that may occur with the arrival of refugees fleeing the violence caused by the Russian invasion of Ukraine.
Volunteers for the Refugee Operation
In addition, the Cruz Roja – an organisation that has extensive experience in volunteering in the municipality – has also made a special appeal to be able to cover the extraordinary needs of the refugees who have begun to arrive in the municipality and those who may arrive in the coming weeks.
All those people who want to offer assistance and give part of their time should get in contact. The volunteer coordinator is available at the local headquarters (Avenida Alacant, 12; see map below) on Mondays, Tuesdays and Thursdays from 9.00am to 2.00pm.
The following skills are especially needed:
People with knowledge of Russian or Ukrainian to act as translators
People trained to teach Spanish
People who drive available to assist with carrying out procedures
People trained to provide psychological support, legal advice or employment
Other fields that may be useful to their work.
---
---