Two former students of the Music Conservatory of Xàbia finish their higher music studies
Miriam Llerena and Juan Vallés will continue the musical studies in Salamanca and Alicante.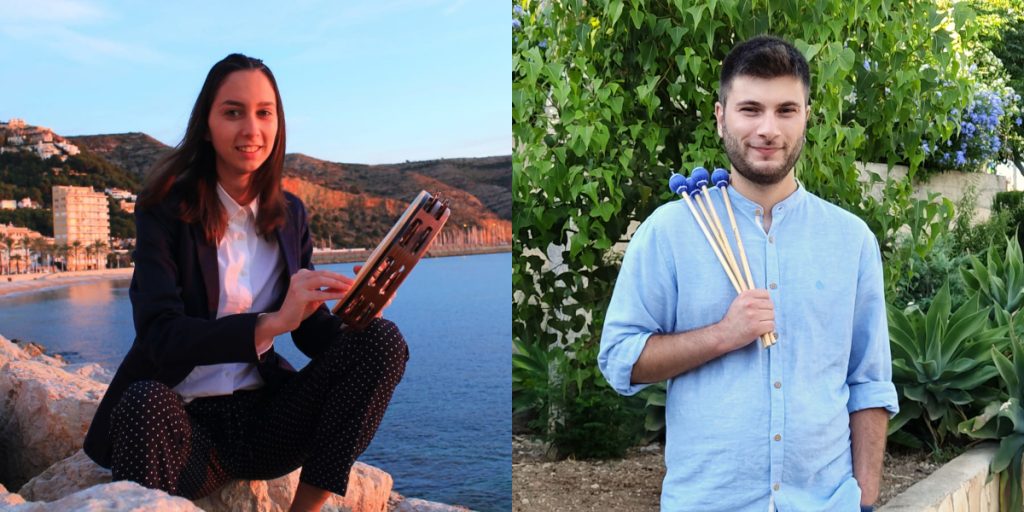 Tuesday 7th September 2021 – PRESS RELEASE with Mike Smith
---
The Professional Music Conservatory of Xàbia is celebrating after two former students completed their higher music studies. Miriam Llerena Martín and Juan Vallés Crespo join a long list of students who, after taking professional education in Xàbia, have decided to continue and dedicate themselves fully to the musical world.
Juan Vallés has won a place at the Oscar Esplá Higher Conservatory in Alicante to study under maestro José Francisco Crespo. He is a regular member of the ADDA Youth Symphony Orchestra and also a percussion teacher at the Xirimitab's School of Dolçaina as well as director of the youth band of the Centre Artistíc Musical de Xàbia (CAM). He has collaborated with the ADDA Symphony Orchestra and the Alicante Municipal Symphony Band and has worked with renowned teachers such as Rafa Galvéz, Salvador Soler and Raúl Benavent. This year, he will study a Masters in Musical Interpretation and Research.
Miriam Llerena has won a place at the Higher Conservatory of Castilla y León in Salamanca to work with maestros Tomás Martín and Alejandro Coello before moving to the Higher Conservatory of Navarra in Pamplona to study under Andreu Rico and Javier Pelegrín. Miriam reached the semi-finals of the 19th InterCentre Melómano Contest in the superior category at national level in December 2020 and she has been a regular member of several orchestras including the OJPA, the OSA and the UNAV Symphony Orchestra, has been a collaborator with the OSN, whilst performing with professional music entities such as the Municipal Band of Soria and La Pamplonesa Music Band. She is also a percussion and percussion ensemble teacher at the Irabia-Izaga school in Pamplona and had studied particularly renowned percussionists such as Sisco Aparisi and Paco Cherro, among others. She has also been selected to do the Masters in Musical Interpretation and Research at the SMAE of Oporto (Portugal).
The Professional Music Conservatory of Xàbia has congratulated the two musicians. "We know the energy and effort involved in dedicating yourself fully to culture and music and we wish you the best of luck on the long journey of study and constant work that this requires."
---