Tourism chief assures that the sector can provide a perfect tonic against the virus
"The future is closely linked to tourism and it will reactivate the happiness that the world needs"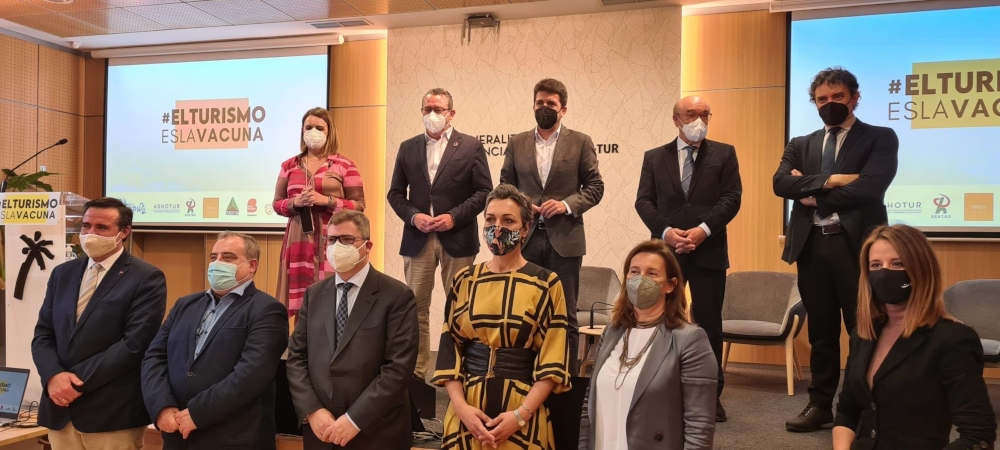 Tuesday 16th March 2021 | translated by MIKE SMITH
The regional secretary for Tourism, Francesc Colomer, has supported the demands made by the tourism sector about the importance of tourism and its role as an engine for the economy of the tourism sector in the act #ElTurismoEsLaVacuna, organized by the Benidorm, Costa Blanca and the Comunidad Valenciana Hotel Association (HOSBEC).
Colomer took part in the closing day's agenda together with the president of the Alicante Provincial Council, Carlos Mazón, and the mayor of Benidorm, Toni Pérez, held at the Valencian Institute of Tourism Technologies (INVAT·TUR), which was also attended the general director of Tourism, Herick Campos.
The head of Tourism stressed that this year "we were looking for two vaccines at all times, one against the virus and the other against fear, and vaccinating now is undoubtedly the best tourist policy".
In addition, he stressed that "now it's time to defend joy", while stressing that "the future is closely linked to tourism, it will be reactivate the happiness that the world needs".
Colomer has made a plea "in favour of lucidity, of the courageous ideas of the tourism sector in a timid world, in a very difficult environment" and has pointed out that "with imagination and discipline, this sector has always formulated bridges and alternatives to embrace hope".
Along these lines, he has emphasized that "competing is the Olympic spirit of this sector, that is why there is no shortage of brave ideas" and, with respect to the criticisms that have arisen in the sector, he has stated that "the problem is not what our detractors think, the problem is that they do it in our heads", which is why he stressed that "we need a strong, autonomous and professional sector".
The #ElTurismoEsLaVacuna conference was organized by HOSBEC on the occasion of the first anniversary since the beginning of the restrictions due to COVID-19 and brought together the main business organizations of the hotel sector in the Comunidad Valenciana.
Specifically, the presidents of business organizations in the hotel sector such as Toni Mayor, president of HOSBEC; Victoria Puche, president of the Alicante Provincial Hotel Association (APHA); Cristina Sellés, president of the Hospitality and Tourism Business Association of the Marina Alta (AEHTMA); Esther Guilabert, president of the Association of Tourist Companies of Elche (AETE); Joaquín Deusdad, president of TEMPS; and Luis Martí, executive vice president of the Castellón Provincial Association of Hospitality and Tourism Business (ASHOTUR).
---
Information Source
Press Release – Generalitat Valenciana
---