The port zone will enjoy a series of theatrical guided tours during August
There will also be a guided tour in English, exploring the history of Xàbia through its important spaces and characters.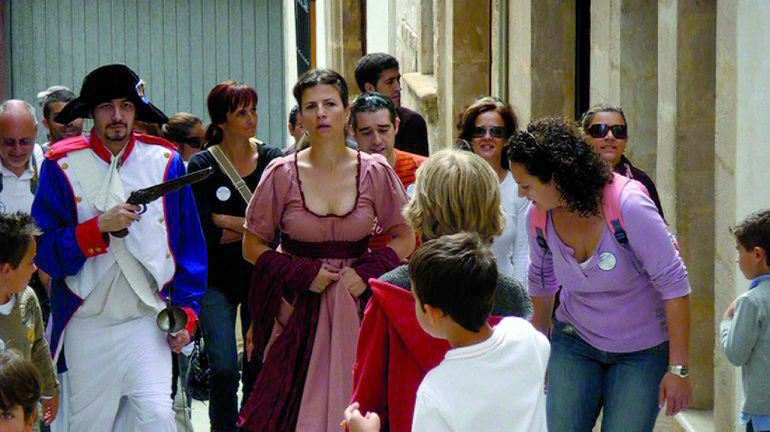 Thursday 4th August 2022 · Mike Smith
Source: XAD Álvaro Monfort
The Department of Tourism in Xàbia has organised a series of theatrical guided tours in the port zone throughout the month of August. Entitled Cuentos a la Luz del Puerto, it is a new theatrical route aimed at all families and will run entirely through the maritime neighborhood.
The route, lasting an hour and a half, is based on the story La Flor del Olvido, inspired by a Carthaginian legend that tells of the origin and appearance of the mountains and islands of our territory. Through it, a fleet of pirates will land on La Grava beach to search for treasures and riches.
During August, this route will be held twice, the first on Tuesday 16th August at 7.30pm and the second of Tuesday 30th August at 7.00pm. Both tours will start at the Tourist Info Xàbia Port which is located at one end of the Plaza Presidente Adolfo Suárez, next to Restaurante Pòsit.
These are not the only theatrical routes that will be on offer in Xàbia during the month. On Monday 8th August and Monday 22nd August, both at 7.00pm, the route El Quixot de La Plana will discover the mountainous area of the municipality, departing the Sanctuary of the Virgen de los Ángeles in Carretera Cap de Sant Antoni.
On Tuesday 9th August and Tuesday 23rd August, both at 7.30pm, visitors can learn about the golden age of Xàbia whilst on Monday 15th August and Monday 29th August, both at 7.00pm, there will be a tour that tells the history of the ghosts that shakes the historic centre. All four tours will leave from the Tourist Info Xàbia Centre opposite the church in the heart of the historic centre.
All tours are in Spanish but there is an addition tour in ENGLISH on Monday 8th August at 7.30pm, leaving Tourist Info Xàbia Centre, which will explore the historic centre's most important spaces, characters and moments throughout its long history.
Pre-registration is essential and this year, for the first time, reservation and payment (all tours are priced at 10 euros) can be made online here.
THE GUIDED TOURS – August 2022
Mon 08 Aug – EL QUIXOT DE LA PLANA (Español) | Santuario Virgen de los Ángeles
Mon 08 Aug – A WALK THROUGH THE HISTORY OF XÀBIA (English) | Tourist Info Xàbia Centre
Tue 09 Aug – LA ÉPOCA DORADA DE XÀBIA (Español) | Tourist Info Xàbia Centre
Mon 15 Aug – UNA HISTORIA DE FANTASMAS (Español) | Tourist Info Xàbia Centre
Tue 16 Aug – CUENTOS A LA LUZ DEL PUERTO (Español) | Tourist Info Xàbia Port
Mon 22 Aug – EL QUIXOT DE LA PLANA (Español) | Santuario Virgen de los Ángeles
Tue 22 Aug – UNE PROMENADE DANS L'HISTORIE DE XÀBIA (Français) | Tourist Info Xàbia Centre
Tue 23 Aug – LA ÉPOCA DORADA DE XÀBIA (Español) | Tourist Info Xàbia Centre
Mon 29 Aug – UNA HISTORIA DE FANTASMAS (Español) | Tourist Info Xàbia Centre
Tue 30 Aug – CUENTOS A LA LUZ DEL PUERTO (Español) | Tourist Info Xàbia Port
---

---