Rosa Cardona, executive secretary of Natural Parks in the regional board of the PPCV
Pablo Mazón calls on members to work on the objective that the PPCV becomes servants to the dreams of Valencian society.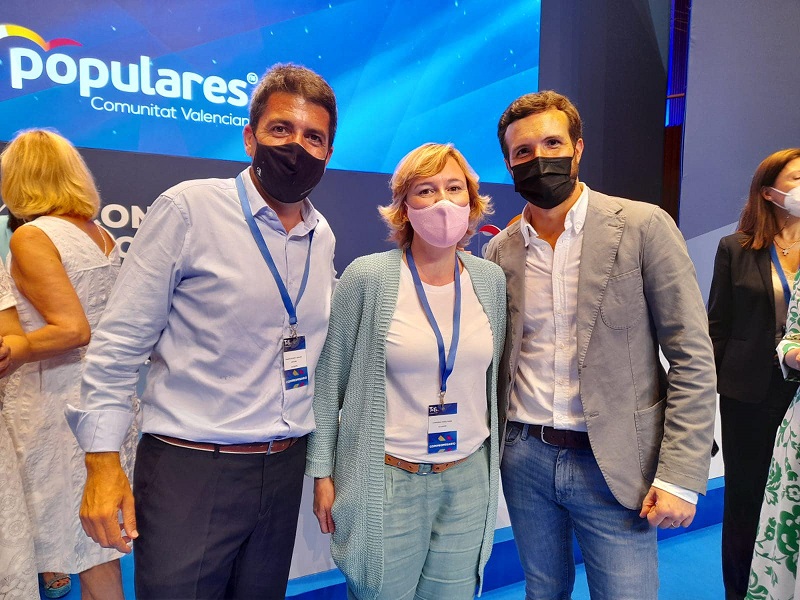 Monday 5th July 2021 – CARLOS LÓPEZ with Mike Smith
---
The PP representative in Xàbia, Rosa Cardona, has been appointed as executive secretary of Natural Parks in the new board of her party at regional level, a position endorsed at the XV Congress that took place last Saturday.
Cardona is joined by Teulada-Moraira mayor, Raúl Llobell, the only two councillors of the Marina Alta who have joined the board that Carlos Mazón has drawn up. Llobell will be the executive secretary of European Citizenship, whilst Juan Bautista Roselló and José Manuel García Margallo are also part of the regional leadership as members.
The board is chaired by Carlos Mazón, the general secretary who will be the representative in Valencià is María José Catalá, whilst the regional secretary for Organization will be Juan Francisco Pérez Llorca. It is a structure that, according to the PPCV statement, remove the three deputy general secretaries and creates new ones of civil rights, ecology and territory.
At the congress, the PP acclaimed its new leader and next candidate for the presidency of the Generalitat Valenciana, Carlos Mazón, in a closing ceremony attended by the highest representative at national level, Pablo Casado.
In his speech, Mazón stressed that the PP is "capable of giving everything" and called on all members "to govern the Generalitat and the Valencian institutions to win the future of the Comunidad". But he also stressed that the Populares have the "muscle and work capacity" and wanted to take one more step towards the street. "The PPCV must be the servant to the dreams of the Valencian society".
---

---