Regional government marks opening of L9 tramway link between Teulada and Gata
It also confirms its commitment to re-open the whole L9 tramway service linking Dénia to Benidorm by the end of the year.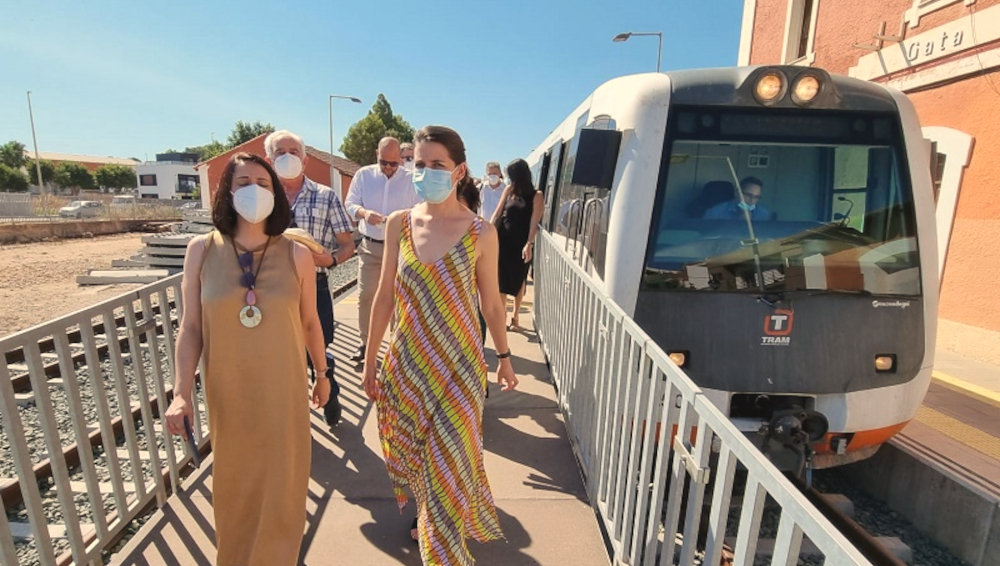 Friday 15th July 2022 · Mike Smith
Source: XAD Carlos López
The Generalitat Valenciana has finally put back into service the Teulada-Gata de Gorgos section of Line 9 (Benidorm-Dénia) of the TRAM d'Alacant, after track renovation works and installation of the signaling, communications, power and ATP (Automatic Train Protection) infrastructure, an investment of 15 million euros on this specific section of 6.5 kilometers
The Minister of Territorial Policy, Public Works and Mobility, Rebeca Torrró, marked the opening of this section with a trip on the tram, pointing out that "today the Generalitat takes another step to structure La Marina, to complete the re-connection of the railway to Dénia before the end of the year and complete the modernization of this line".
"Between actions already completed and planned, the Generalitat Valenciana has allocated more than 150 million euros to this line that connects Benidorm and Dénia, with the aim of maintaining and improving operating conditions, guaranteeing safety and quality of service with similar standards. to the rest of the TRAM d'Alacant network," highlighted Torró.
With the opening of this section, the direct rail connection between Benidorm and Gata de Gorgos is recovered, leaving only the alternative bus service between Dénia and Gata de Gorgos.
In this sense, the minister has announced that "the connection to Dénia will return into service at the end of this year, once the conditioning works of the Dénia workshop are completed to be able to accommodate the new dual trains (diesel-electric)".
Along with the minister, the mayors of Gata de Gorgos, Josep Signes, and Teulada, Raúl Llobell, as well as the managing director of Ferrocarrils de la Generalitat Valenciana (FGV), Anaïs Menguzzato, and the secretary Autonomous Public Works, Transport and Sustainable Mobility, Mari Pérez marked the re-opening of this section with a journey between the two Marina Alta towns.
Related Link
---

---