L9 FGV line resumes service between Teulada and Gata de Gorgos this week
The alternative bus transport remains between Gata and Dénia, although it is expected that this final section will open at the end of 2022.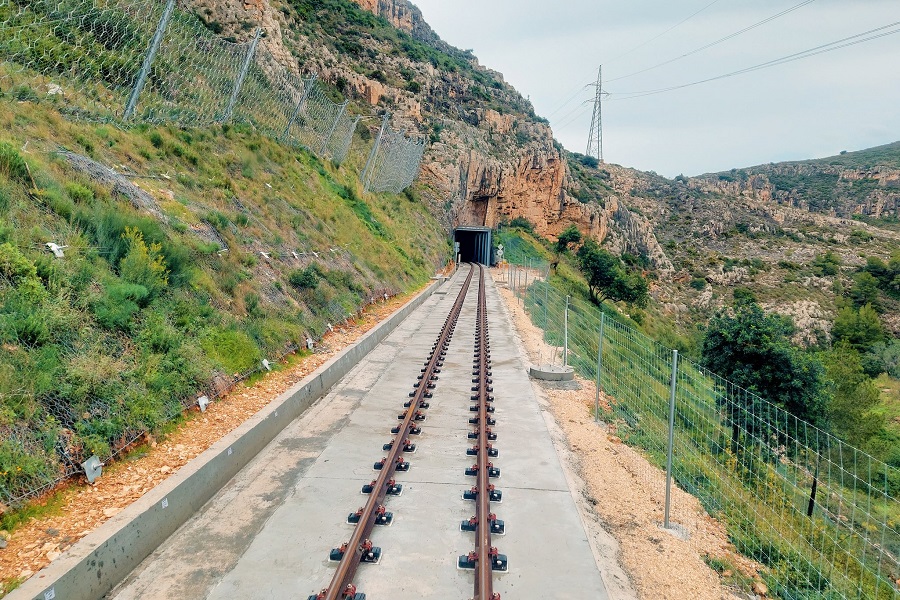 Tuesday 12th July 2022 · Mike Smith
Source: FGV / XAD
The Teulada-Gata de Gorgos stretch of Línea 9 (Benidorm-Dénia) of TRAM D'Alacant will be re-opened by the Generalitat Valenciana tomorrow Wednesday 13th July. The improvement works on this section, together with those being carried out on the final stretch to Dénia, a total of 17 kilometres, have cost more than 30 million euros.
The opening of this section will provide a direct rail connection between Benidorm and Gata de Gorgos, leaving only the alternative bus service operating between Gata and Dénia. The President of the Generalitat Valenciana, Ximo Puig, announced that this final section of the service will open before the end of the year, once improvements have been made to the workshop in Dénia to accommodate the new diesel-electric trains.
This multi-million euro investment has renewed and modernize the railway link between the popular resort of Benidorm and the major towns in the Marina Alta and Marina Baja. Embankments have been strengthened and sleepers and ballast replaced to improve the safety of the service, passenger comfort, and route durability as well as reduce maintenance costs.
TRAM D'ALACANT
The tramway service TRAM D'Alacant is a metropolitan tramway service divided into six lines:
LÍNEA 1

links the city of Alicante (Luceros) with Benidorm.

LÍNEA 2

links the city of Alicante (Luceros) with San Vicente del Raspeig.

LÍNEA 3

links the city of Alicante (Luceros) with El Campello.

LÍNEA 4

links the city of the Alicante (Luceros) with Plaza La Coruña (Playa de San Juan).

LÍNEA 5

links with port of Alicante (Porta del Mar) with Plaza La Coruña (Playa de San Juan).

LÍNEA 9

links Benidorm with Dénia.
Click here to check timetables.
The system is split into three zones and two sub-zones:
Zona A

covers the city of Alicante (L1), San Vicente del Raspeig (L2), El Campello (L3) and Plaza de la Coruña (L4 & L5).

Zona B

covers the section between El Campello and Calp with Benidorm as the terminus for both L1 from the city of Alicante and L9 from Dénia.

Zona C

covers from Calp to Dénia.

T1

covers El Campello to just south of Benidorm.

T2

covers from Altea to Benissa.
Click here for a schematic of the different routes and the ticket zones.
Tickets are priced according to the number of zones through which the passenger will be passing. A single journey ticket costs between 1.45 euros and 3.90 euros whilst a return ticket costs between 2.50 euros and 6.65 euros. Thus, you can make a return trip from Gata de Gorgos to the city of Alicante (changing at Benidorm) for 6.65 euros. There is also an all-zone unlimited use ticket valid for 24 hours available for 8.00 euros plus season tickets available for 10 trips and 30 trips as well as discounts for senior citizens over the age of 65 and people with disabilities.
Click here for more information about the fares for using TRAM d'Alacant.
---

---