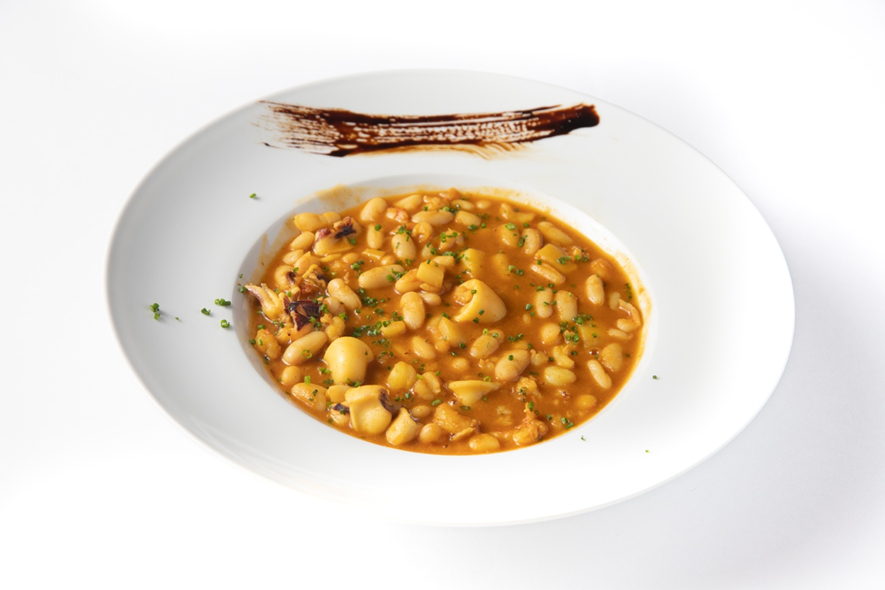 Alubias Pochas a la Marinera con Sepia, Gambas y Calamar
Chef Pedro Martinez of NORAY provides another of a series of simple recipes for you to try at home – Haricot Beans "a la Marinera".
Ingredients
For 4 people
400 grams White Haricot Beans, pre-cooked, drained, and reserved
1 medium squid, cut into pieces
1 medium cuttlefish, cut into pieces
a few strands of saffron
50 grams natural tomato – diced
one teaspoon sweet paprika
300 millilitres of fish stock
8 prawns, peeled (but keep the shell and head)
Preparation
Place the squid and cuttlefish pieces into a pan to fry and when they start to colour, add a few strands of saffron and the diced tomato, then let simmer for 15 minutes.

In a frying pan, place the heads and shells of the prawns and fry, crushing them. Then add a little white wine (the amount of a small cup of coffee) and leave for a while so that the alcohol evaporates then add to the fish stock to enhance the flavour.

Before adding, pass the stock through a strainer to remove the remains of the heads, shells and other detritus so that you are left with the liquid only.

Once the seafood / tomato mix has done, add the sweet paprika and cook over a low heat for a few more seconds and then add the fish stock and the beans over a medium heat, letting it boil gently for about more five minutes.

Add the prawns, leave for three more minutes.
---
RELATED LINK: Restaurant Directory – Noray
---