NEW EXHIBITIONS AND TWO CONCERTS BOOST CULTURAL OFFER IN XÀBIA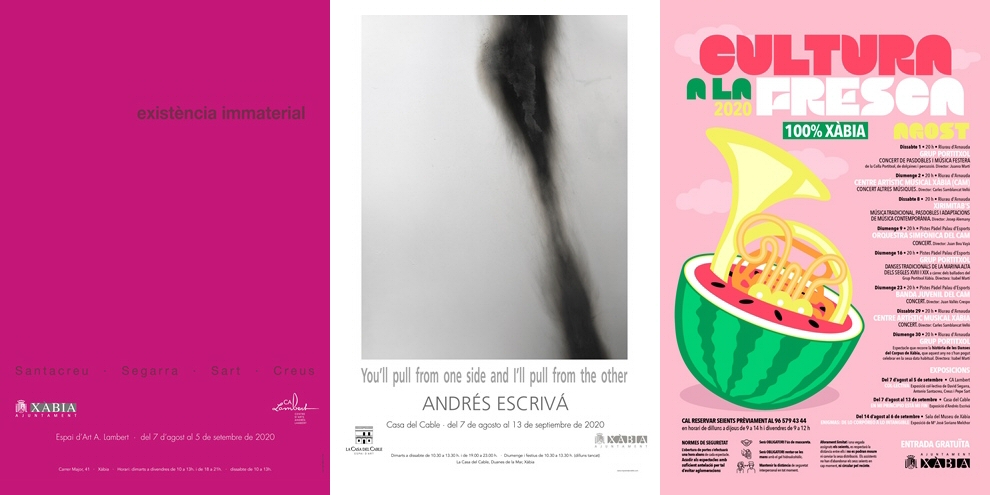 Despite the special circumstances that this summer has brought us, the Department of Culture has managed to organise more interesting cultural content for those looking for artistic inspiration and this weekend debuts two new exhibitions and two concerts.
From Friday 7th August, in the Centre d'Arts Lambert in Calle Mayor in the historic centre, there will be a collective exhibition entitled 'existència immaterial' by Antonio Santacreu, David Segarra, Creus and Pepe Sart, a proposal that mixes sculpture, photography and painting by local artists wth four very different trajectories but with a carefully worked common link; their strong friendship and love for their land.
Also on Friday, architect Andrés Escrivá opens his exhibition entitled 'You'll pull from one side and I'll pull from the other' at the Casa del Cable in Avenida Marina Española in the port, a project that mixes sculpture and painting especially considered for this exhibition hall, a building that was created from that which housed the first telegraph cable that connect mainland Spain to the Balearic Islands.
With regards to music, this weekend also sees two concerts as part of the 'Cultural a la Fresca 100% Xàbia' cultural programme for August. On Saturday 8th August at 8.00pm in the Ruirau d'Arnauda in the Parque Montaner in the town, the Colla Xirimitab's will be performing a concert directed by Josep Alemany that combines the traditional pasodoble with adapted contemporary music. On Sunday 9th August at 8.00pm on the open space next to the padel tennis courts in the port, the CAM Xàbia Symphonic Orchestra will be performing under the baton of Joan Bou Vayà.
In accordance with the COVID-19 prevention regulations, those interested in attending the concerts should reserve their place free of charge by telephoning 965 79 43 44 between 9.00am and 2.00pm.