Mobile EcoParque aims to raise awareness of waste management in Xàbia
On Monday it will be in the Placeta del Convent, on Tuesday in Avenida Jaume I and on Wednesday in Avenida Libertad.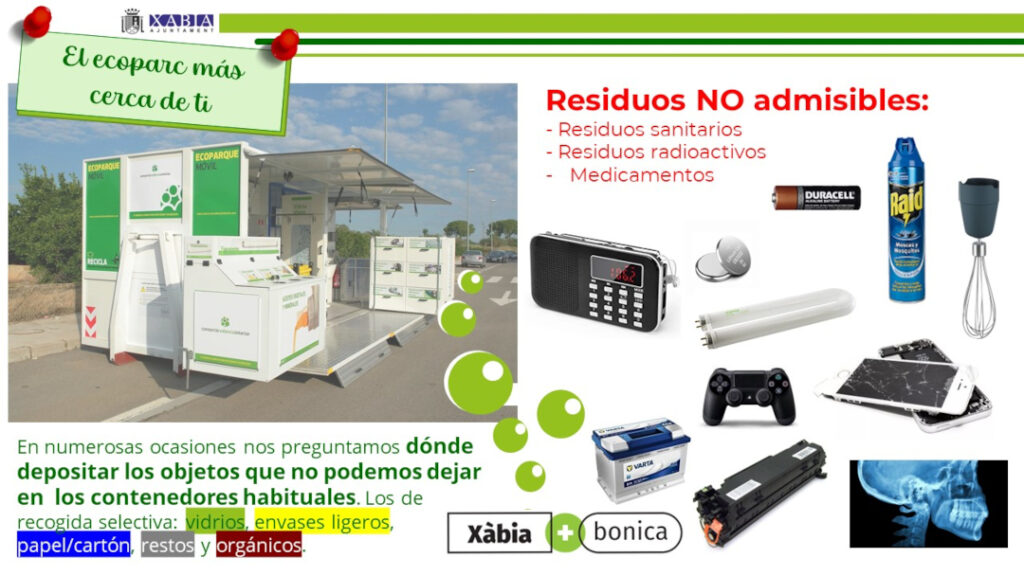 Thursday 29th July 2022 · Mike Smith
Source: Ajuntament de Xàbia
The Department of Services, in collaboration with TETMA, the company in charge of waste collection and street cleaning, launches the mobile EcoParque next week with the intention of making the recycling of electronic material easier for the residents of urban centres and to the same time to raise awareness of the need to go to the established EcoParque in Camí de les Sorts to deposit utensils and other waste that can't be deposited in the normal containers.
This mobile EcoParque will be in Placeta del Convent in the town on Monday 1st August, in Avenida Jaume I in the port on Tuesday 2nd August and in Avenida Libertad in the Arenal (next to the taxi rank) on Wednesday 3rd August.
It will then go to two of the 'puntos verdes' where the most problems of uncontrolled dumping are experienced: Les Cansalades on Thursday 4th August and Saladar on Friday 5th August.
The mobile EcoParque will be available from 9.00am to 2.00pm and in addition to bringing urban areas closer, this service will serve to clear up doubts about the destination of any type of waste and inform about the established EcoParque.
Click here to learn more about waste management and recycling in Xàbia >
---

---