MATCH REPORT | Hércules CF "B" 5-2 CD Jávea
Two goals from Cabo either side of the break couldn't save the rojiblancos from heavy defeat to kick off the new season.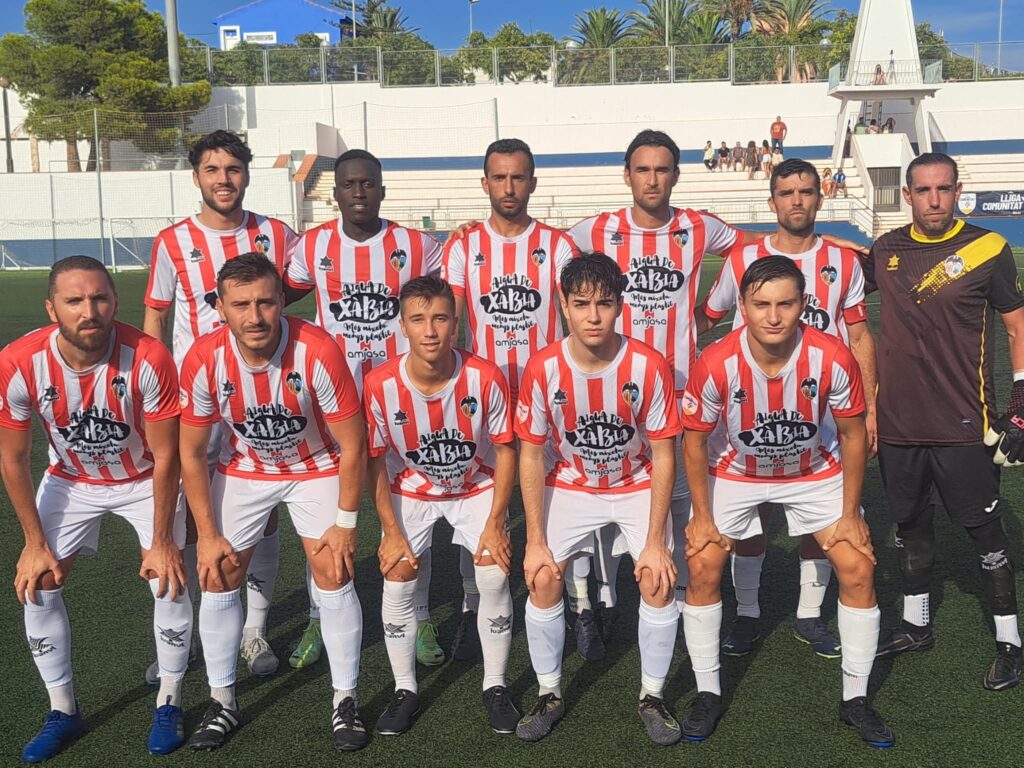 CD Jávea's debut in the inaugural season of the elite Lliga Comunitat didn't quite go to plan as the rojiblancos fell to heavy defeat in Alicante against Hércules CF "B", who were relegated from the Tercera División at the end of last season.
The host side took the lead on 14 minutes through Sacha Akyuz, the first of three goals for the former SD Portmany striker. He doubled his tally on 40 minutes before Jávea's Cabo, last season's top scorer, pulled one back just before half-time.
Just two minutes into the second-half, Alvaro Camara made it 3-1 before Cabo struck against to give the rojiblancos some hope of getting back in the game. However, two goals in two minutes from Akyuz and Camara made it 5-2 and put the result of the game beyond any doubt.
On his Facebook page, head coach Julio Ivorra lamented that "we haven't been at our best and this category doesn't forgive you". As small consolation to the disappointment, CD Thader's 5-0 defeat at Santa Pola CF means that the rojiblancos won't start the season propping up the table.
The team will come back together on Tuesday evening to work on what went wrong in Alicante and start their preparations for the first home game of the season, the big derby game against arch rivals CD Dénia.
HÉRCULES CF "B": Angel, Hugo (Sempere, 46m), Ortiz, Macia, Camara, Sanchez, Akyuz, Romero (Espuch, 77m), Cissé, Gutierrez (Giménez, 61m), Alvarez.
Subs not used: Lujan (GK), Morno, Baranyai.
CD JÁVEA: Tonet, Isac, Marcos, Caturla (Raúl García, 63m), Cabo, Adrián Gil, Javi (Rodrigo, 46m), Aldo (C), Mario Feliu (Tomás, 55m), Carlos (Pitu, 63m), Fran (Raúl Caudeli, 63m).
Subs not used: Aaron (GK), Willy.
Referee: David Oliver Aguilar
Assistants: Alberto Romero Quiles & Aaron Medina Soto
Scorers:
Hércules CF "B": Akyuz 14m, 40m, 63m; Camara 47m, 65m.
CD Jávea: Cabo 44m, 49m.
Yellow Cards:
Hércules CF "B": Romero 45m; Sanchez 56m; Ortiz 57m; Akyuz 90m.
CD Jávea: Cabo 12m; Aldo 23m; Javi 38m; Fran 56m.
Red Cards:
Hércules CF "B": None.
CD Jávea: None.
THIS WEEK'S MATCHES
Round 1 Lliga Comunitat Sud
Saturday 9th September
18:00 – CF UE Tavernes 1-2 CF UD Calpe
18:00 – Hércules CF "B" 5-2 CD Jávea
18:30 – Santa Pola CF 5-0 CD Thader
Sunday 10th September
11:45 – CF La Nucia "B" 1-4 Callosa Deportiva CF
17:00 – CD Dénia 1-0 CD Eldense "B"
18:00 – CD Olímpic 2-0 L'Olleria CF
18:30 – Crevillente Deportivo 3-2 CFI Alicante
19:00 – CF Benidorm 1-0 FB Redovan CF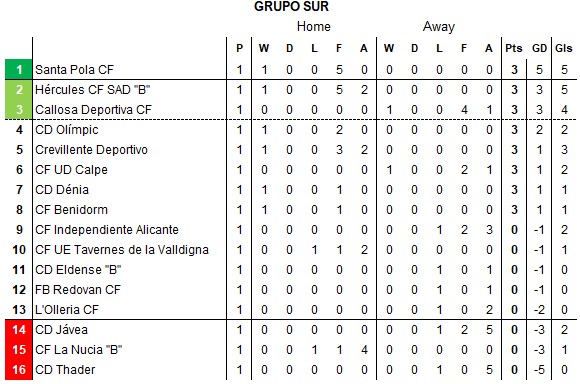 ---
---