MATCH REPORT | CD THADER 1-2 CD JÁVEA
Two goals from Pitu secured victory for the rojiblancos in Rojales.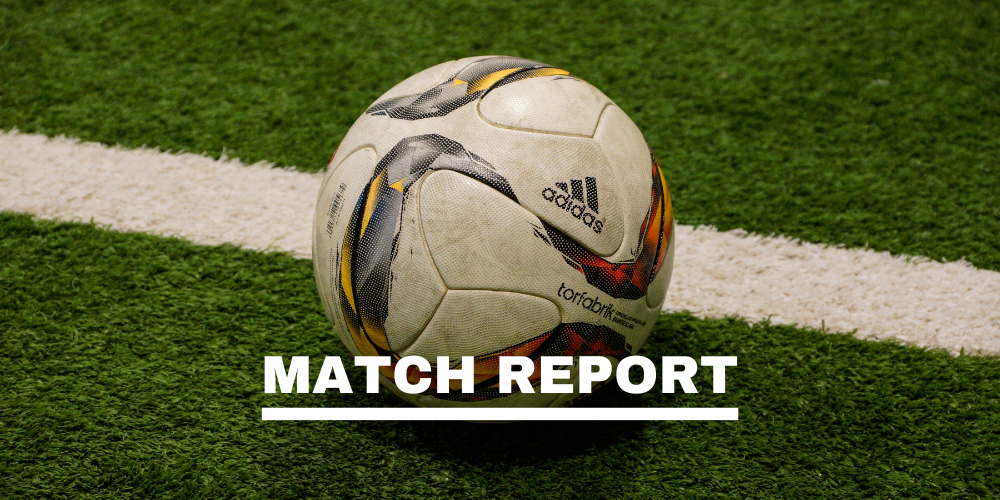 Two first-half goals from young striker Pitu secured CD Jávea's first away victory of the season and three valuable points for the club as it seeks to turn around the season and climb out of the bottom three. The hosts provided a late scare when club president Lloyd Dummett scored in the dying seconds of the game but the 'rojiblancos' held on to take all three points.
The match provided an opportunity for the youngsters to get some valuable minutes under their belt with Carlos Bisquert, Adrián Gil and Kick Otto joined by Mateusz Javier who made his debut with the senior team.
Next weekend Jávea face a tricky home tie against CD Olímpic, who drew 0-0 with league leaders CD Eldense "B".
CD THADER: Martinez, Fernandez, Bernal, Palamar (Ñiguez, 65m), Vicente, Dummett, Oscar Martínez (Diez, 46m), Sagarzazu (Tremiño, 79m), Romero (Carcaño, 83m), Ferrandiz, Lucas. Subs not used: Mora.
CD JÁVEA: Tonet, Guille,Isac, Bisquert (Adrián, 60m), Caturla, Tomás (Mateusz, 83m), Rodrigo (Aldo, 60m), Elian, Pitu (Cabo, 46m), Carlos (Kick, 68m). Subs not used: Aaron (GK).
Referee: Daniel Fidel Sanchez Bailen
Assistants: Juan Manuel Pertusa Gomez & Oabllo Pascual Grao Perez
Scorers:
CD Thader: Dummett, 90m.
CD Jávea: Pitu, 11m, 33m.
Yellow Cards:
CD Thader: Ferrandiz, 76m; Carcaño, 86m.
CD Jávea: Guille, 26m;Aldo, 74m.
Red Cards:
CD Thader: None.
CD Jávea: None.
THIS WEEK'S MATCHES
Round 10 Lliga Comunitat Sud
Callosa Deportiva CF 1-1 Santa Pola CF
RB Redován CF 0-1 CF UD Calpe
L'Olleria CF 2-4 CFI Alicante
CD Thader 1-2 CD Jávea
CD Olímpic 0-0 CD Eldense "B"
CF Benidorm 5-2 CD Dénia
CD La Nucia "B" 1-1 Hércules CF "B"
CF UD Tavernes 2-0 Crevillente Deportivo
NEXT MATCHES
Round 11 Lliga Comunitat Sud
Callosa Deportiva CF v FB Redovan CF
CF UD Calpe v L'Olleria CF
CFI Alicante v CD Thader
CD Jávea v CD Olímpic
CD Eldense "B" v CF Benidorm
CD Dénia v CF La Nucia "B"
Hércules CF "B" v CF UE Tavernes
Santa Pola CF v Crevillente Deportivo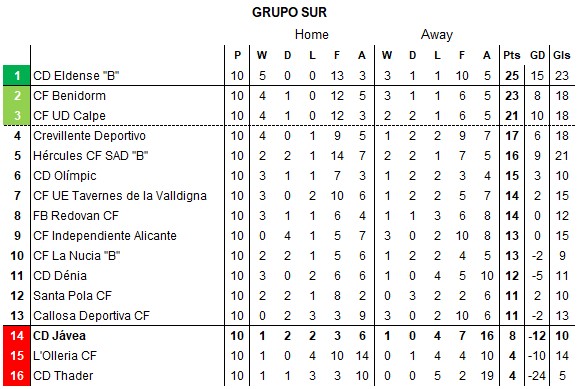 ---
---