From sadness to hope: "Don't forget about us because we need you more than ever"
In a simple and direct message to the rest of Spain, the mayor of Vall d'Ebo called upon people to "not stop visiting us".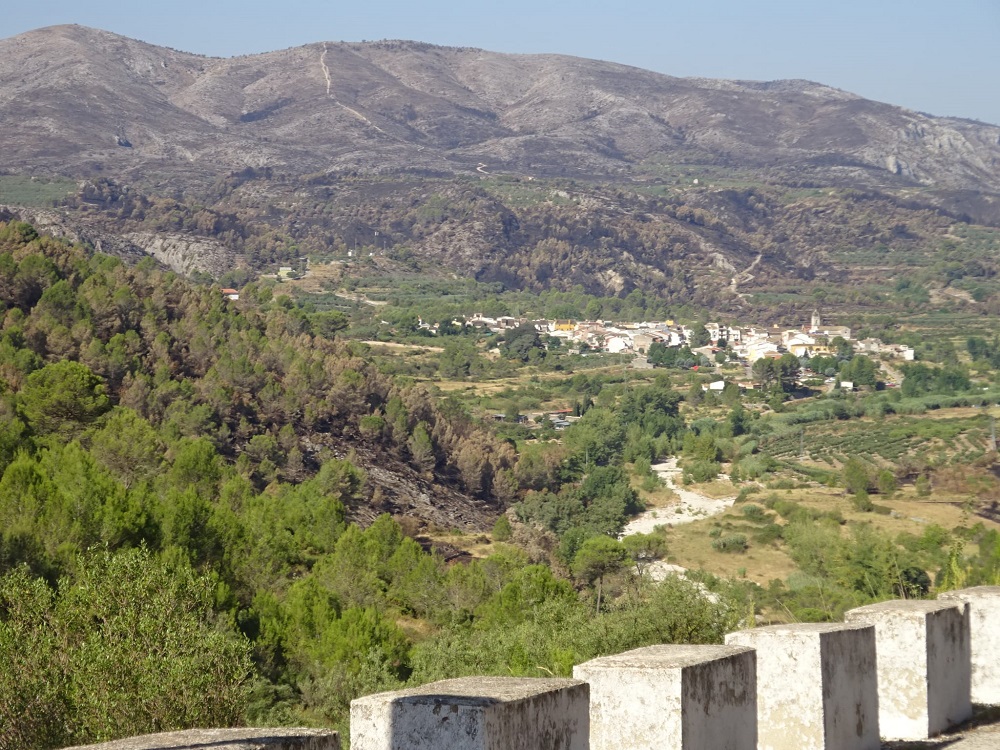 Friday 19th August 2022 · Mike Smith
Source: XAD (Vicente Bolufer)
The mayor of Vall d'Ebo, Leonor Jiménez, launched an emotional message through the TV3 cameras: "Don't stop visiting us, even if you see everything black, don't forget about us because we need you more than ever".
Through this simple and direct message, the mayor, Nory to her friends, made an appeal from the municipality where the worst fire in decades in the Comunidad Valenciana began last Sunday and has affected more than of 12,500 hectares between the Marina Alta and the Comtat region.
In just twenty emotional seconds, Leonar held back the tears to send a message to the country at a very difficult time for her town:
"I ask that you do not stop visiting us. Don't stop visiting us. Although they see everything black, here I have a patio full of plants. And there are new restaurants for dinner. Do not forget us because we need you more than ever".
It's a plea that has now gone viral after it was shared by the president of the Comunidad Valenciana, Ximo Puig, on his Twitter account, declaring that "You cannot be a better person. You cannot love your town more. We will not forget the Vall d'Ebo, lady mayoress. Soon the time will begin to recover the places devastated by the flames. And to be reborn from the ashes."
No es pot ser millor persona.
No es pot voler més al teu poble.
No oblidarem la Vall d'Ebo, alcaldessa.
De seguida començarà el temps de recuperar els llocs devastats per les flames.
I de renàixer de les cendres. pic.twitter.com/dG3uGgxbM0

— Ximo Puig (@ximopuig) August 18, 2022
The fire cannot have come at a worst time for the more remote areas of the Comunidad Valenciana. Throughout the last few years, the regional government has been promoting initiatives to prevent the continued depopulation of areas such as the Vall d'Ebo, Vall de Gallinera and Vall d'Alcalà, including the much-vaunted Ruta 99, a tourism promotion project designed to raise awareness of the twenty-four villages in the region with fewer than 100 inhabitants that are at risk of depopulation, such as Famorca and Tollos, which the Valencian president Ximo Puig has dubbed "a kind of Camino de Santiago a la Valenciana".
In the Vall d'Ebo, the local council has been offering rentals as low as 150 euros a month and exploring the possibility of installing a fibre optic network to promote quicker connection to the Internet as a means to attract those who work from home, families who will bring their children with them and encourage the re-opening of local schools which have been closed for years.
Sadly, over the past few decades, the lack of opportunities have forced the younger people to leave their family homes, to seek jobs and a more stable life elsewhere. They do come back, to visit their parents and grandparents, to participate in the fiestas that they remember from their childhood. But they cannot stay. And that is something that has been a major concern for the regional government. Yet, just as it seemed that the hard work and effort of local councils to encourage people back to their villages was beginning, very slowly, to pay off, this savage fire destroys more than 12,000 hectares of beautiful landscape.
There will be the inevitable "disaster tourism" as people head out to see the desolation. However it won't last. But the determination to recover has never been stronger. "We are going to be reborn," says the Valencian president. There is an immense natural wealth to be discovered in these precious valleys. Hiking trails and winding roads, deserted Moorish villages and farmhouses, ancient washhouses, churches and chapels, geographical features such as the Penya Foradà, and exquisite mountain gastronomy. The land will recover. And, with our support, so will the people.
---

---