José Luis Boronat, fifth in the Spanish IqFoil Championships
Boronat finished 5th in a field of 50 participants in the championships held in Santa Pola last weekend.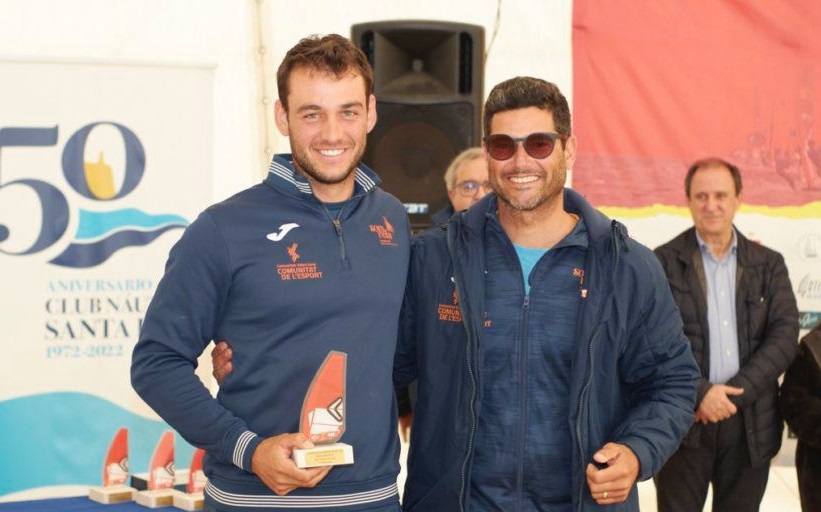 ---
Thursday 24th March 2022 – Mike Smith
Source: original article – Xàbia AL DÍA
---
Club Náutico Jávea sailors José Luis Boronat and Álex Ortega participated in the Spanish IQFoil Championship in Santa Pola last weekend, a test in which Boronat was fifth and Ortega 16th.
With 50 participants and a lot of wind, Boronat started the race very strong, claiming a place on the podium three times on the first day (two first and a third). In addition, over another six rounds of 20 competed, he managed to claim a place among the top five, However, his rivals and the wind, did not allow him to gain the points, and finally fell to 9 points in the fourth and eleven in the third.
For his part, Álex Ortega was in 16th place overall, with his best result the last leg of the entire championship when he managed to be tenth. In eight other heats, he was among the top 15.
In the championship, the Galician sailor Tomas Vieito won, who only lost the first position in six heats, two of which were won by José Luis Boronat.
Boronat is already preparing for his next appointment, in Palma, the Trofeo Princesa Sofía from April 4 to 10, and after a break in Easter, he will move to Lake Garda (Italy) to prepare for the European Championships.
---
---