Grup de Danses Portixol premieres new show this Sunday
Xàbia will enjoy a packed cultural programme with the concert of the soprano Montserrat Martí Caballé and the presentation of the book Nits de Tinta.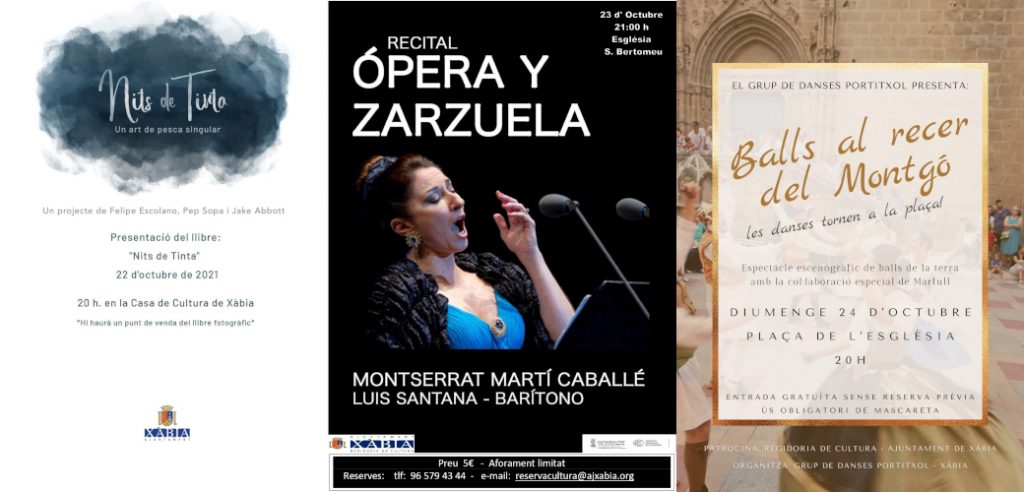 Tuesday 19th October 2021 – PRESS RELEASE with Mike Smith
The Grup de Danses Portitxol returns this Sunday to one of the town's most iconic settings, the Plaza de la Iglesia, where it will be performing the premiere of its show "Balls al recer del Montgó", a selection of traditional dances from Xàbia and municipalities of the region, accompanied by a dramatized reading and with the music of the Rondalla. In this musical tour, the audience will also be able to admire examples of Valencian clothing from the 18th and 19th centuries.
The performance will be on Sunday 24th October at 8 pm with free capacity. For the dance group, it is a joy to be able to perform in public again without the need for the public to make prior reservations and, above all, in an open and central space such as the square.
The dance performance could be the finishing touch to an intense cultural agenda in Xàbia, linked in large part to the celebration of October 9. On Thursday (8pm, Multipurpose Room) and Friday (7pm, Social Center) there will be performances by the Orfeón de Xàbia, which will offer a selection of zarzuelas.
On Friday 22nd October at 8.00pm in the Casa de la Cultura in the heart of the historic centre, there will be a book presentation "Nits de Tinta. Un art de pesca singular".
On Saturday 23rd October at 9:00 p.m. inside the fortress-church of San Bartolomé, the prestigious soprano Montserrat Martí Caballé will give an opera and zarzuela recital accompanied by Luis Santana (baritone ) and Francesc Blanco (pianist). Tickets for this concert are priced at 5 euros and can be purchased in advance at the Casa de la Cultura.

Also this weekend the association of Traditional Boats of Xàbia celebrates its annual meeting in the port, with plenty of sailing of the bay, lunches, dinners and plenty of other activity related to the art of traditional sailing in the region.
For more information about WHAT'S ON IN JAVEA, you can consult our events calendar by clicking here.
---