FOGUERES 2022 | The long wait comes to an end as the fiestas of Sant Joan return
It has been almost three years since the curtain fell on the 2019 edition and the world was affected by pandemic.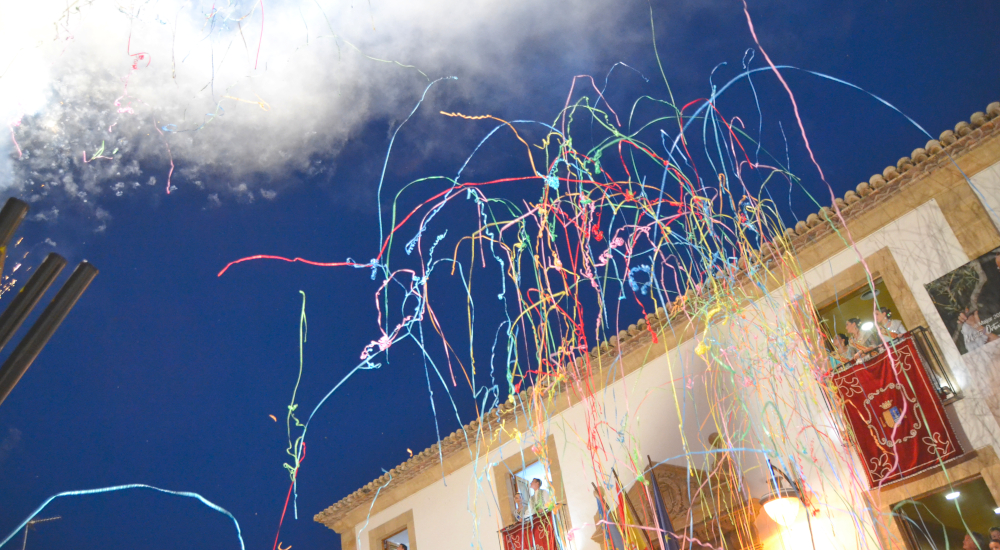 ---
Tuesday 14th June 2022 – Mike Smith
Source: original article
---
It had been a long wait, 1,085 days to be exact, but the festivities of the Fogueres de Sant Joan de Xàbia have finally arrived, arguably the biggest party in town, and for the next eleven days, the municipality will be rocking to the sights and sounds of fiesta.
For the first time ever, the celebrations were kicked off by four Fogueres Queens – Marta Ortuño (2020), Nara Rodriguez (2021) and Olivia Clemente (2022) who were joined by Ariadna Serrat, the Infantil Queen). After a parade through the streets of the historic centre and its surrounding neighbourhoods, the protagonists dressed in their finest arrived in the church square where penyas, residents and curious visitors had already gathered.
On cue, the seven windows of the town hall building burst open and, to loud cheers and huge applause, the four queens as well as the presidents of the three quintàs – Quintà 2020 Tot per L'Aire, Quintà 2021 La Desastrà and Quintà 2022 La Retornà – were joined by mayor José Chulvi and fiestas councillor Kika Mata to carry the formal ceremony of the Pregón which officially kicks off the festivities.
The queens delivered a joint message of solidarity:
"The day has come. The long wait ends today. We want the whole town of Xàbia to take to the streets, we want to see the squares, the bull cages and the concerts full of people. We are three Quintàs which are going to celebrate together. We're going to enjoy them as if we were just one. It doesn't matter what year we were born, it's the year we were Quintà."
Then, as they cried in unison "Visca Xàbia, Visquen les Quintades 2020, 2021 i 2022 i Visquen les Fogueres de Sant Joan", the air was filled with confetti fired from small cannons on the church steps whilst huge balloons were launched from the windows of the town. High above, the darkening sky was lit by fireworks as the crowd cheered below. Fiesta has finally returned to Xàbia.
After a communal dinner together in the main square, the quintos, penyas and residents gathered together at midnight to process through the narrow streets of the historic centre to sing to the images of Sant Joan in Carrer Teulería and Carrer del Cups as well as that of the image of Jesús Nazareno before returning to the main square to enjoy some music and dancing into the early hours.
---
Photo Gallery
Photos by Fay Hughes (javeamigos.com)

---

---