FOGUERES 2022 | Nara Rodriguez crowned as Queen for 2021
The second of three proclamations saw the young women welcomed as Fogueres Queen 2021 by the people of Xàbia.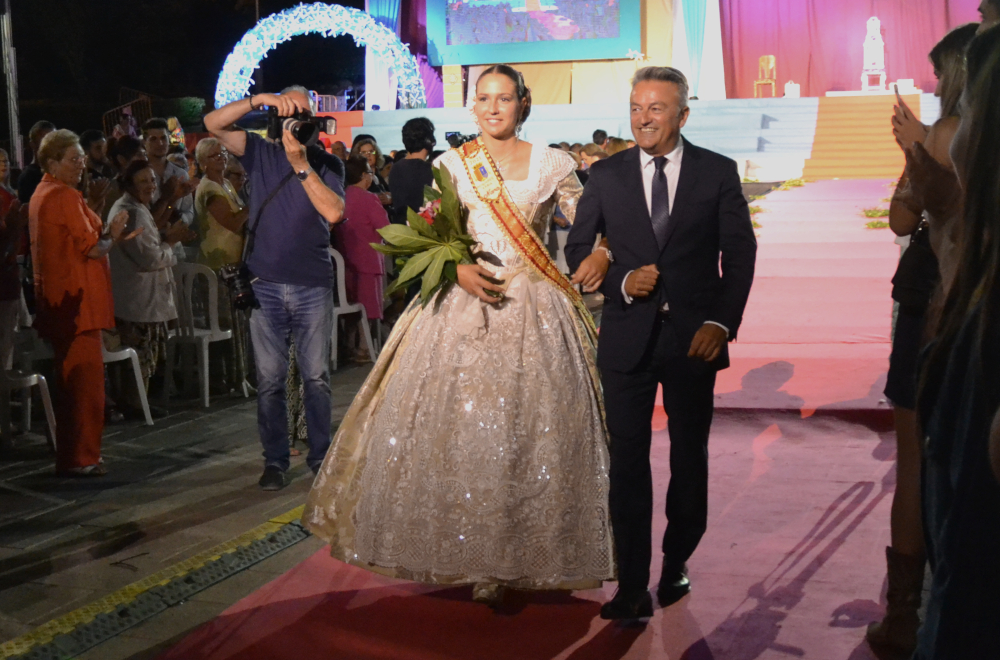 ---
Sunday 12th June 2022 – Mike Smith
Source: original article
---
The second of an unprecedented three proclamations for this extra special edition of the Fogueres de Sant Joan de Xàbia took place on Saturday evening, an emotional ceremony which culminated in the crowning of Nara Rodríguez as the Fogueres Queen for 2021 and the presentation of the young people which make up Quintà 2021 "La Desastrà", the second of the three quintàs which will be taking centre stage over the next two weeks of fiesta.
As the sun set behind the majestic mountain of Montgó, the young adults finally got their chance to make their formal public appearance, albeit a year later than it should have been, and gathered in front of the town hall in the heart of the historic centre to make their final adjustments to their traditional costumes before making the short procession to the main square where excited family and friends gathered for this very special moment for the young people of Xàbia.
After yesterdays theme based around Carrer Teuleria, the stage for this second ceremony had a familiar theme, with two arches created from Fragrant Virgin's Bower (Clematis Flammula or Vidriella in Spanish) and a bow in the central part, a plant which grows in abundance at this time of year and is harvested to be moulded into special crowns for the spectacular Nit dels Focs next Thursday 23rd June.
The Fogueres Queen 2020 Marta Ortuño and her ladies-in-waiting took their places on the stage, just 24 hours after their own crowning ceremony, whilst the presidents of Quintà 2021, María Liehr and Jorge Serra, were introduced and prepared themselves to receive more than sixty of their colleagues who make up 2021's group of young people.
As the big moment approached, the two ladies-in-waiting, Aroa Sánchez and Andrea Ortuño, took to the stage, the latter being the younger sister of the 2020 Fogueres Queen so it has been a extra special weekend for their family.
And then Nara Rodríguez was welcomed onto the stage by mayor José Chulvi and the three highest representatives for 2021 took their places to great applause from their family and friends as well as the general public of Xàbia.
As the clock ticked past midnight, fireworks lit the air, appearing to dance in time to the stirring pasodoble of Fogueres, before the band Matrix offered some music to dance to until five in the morning.
But it's not all over yet for the formalities. Tonight, Sunday, it will be the turn of Quintà 2022 "La Retornà". And then the real party begins …
---
Photo Gallery
Photos by Fay Hughes (javeamigos.com)

---

---