FOGUERES 2022 | Marta Ortuño finally crowned as Queen for 2020
After almost 137 weeks, the biggest party of the year has returned to heart of Xàbia – the Fogueres de Sant Joan.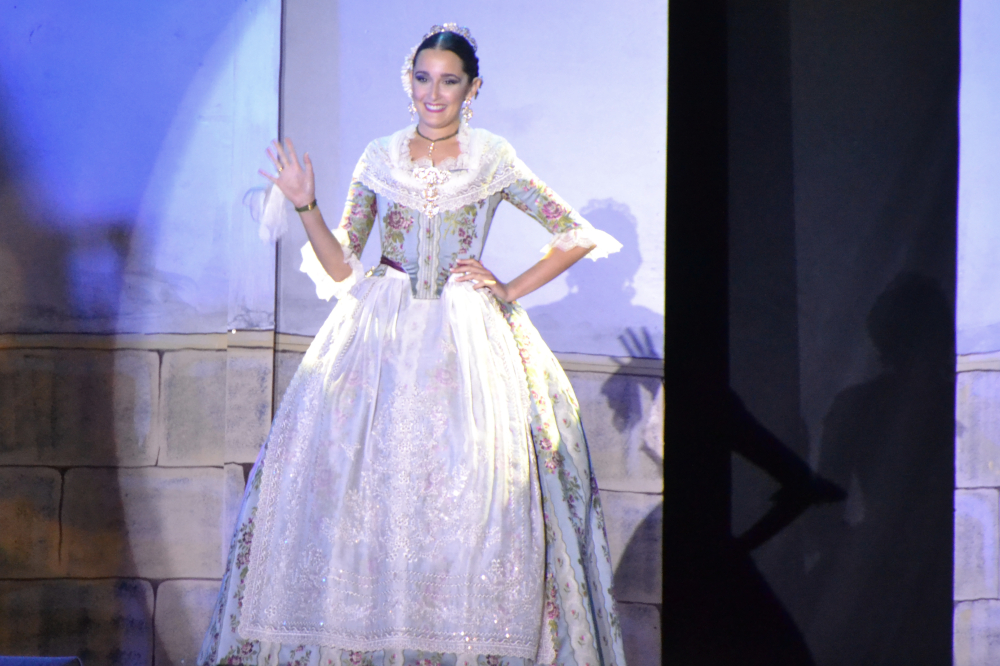 ---
Saturday 11th June 2022 – Mike Smith
Source: original article
---
After almost 137 weeks, the biggest party of the year has returned to the heart of Xàbia – the Fogueres de Sant Joan. And this very special edition kicked off on Friday night with the crowning – finally – of the Fogueres Queen for 2020, Marta Ortuño, and the formal introduction of her ladies-in-waiting, Laura Cardona and Blanca Amores, and her court of honour, Quintà 2020 "Tot per l'Aire".
As night fell on a very hot night in Xàbia, the excited youngsters gathered in front of the town hall in Plaça de l'Esglèsia dressed in their very finest traditional outfits. The hair was immaculate, the make-up too. And the excitement was obvious. Their day had finally arrived. They had waited patiently for 958 days since the elections in October 2019 had seen the Quintà choose Marta as their Queen, Laura and Blanca and her ladies-in-waiting, Zara Sancho and Javier Gavilá as their presidents.
There too were the even younger members of the community, the junior court-of-honour, shuffling a little uncomfortable in their formal outfits but as excited as their older counterparts that their day had finally arrived. They too had elected their own Infantil Queen, Ariadna Serrat, and her ladies-in-waiting, Olaya Parra and Edurne Mata, along with the junior presidents Mar Rodríguez and Romeo Lara. They all looked a little older now, perhaps a little wiser.
There wasn't a seat available in the house in front of the grand stage in Plaza de la Constitución, on which an interpretation of Carrer Teulería, the narrow street nearby which hosts the niche of Sant Joan, was created between two giant video screens.
As always, the previous year's representatives bid farewell before handing over the responsibility of representing the town of Xàbia. They too have had plenty of time to reflect on their experiences back in 2019 and the speeches drew out the emotion of the night. Fogueres Queen 2019 Inés Domenech and president Marina Mosquera just about kept their emotions in check, even when the other president of Quintà 2019, Israel Aguilar, sent a video message from Buenos Aries in Argentina.
Fireworks lit up the night sky as the ceremony came to an end and everyone could relax just a little, change out of their formal attire and put on something much more comfortable for the music and dancing that extended well into the early hours.
But it's not all over yet for the formalities. Tonight, Saturday, it will be the turn of Quinta 2021 "La Desastrà" to take to the stage, followed by Quintà 2022 "La Retornà" on Sunday evening. And then the real party begins …
---
Photo Gallery
Photos by Fay Hughes (javeamigos.com)

---

---