FOGUERES 2022 | An offering of grapes and figs
The symbolic offering reflects the town's history with traditional fruits of the dry lands of Xàbia.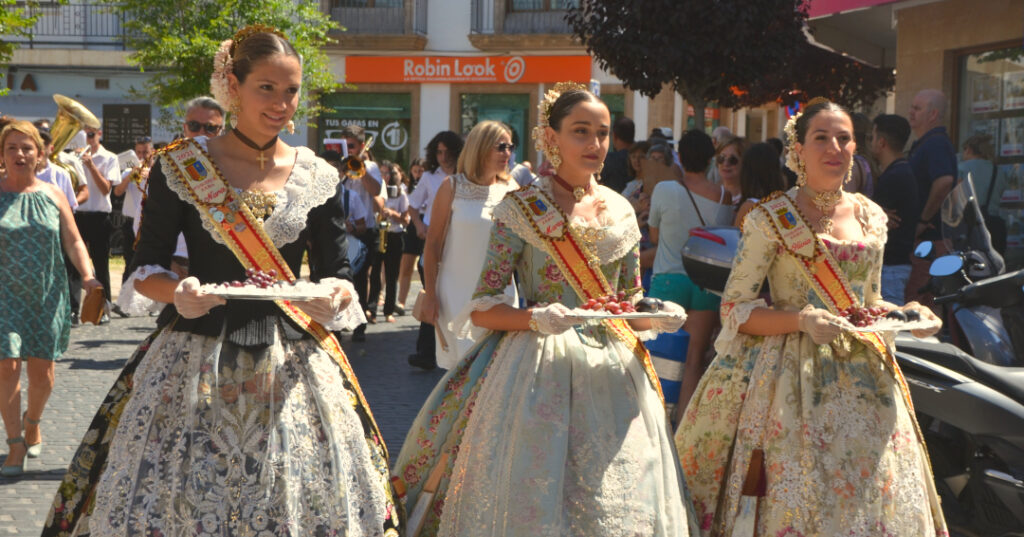 ---
Saturday 25th June 2022 – Mike Smith
Source: original article
---
One of the most symbolic acts in the final two days of the Fogueres de Sant Joan de Xàbia is the traditional offering of grapes and figs – raïms i bacores – to the images of Sant Joan which takes place in the late morning of June 23rd, a few hours before the streets of the historic town are filled with fire and mayhem for the iconic Nit dels Focs.
The offering symbolises the traditional fruits of the dry lands of Xàbia and perhaps the town's most precious delicacies. Indeed, the raisin industry was responsible for a boom in the local economy during the 19th century through  large-scale production and commercialisation with exports to the United Kingdom and North America.
There are two niches dedicated to Sant Joan in the historic centre. The first is in Carrer Teulería, just a short walk from the olive tree roundabout and it was here that the three female presidents made the offering – Zara Sancho Román Quintà 2020 "Tot per L'Aire", María Liehr Olivares Quintà 2021 "La Desastrà", and Clara Buigues Buigues Quintà 2022 "La Retornà.
After passing by the niche of Jesús Nazareno in the street of the same name, the procession arrived in Carrer Cups, a narrow street located in the heart of the historic centre where Infantil Queen 2020 Ariadna Serrat Molina and the juvenil president Mar Rodríguez Benlloch made the offering.
The procession arrived in the church square where the floral tributes still stood and where the three Queens – – Marta Ortuño Torres (2020), Nara Rodríguez Sapena (2021) and Olivia Clemente Ferrándiz (2022) – made their offerings to grand applause.
The second part of this special occasion is the selection of the Ninot Indultat, which are the statues which will be removed from the monuments before they are engulfed in flames on the night of June 24th. Ariadna Serrat made her selection from the Foguera Infantil, located in the Placeta del Convent, whilst Marta Ortuño, Nara Rodríguez and Olivia Clemente made an unprecedented three selections from the Foguera Central in the Plaza de la Constitución.
---
Photo Gallery
Photos by Fay Hughes (javeamigos.com)
---

---

---