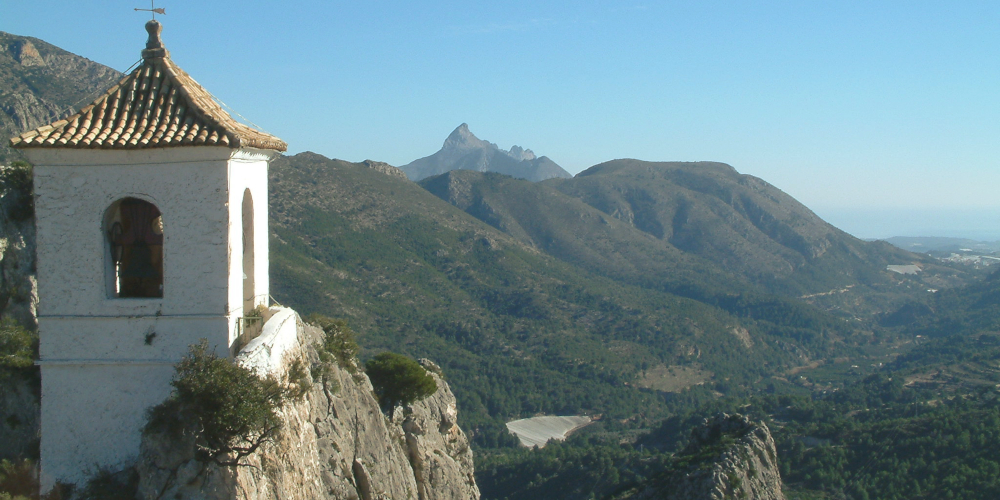 There are a number of great options for days out within just a short drive of Xàbia, including many that will keep the whole family entertained, whether it be the fantastic gardens of L'Albarda, the bustle of the cities of Alicante and Valencia, the ancient hidden villages of the valleys, or the excitement of the parks of Benidorm.
We have listed some options for a fantastic day trip below, in order of distance, starting with the closest to Xàbia.
---
Distance: 11km (15mins)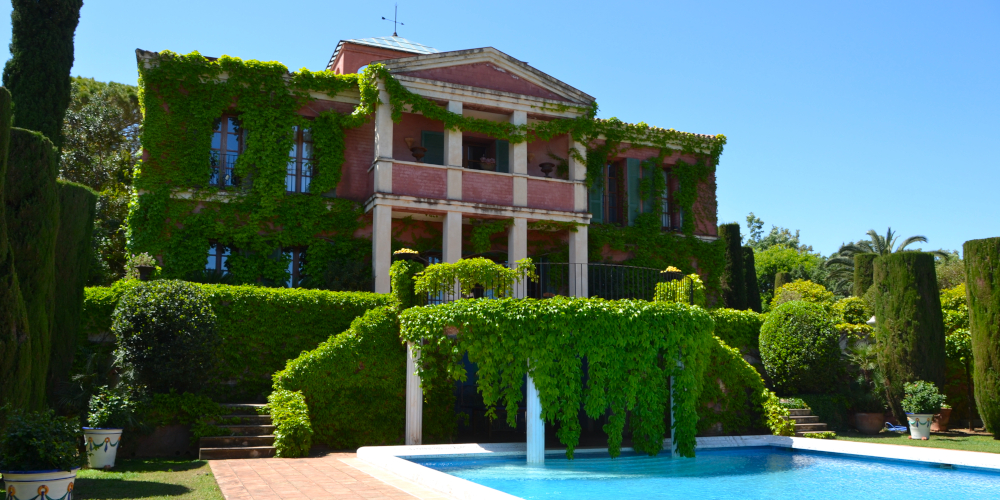 Opening Hours
Mon to Sun: 10.00am to 2.00pm
Summer Extended Hours (June 15th to September 15th inclusive)
Mon to Sun: 10.00am to 2.00pm and 6.00pm to 9.00pm

Tickets (Donation)
6 euros (children 0-7 free)
Family Ticket: 15 euros (2 adults and 2 children (7-14)
Guided tours available by prior arrangement with a minimum of ten people.

This wonderful Mediterranean garden has more than 700 species of native plants as well as rose gardens, walks, pergolas, pavilions, ponds and fountains of great beauty. It's a great place for kids to explore and learn about plants which are typical of the Valencian region.
---
Distance: 18km (22mins)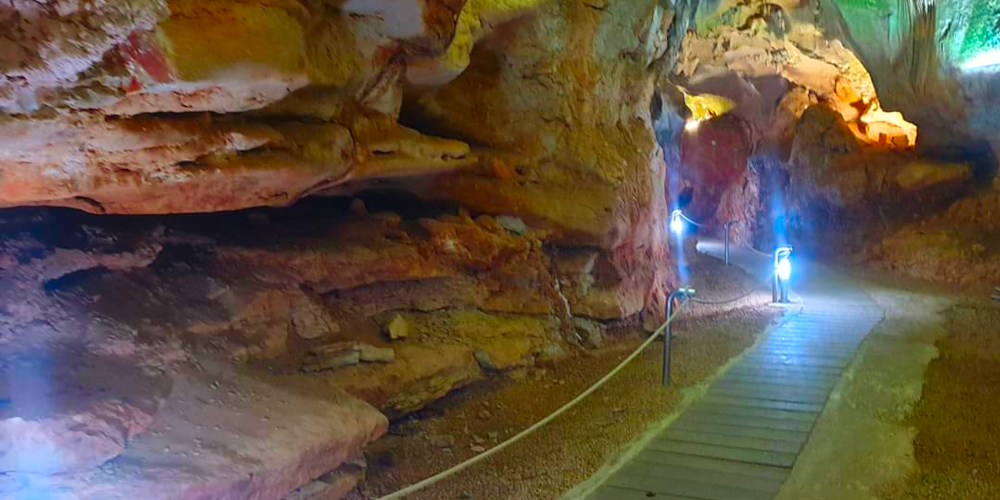 Opening Hours
Summer: 9.00am to 8.30pm
Winter: 9.00am to 6.00pm

Tickets
Adults: 3.90 euros
Children: 2.00euros
Discounts available for groups

Just a short trip from Jávea near the village of Benidoleig is the 'Cave of Skulls' which have been used by man since prehistoric times but was 're-discovered' in 1768 by the naturalist Cavanilles. The cave extends for 400 metres almost horizontally into the hillside and there are great examples of stalactites and stalagmites.
Link: Exploring Further – Cueva de las Calaveras
---
Parque Natural Penyal de Ifac, Calp
Distance: 24km (38mins)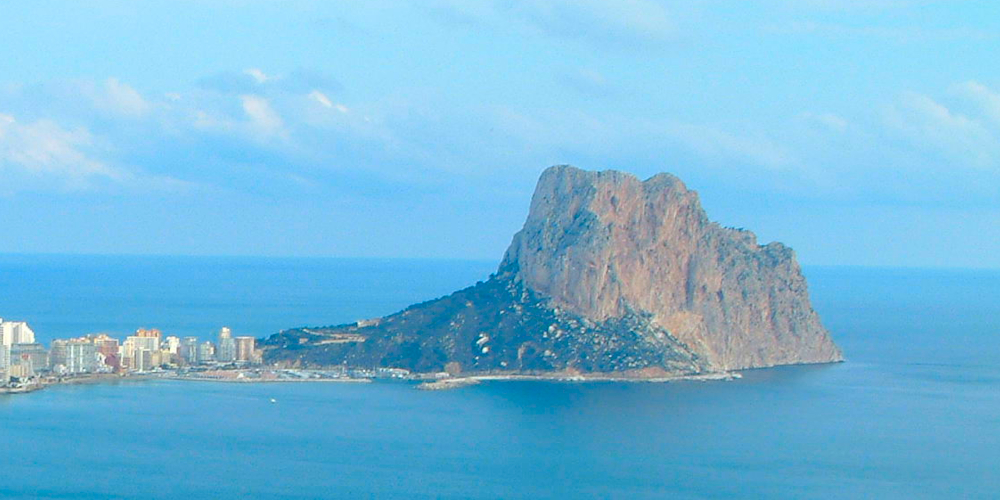 Visitor Centre: 8.30am to 2.30pm (9.00am to 2.00pm weekends and bank holidays)
Tickets: Free

The town of Calp is dominated by the 332m high rock which is one of the symbols of the Costa Blanca and you can walk to the top along a dedicated path, a journey of about two hours. From the top there are fantastic views over the surrounding area as well as a glimpse of the island of Ibiza on the horizon if it's a clear day. Stout footwear advised.
---
Distance: 25km (32mins)
Shop Opening Hours
Monday to Friday: 9.30am to 1.30pm / 3.00pm to 6.30pm
Saturday: 10.00am to 2.00pm
Sunday: 10.00am to 1.30pm
Guided Tour and Wine Tasting
Wednesday and Friday at 4.30pm
Saturday at 11.00am
Sunday at 11.00am (subject to availability)
Price: 12 euros per person (Over 18s only)
Languages: Valencian, Spanish, English
Duration: 90 minutes

Visit one of the oldest bodegas in the Vall de Pop in Xaló (Jalón) and enjoy a guided tour of its facilities followed by a chance to taste some of its renowned wines and mistelas. Reservation is essential at least 24 hours in advance. You can also browse its huge shop of wines, mistelas, olive oils and much more.
---
Parc-Natural de la Marjal de Pego-Oliva
Distance: 27km (24mins) to Parking Muntanyeta Verda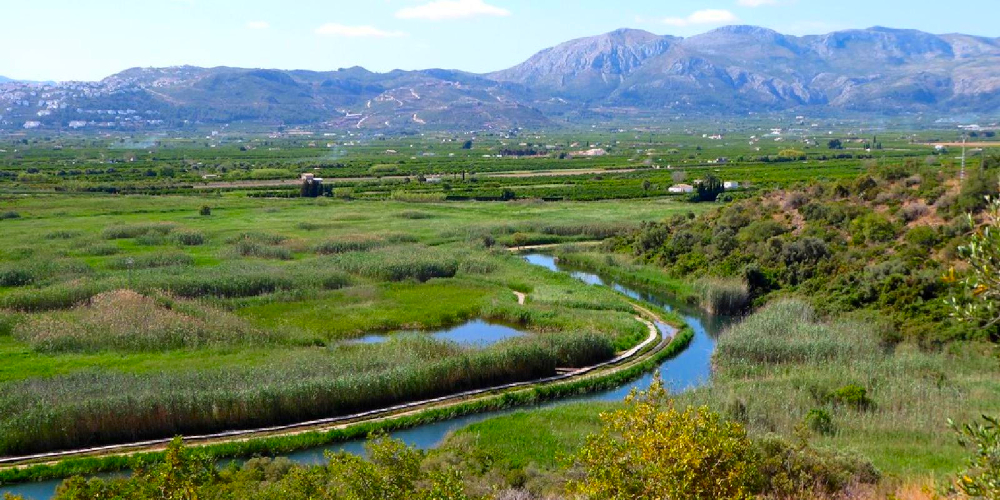 The Pego-Oliva Marsh covers an area of almost 1,300 hectares and is a former lagoon which is now in the advanced stage of silting up. In the north-west corner, there is a nice little route of just 1.5 kilometres which skirts around the small rise of Muntanyeta Verda along which you can experience the nature of the marsh. And a walk to the viewpoint at the top of the hill affords a great view over the whole marshland area.
---
Hell's Canyon and the Route of 6,000 Steps
Distance: 30km (35mins) to the parking in the village of Fleix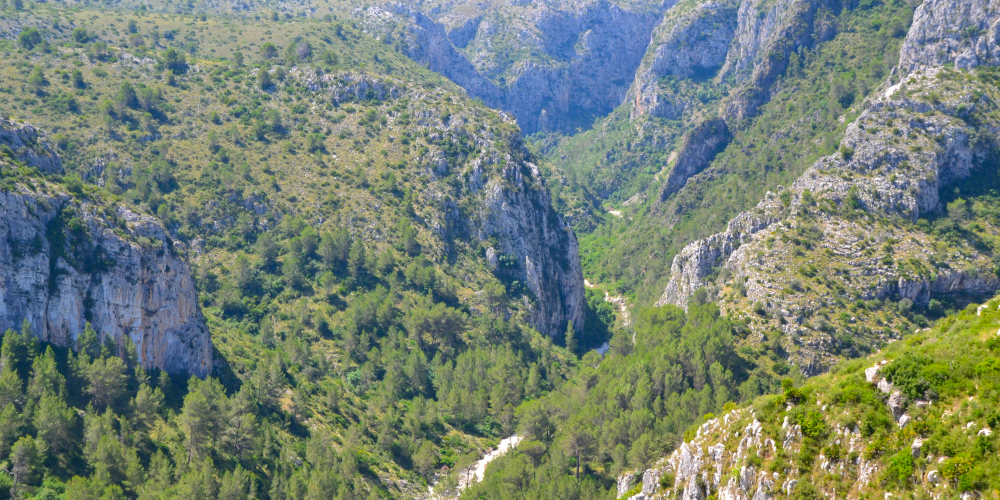 The Vall de Laguar is a beautiful valley of three ancient villages and it was the last Muslim stronghold after the re-conquest of the Iberian peninsula. From Fleix, there are 6,000 steps cut by Muslim farmers into the steep hillside which descends into the Barranco del Infierno, giving access to the fields either side of the river at the bottom of the deep ravine. It is a truly delightful trip for serious walkers and it's no wonder that the area has become known as 'La Catedral del Senderisimo', the Hiking Cathedral.
---
Altea
Distance: 38km (38mins)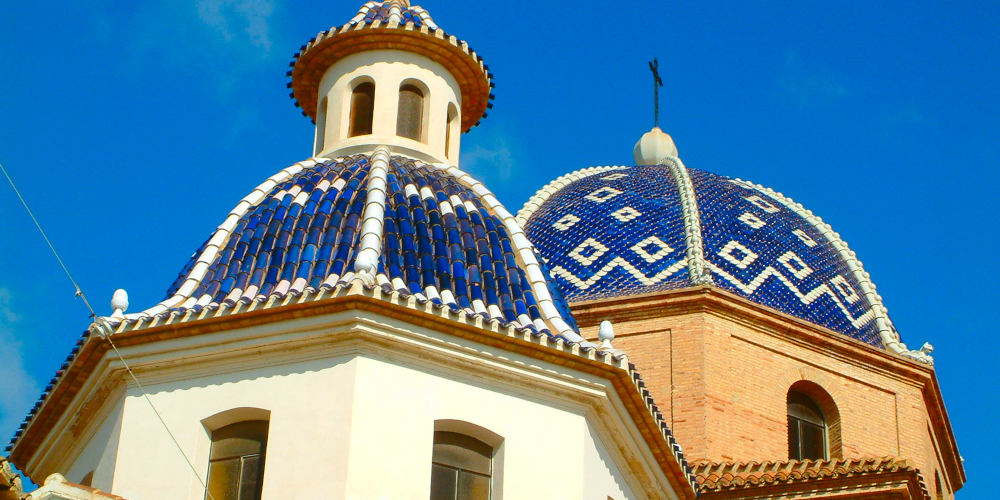 Altea offers a full day of activity, a chance to enjoy its pebble beaches, its port areas (of which there are three distinct zones, catering for all tastes and budgets), and its historic quarter with its iconic blue-domed church, narrow steep streets, quaint shops and wonderful restaurants.
---
Gandía
Distance: 41km (37mins)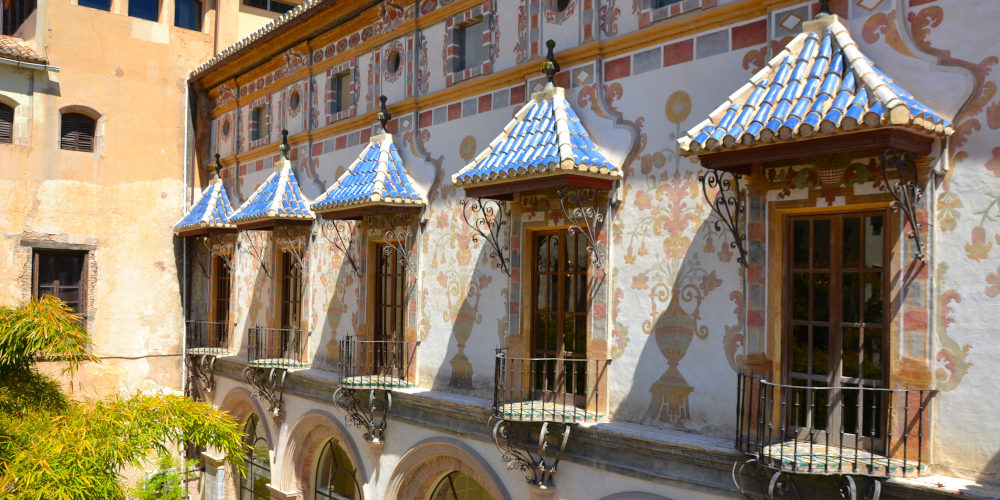 The town of Gandía is synonymous with the infamous Borgia family and the main attraction is the Palacio de Ducal which is a truly unmissable visit. A walk around its historic quarter is rewarded with many hidden stories of the town. There is an interactive Fiesta Museum, telling the story of the fallera tradition in Gandía, and, in the port area, there is the Sea Museum with more than 100 models of ancient and modern boats.
---
Distance: 47km (52mins)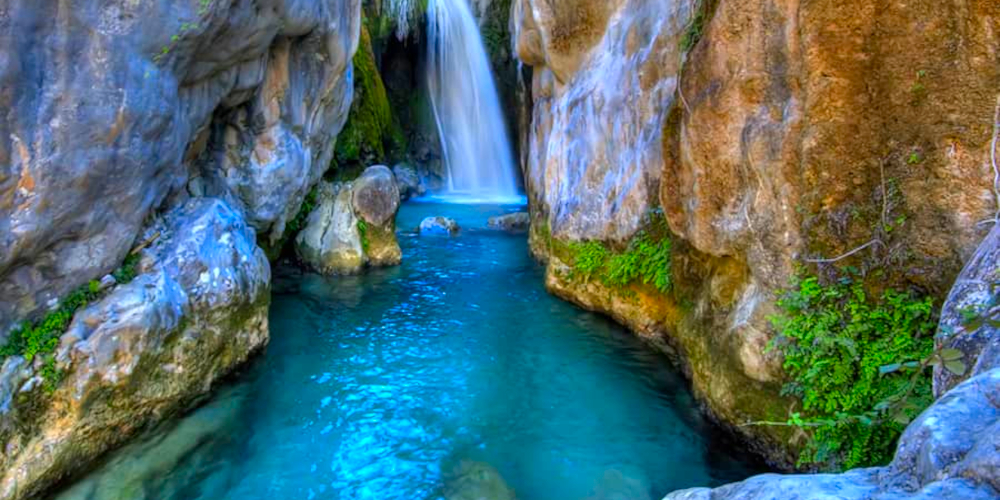 Opening Hours 2022
December 1st to February 28th: 9.00am to 3.30pm
March 1st to March 31st: 9.00am to 5.30pm
April 1st to June 26th: 9.00pm to 6.00pm
June 27th to September 11th: 9.00am to 8.00pm
September 12th to October 7th: 9.00am to 7.00pm
October 8th to October 16th: 9.00am to 5.00pm
October 17th to November 30th: 9.00am to 5.30pm
Closed: January 1st, January 6th, December 24th, December 25th, December 31st
Tickets (High Season – 15th June to 15th October)
Adults 5.00 euros; Kids (4-10) 2.00 euros; Senior Citizens (over 65) 4.00 euros; Students 4.00euros
Tickets (Low Season – 16th October to 14th June)
Adults 4.00 euros; Kids (4-10) 2.00 euros; Senior Citizens (over 65) 3.00 euros; Students 3.00euros

The Fuentes del Algar are a series of waterfalls and gorges through which the cold waters of river Algar flow. Located about 15 kilometres inland from Benidorm near the town of Callosa d'en Sarría, they form a natural theme park where you can walk and swim in the crystal clear cool water to escape the fierce heat of summer.
---
Distance: 47km (48mins)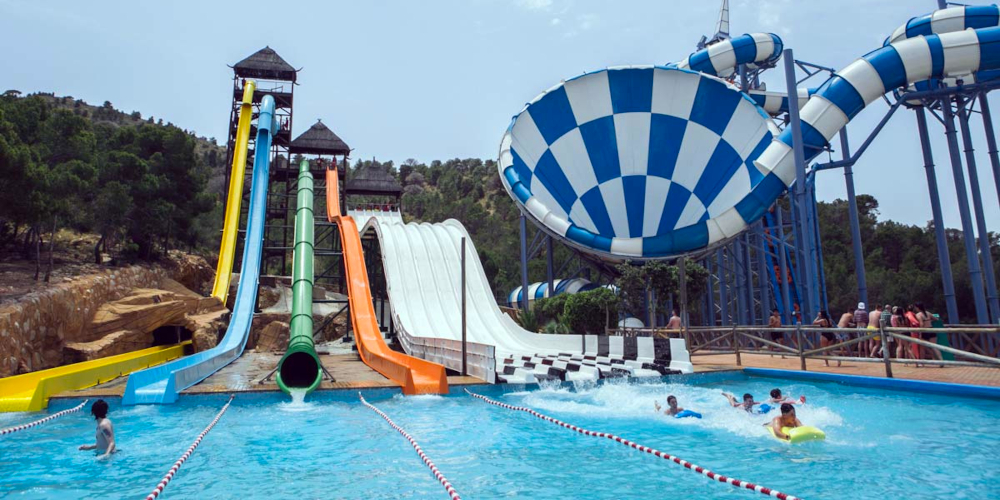 Opening Hours
July 3rd to September 4th inclusive, 10.00am to 8.00pm
September 5th to September 25th inclusive, 10.00am to 7.00pm
Tickets
One-Day Ticket: from 26 euros
Afternoon Ticket: from 22 euros
Family Ticket (4): from 112 euros
Family Ticket (3): from 89 euros
Ticket "Super Friends" (five or more adults): 33 euros
Online deals available – contact Aqualandia directly for more information.
Aqualandia is a water park next to Mundomar marine animal park located a short distance from Benidorm's Levante Beach. The water is sourced directly from the sea and the park contains many water attractions, including water slides, swimming pools, river rapids and sunbathing areas as well as restaurants and cafés.
---
Distance: 48km (48mins)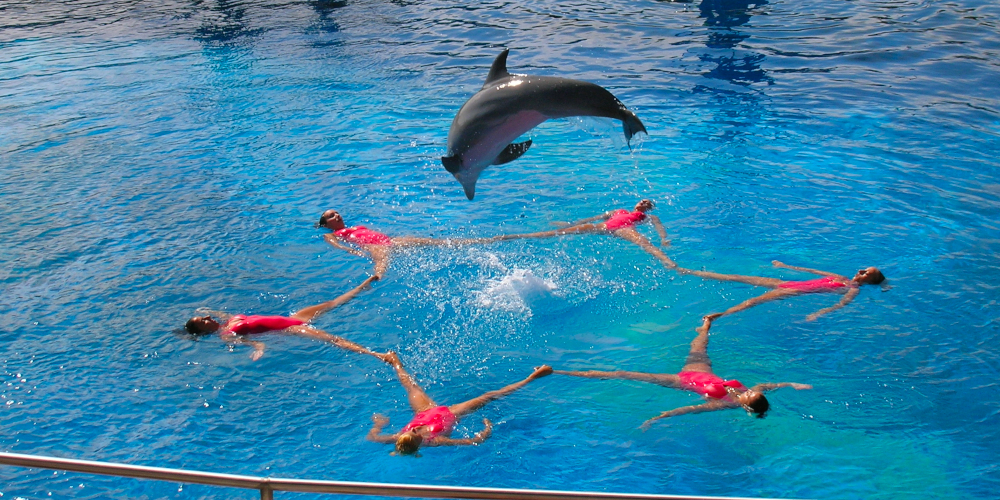 Opening Hours 2021
September 1st-5th: 10:00-19:00
September 8th-30th: 10:00-18:00 (Closed Mondays and Tuesdays)
October – Saturday and Sunday only*: 10:00-18:00
*Open Puente October 11th and 12th
November 1st: 10:00-18:00
Tickets
Adults: 31 euros
Children (4-12): 25 euros (Under 3: free)
Seniors 65+: 25 euros
Disabled: 19 euros
Family tickets available – contact Mundomar directly for more information

Mundomar is a marine animal park located next to Aqualandia water park a short distance from Benidorm's Levante Beach. Many different species can be seen including dolphins, sea lions, penguins and many more marine and land animals. There are several shows several times a day with dolphins, sea lions and parrots.
---
Distance: 48km (43mins)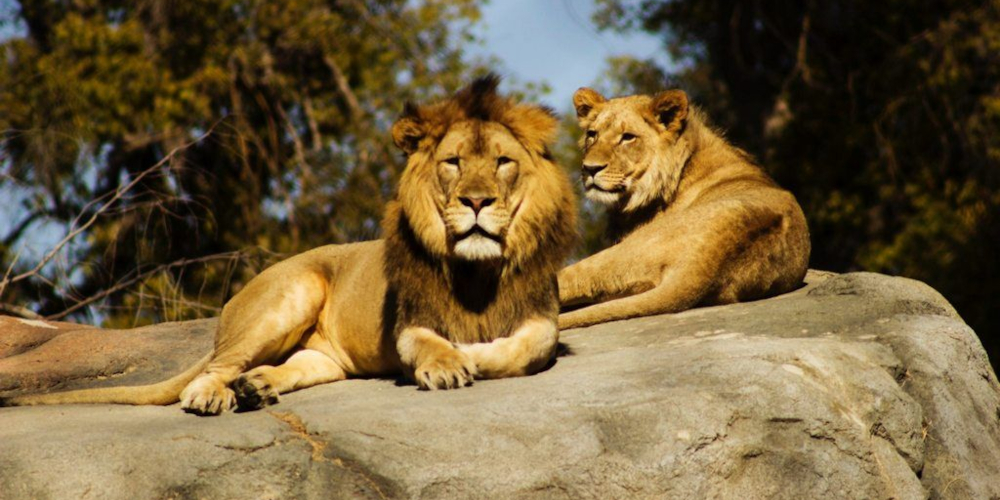 Opening Hours
July 1st to September 12th inclusive: 10:00am to 8.00pm
September 13th to October 10th inclusive: 10.00am to 7.00pm
October 11th to October 31st inclusive: 10.30am to 6.00pm
November weekends (Fri-Sun): 10.30am to 5.00pm
December weekends (Fri-Sun): 10.30am to 5.00pm (except 24th and 25th)

Tickets
Adults: 34 euros
Children (4-12) 28 euros
Seniors 60+: 28 euros
Group discounts available – contact Terra Natura directly for more information.

Terra Natura is a zoo theme park a few kilometres inland from Benidorm which is divided into four different zones: Pangea, America, Asia and Europe. Visitors can see around 1,500 animals representing 200 species from across the world.
---
Distance: 48km (43mins)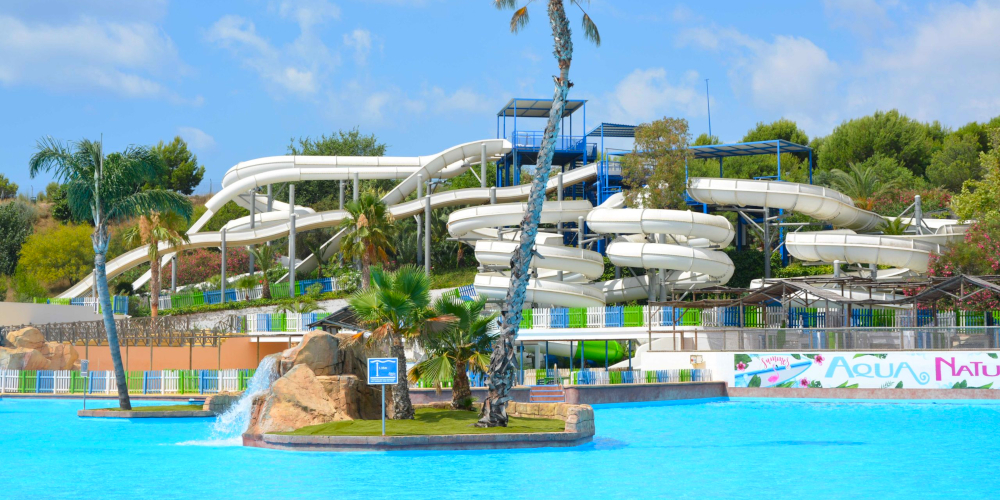 Opening Hours
July 1st to September 5th inclusive: 10.30am to 7.30pm
September 6th to September 19th inclusive: 10.30am to 6.30pm
September 20th to October 31st inclusive: 10.30am to 5.30pm
Tickets
Adults: 34 euros
Children (4-12) 28 euros
Seniors 60+: 28 euros
Group discounts available – contact Terra Natura directly for more information.
Aqua Natura is a wild water park for all the family with an emphasis on providing the environment for parents to relax whilst their kids have fun playing in the water. There are over 1000 metres of thrilling water slides, a dedicated children's pool, a Spa-Sun Deck, beach bars and changing rooms.
---
Distance: 50km (43mins)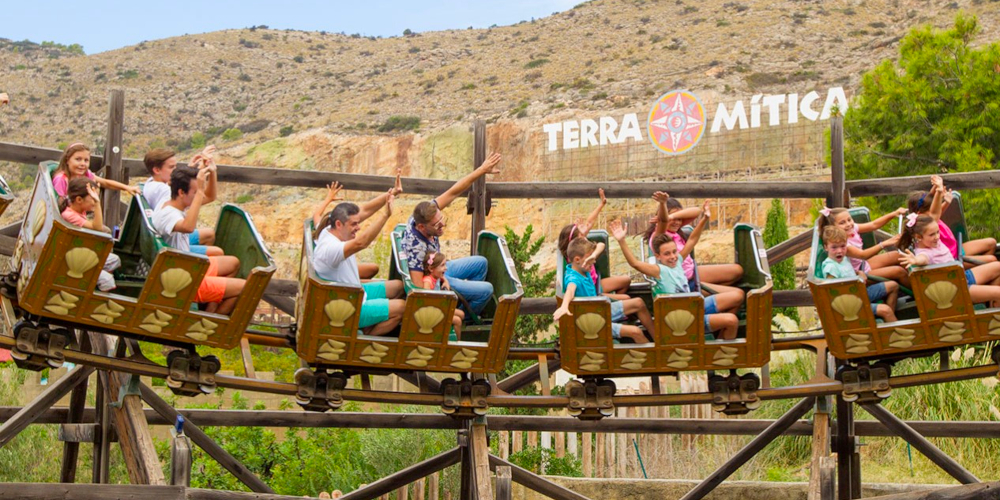 Opening Hours
August 1st-September 5th: 11:00-20:00
Closed September 3rdonwards (end of season)

Tickets
Adults: from 39 euros
Children (4-12) from 28 euros
Seniors 65+: from 28 euros
[reduced prices when pre-booked online]
Group discounts available – contact Terra Mitica directly for more information.

Terra Mítica is a theme park a few kilometres inland from Benidorm which is divided into five different zones: Egypt, Greece, Rome, Iberia and the Mediterranean Islands, all influenced by the ancient Mediterranean cultures. There are rides and attractions for all ages as well as a number of themed shows.
---
Distance: 51km (47mins)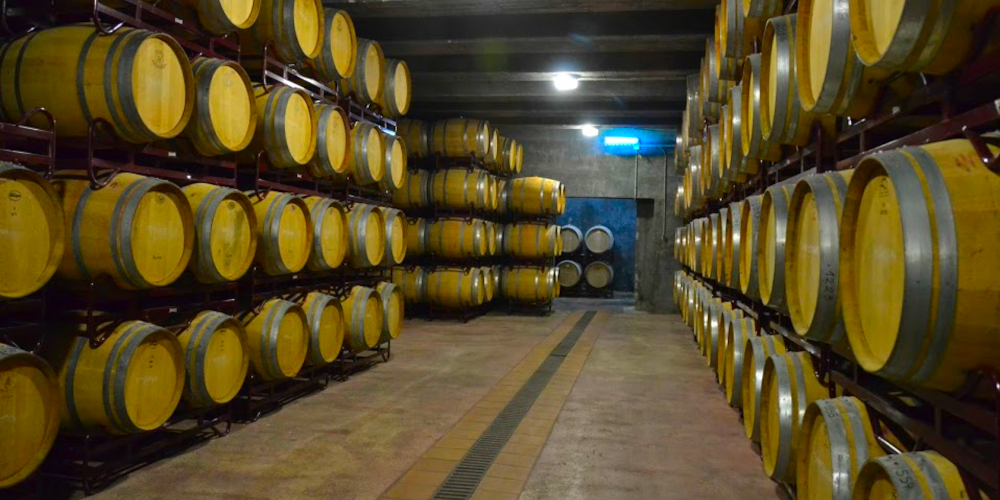 10.00am / 12.00pm / 4.00pm (not Saturday)
Price: 20 euros including wine tasting and snacks
Learn about the evolution of wine-making in a professional tour of the winery just outside L'Alfaz del Pi – available in English – which concludes with wine tasting of several bottles of Mendoza specialities and even a welcome from the man himself. Available Tuesday to Saturday with group visits available on Sundays and Bank Holidays.
---
Polop
Distance: 51km (48mins)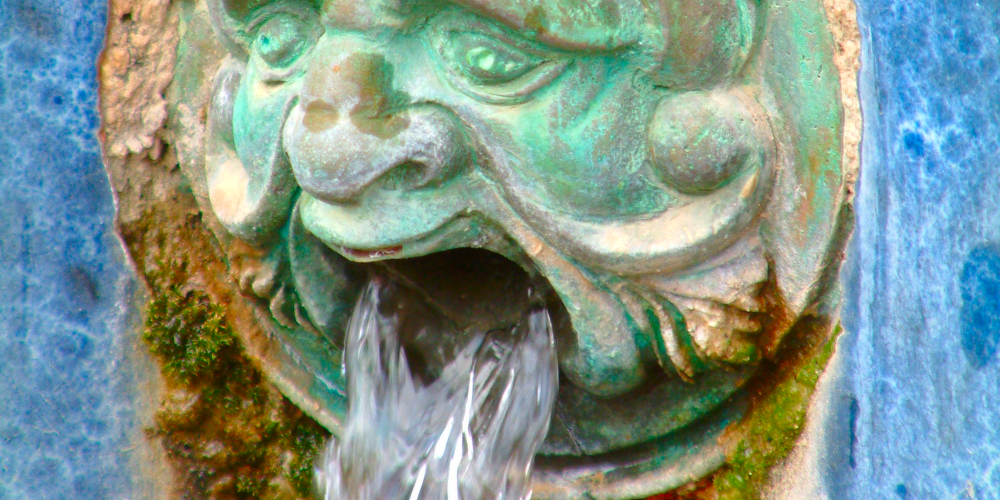 Polop is a municipality which lies a few miles inland from Altea and dominated by the Puig Campana, one of the highest mountains of the Costa Blanca. The village has a long history and worth a visit for its Moorish castle at the very top as well as the Fuentes de Polop in the heart of the village which has 221 water spouts.
---
Camino del Faro, Albir
Distance: 51km (49mins)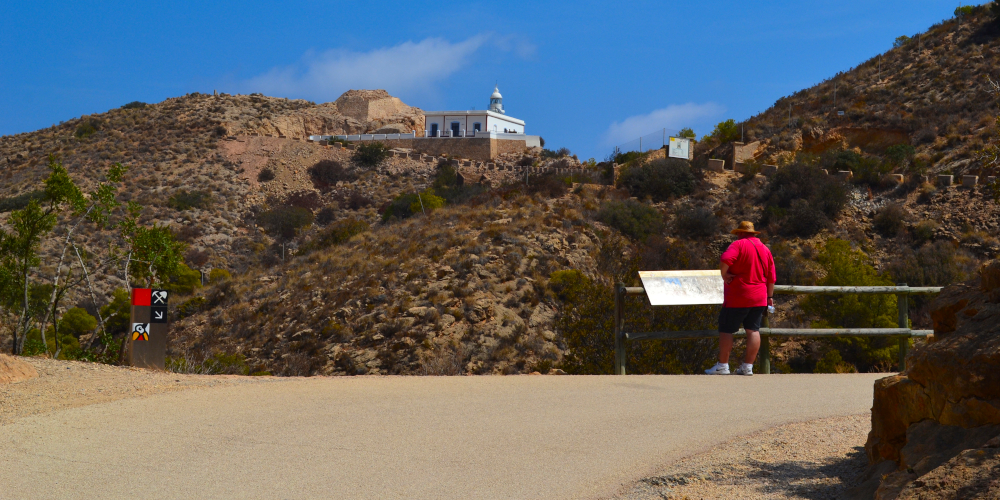 Information and Exhibition Centre: 9.00am to 2.00pm – Free
This is an extremely popular family walk, especially at the weekends, which offers spectacular views of Albir and across the wide bay. It's about 2½ kilometres long and you need to take plenty of water as there are no such facilities at the end. It's also great for cycling and a perfect place to try and spot dolphins in the waters below.
---
Valor Chocolate Factory, Villajoyosa
Distance: 56km (47mins)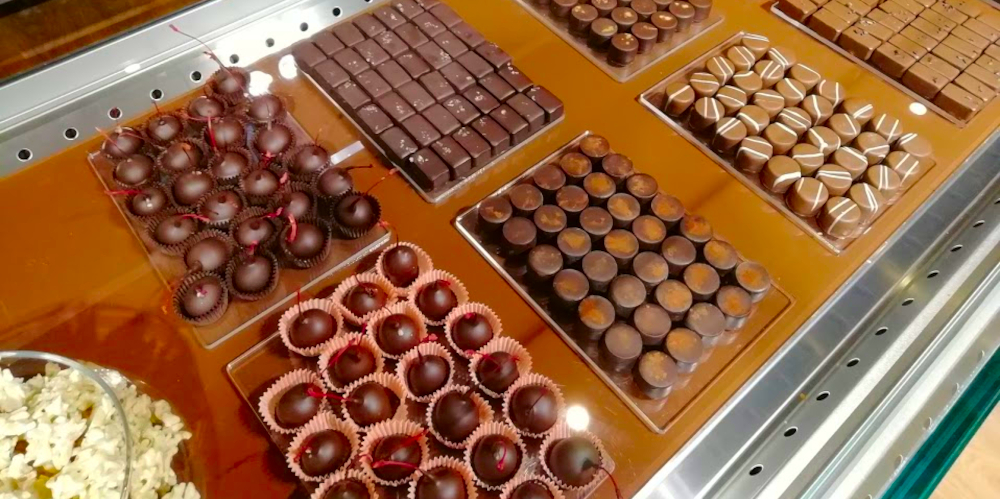 Shop
Monday to Friday: 10:00-14:00 / 17:00-21:00
Saturday: 10:00-14:00
Sunday: Closed.
Free Guided Tours
Monday to Friday: 10:00 and every 30 minutes until 13:00 then 17:00 and every 30 minutes until 20:00
Saturday: 10:00 and every 30 minutes until 13:00
Sunday: Closed.

Ideal for chocolate lovers! A visit to a chocolate museum which is part of the Valor Chocolates company which has been in business since 1881, dedicated to producing the best chocolate. Open Monday to Saturday with free admission, there is a tour in English twice a day during the week and once on Saturday.
---
El Castell de Guadalest
Distance: 63km (60mins)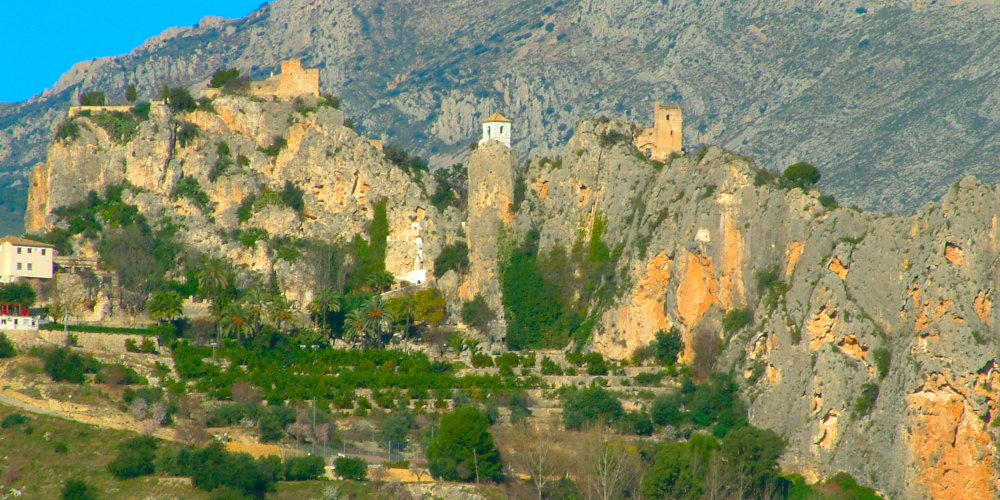 Open all year
Tickets: some charges to enter certain buildings.
Once a military stronghold, the village of Guadalest has been carved out of a mountain top amongst stunning scenery in all directions. Of Islamic origin, it held great strategic importance and from the famous white tower there is a stunning view over all the valley below and down towards the bay of Altea.
---
Distance: 80km (1hr 20mins)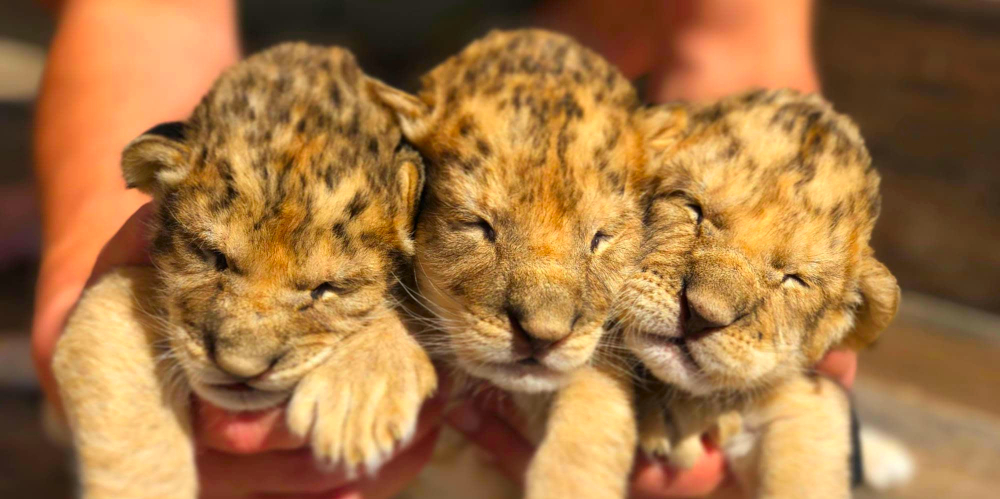 Opening Hours
May weekends (Fri-Sun): 11.00am to 7.00pm
June weekends 5th/6th and 12th/13th: 11.00am to 7.00pm
June 14th to August 31st inclusive: 11.00am to 7.00pm

Tickets
Adults: 22 euros
Children (4-10): 18 euros
Family discounts available – contact Safari Aitana for more information

Safari Aitana is a safari park located in the Sierra de Aitana some 1,000 metres above sea level. Opened in 1975, it has been a popular attraction for almost 40 years and visitors can see animals from six continents: Europe, Asia, Africa, Australia and the Americas. It also takes part in several conservation schemes.
---
Pou Clar, Ontinyent
Distance: 88km (1hr 11mins)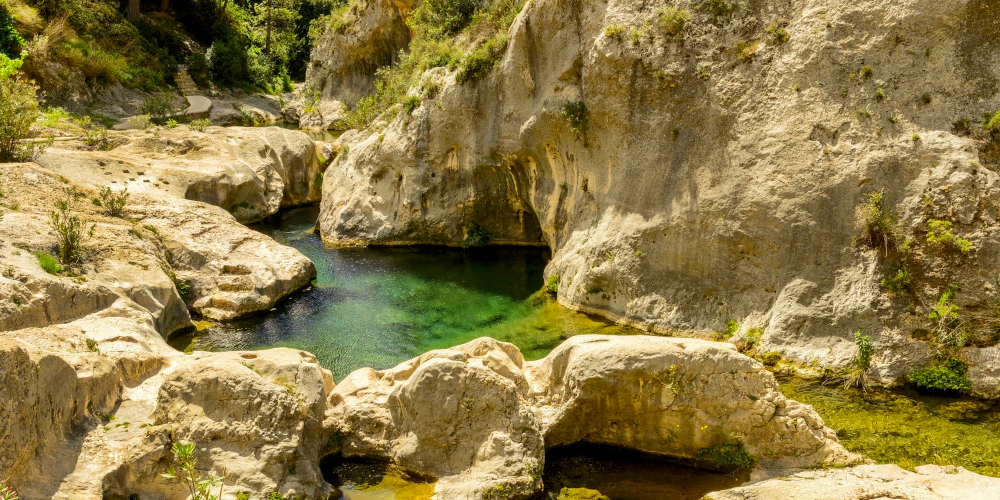 Open: 24 hours
Tickets: Free admission
The Pou Clar is a part of series of pools carved out of the rock by the river Clariano just outside the town of Ontinyent. Bathing is possible in its chilly calm waters and it can be very busy during the summer months, especially at the weekends. Be aware that pets are not allowed between June and September, whilst picnics are not permitted during the same period.
Distance: 88km (1hr 12mins)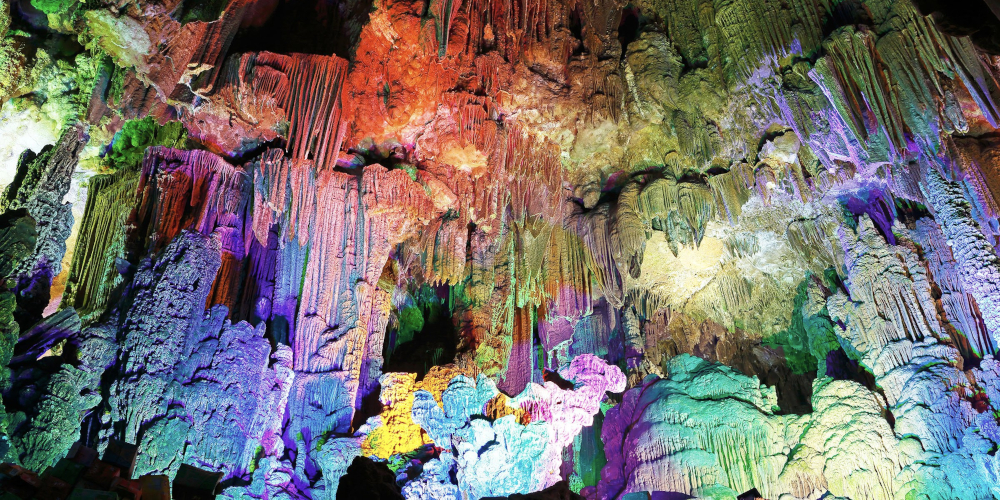 Opening Hours
September 1st to June 30th inclusive
Tuesday to Friday: 10.30am to 4.50pm
Weekends and Bank Holidays: 10.30am to 5.50pm
1st July to 31st August inclusive and Easter
Weekdays: 10.30am to 7.30pm
Weekends: 10.30am to 3.00pm
Semana Santa: 10.30pm to 6.30pm
Closed: feast of San Vicente. Christmas Day and New Year's Day

Tickets
Adults: 8 euros
Children (5-14): 4 euros
Seniors: 5 euros (with presentation of pension card)
Students: 5 euros (with presentation of student card)
Disabled Adult: 3 euros
Disabled Child: Free

Located close to the town of Busot, the entrance to the caves of Canelobre sits at an altitude of around 700m on the northern slopes of the Cabezón de Oro. They are most famous for a huge vault of 70m in height which is like a cathedral as well as the 100,000 year-old stalagmite known as the "Canelobre".
---
Xàtiva
Distance: 90km (1hr 14mins)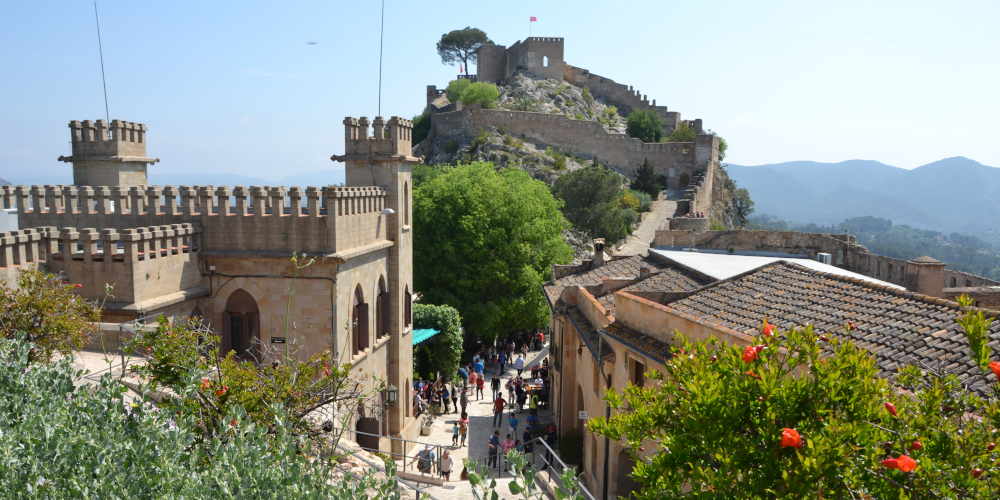 Xàtiva has a history stretching back to the Roman era and is dominated by a magnificent castle which was strategically placed to defend the ancient Via Augusta as it passed through towards the south of the Iberian peninsula. Down in the town, the ancient quarter has several renowned Renaissance churches to explore as well as some fine tapas restaurants to enjoy lunch.
---
Parc Natural de l'Albufera
Distance: 94km (1hr 15 mins)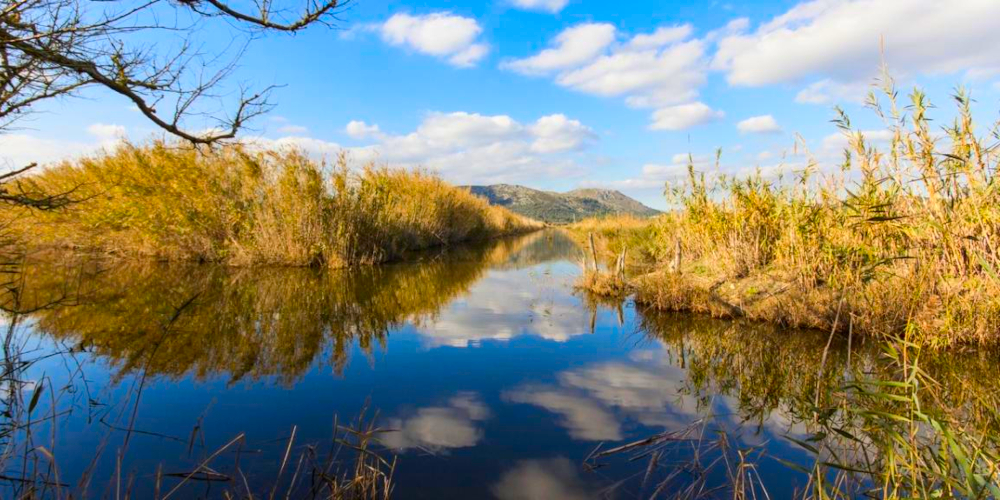 Much of this natural freshwater lagoon just south of the city of Valencia is a nature reserve and a Special Protection Area (ZEPA) for its natural biodiversity. It is a great place to go bird-watching, walking, exploring the village of El Palmer in the heart of rice fields, or take a short trip across the lagoon on a traditional boat called an 'albuferenc'.
---
Alicante
Distance: 96km (1hr 7mins) to Underground Parking Alfonso el Sabio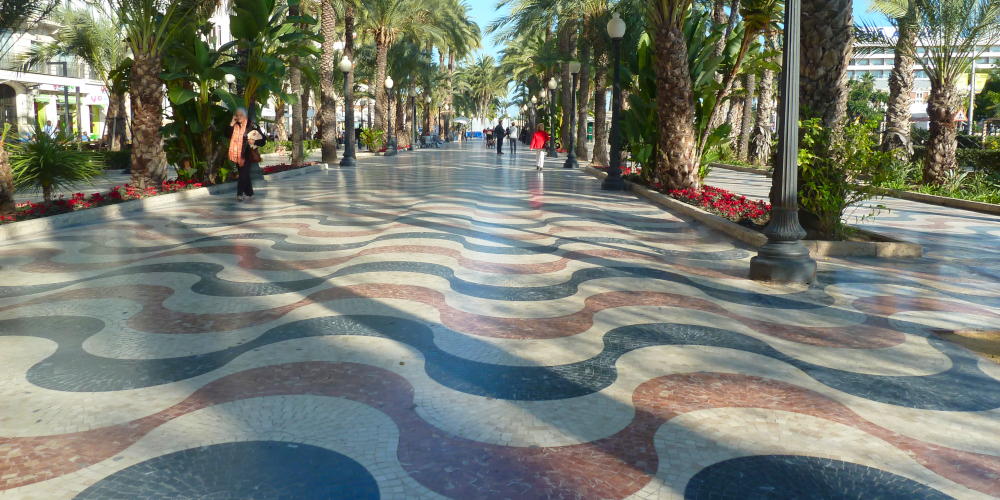 Alicante's history stretches back more than 7,000 years so there is plenty to explore. The castle of Santa Bárbara sits on a bluff high above the city and is open to the public; there are great views from the battlements at the top. The famous Explanada de España has over 6 million tiles forming colourful waves whilst the nearby Postiguet beach is a perfect place to relax for a while. The old quarter provides lots of opportunities to enjoy some tasty tapas as well as explore the history of the city whilst the modern part offers lots of shopping time.
---
Alcoi
Distance: 99km (1hr 15mins) to Parking La Rosaleda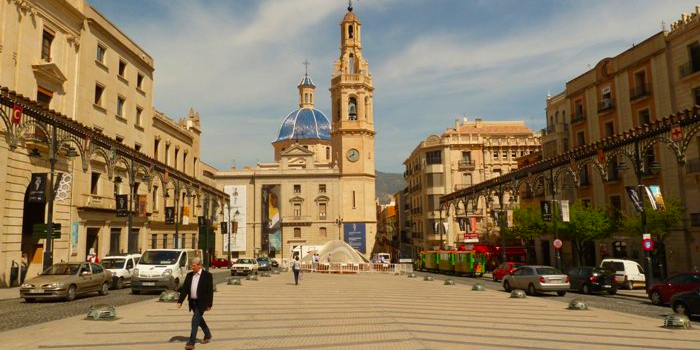 Alcoi is perhaps most famous for its Moros i Cristians festival held every April and there is a great museum telling its story. It also boasts the oldest Three Kings Cavalcade in the world. But the city is also renowned for its Art Nouveau architecture and a walk around the old quarter reveals dozens of remarkable buildings, some of which allow entry to take a peek inside. The bridge of San Jorge, built in the Art Deco style, is one of the classical images of the city.
---
Valencia
Distance: 112km (1hr 17mins) to Plaza La Reina parking
Distance: 50km (36mins) to Xeraco train station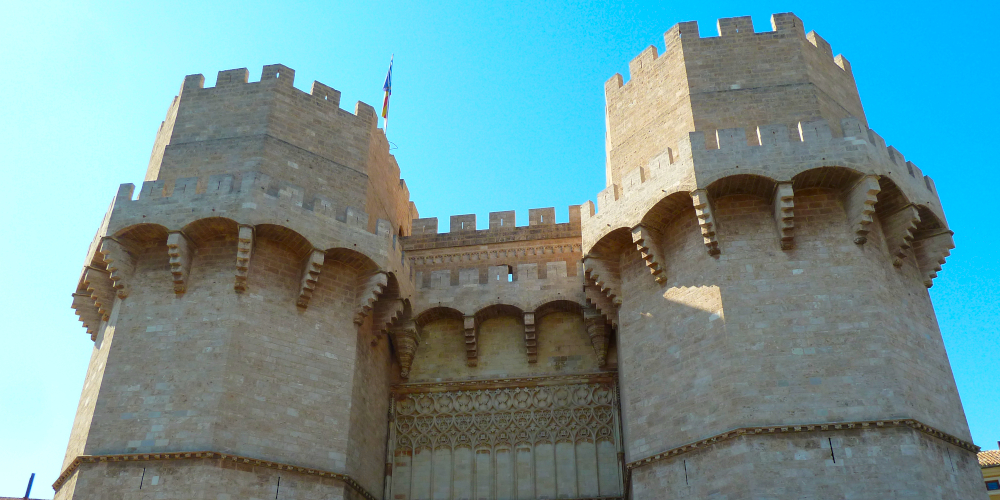 Parking in the city of Valencia is notoriously stressful, so we recommend driving to Xeraco and catching the C1 RENFE train to Valencia-Nord station, which is just a five-minute walk from the city centre. Valencia's long history means that it has plenty to offer for a day-trip, including museums, ancient towers, a cathedral which (supposedly) keeps the Holy Grail, the famous Silk Exchange, the wonderful food market, and the amazing City of Arts and Sciences as well as numerous restaurants for tasty tapas.
---
Tabarca Island
Distance: 113km (1hr 26mins)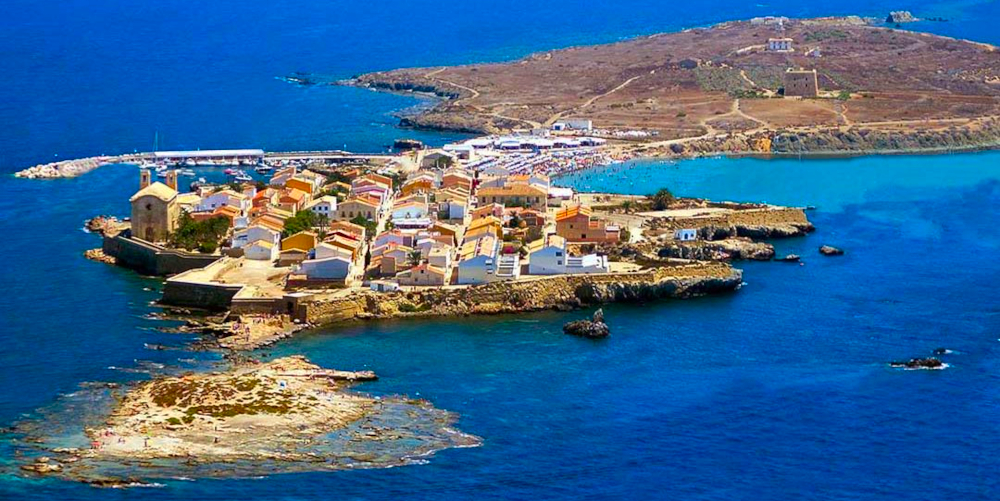 Several companies offer ferry services to the island from Santa Pola.
Return Tickets: from 15 euros, depending on the company.
Also known as Isla Plana or "Flat Island", it is the smallest permanently inhabitated island in Spain which is renowned for its marine reserve and it can be reached by boat from Alicante. It's a great day trip destination with its quiet fishing village and fresh seafood restaurants as well as several coves and tidal pools for bathing
---
NOTE: The times and distances given are determined from the Ferrobox-Bricolaje / El Paso roundabout in Xàbia.
---