Council pedestrianizes around church to protect its walls
Vehicles were parking very close to the church, brushing against it and the smoke from the exhaust pipes was damaging the renovation work that has just been completed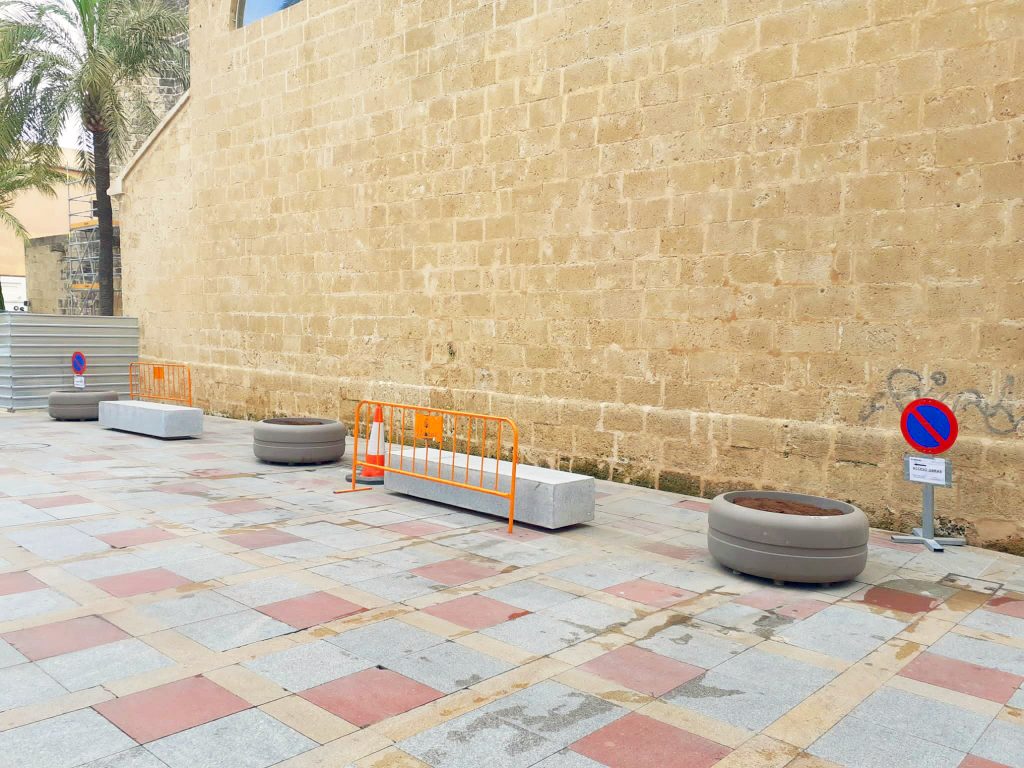 Wednesday 21st April 2021 – ALVARO MONFORT with Mike Smith
The pedestrianization of Plaça Celestino Pons begins to pick up steam. A request from the traders that had been delayed due to the logistics involved in the renovation work on the church-fortress of San Bartolomé. In May of last year, the council announced that both this square and Calle Sor Maria Gallard would be temporarily closed to the traffic. However, the work being carried out on the church, has forced it to maintain vehicular access.
Although the final action to pedestrianize this enclave of the historic centre has not yet been defined, for the moment, the parking spaces in the southwest area of ​​the square, parallel to the Communion Chapel and the entrance to the Plaça de l'Esglèsia have been removed. In their place, benches have been installed like the ones that already existed around the playground and the bank as well as large flower pots. Along the rest of the northern facade of the church is the security fence for the renovation work that already occupies several common parking areas and these, in all probability, will be removed once the actions on this part of the church are finished.
The Council's motivation for removing this parking zone is to protect the church's recently restored and cleaned façade. After the removal of the fence, the vehicles were parking very close to it, brushing against it and the smoke from the exhaust pipes was damaging the renovation work that has just been completed in this part of what is a monument of great national significance.
The council is considering different options and is studying the placement of a barrier at the entrance to the square from Carrer Roques that only allows access to residents of the area to carry out time limited tasks similar to that which already happens in other parts of the old town such as the Placeta del Convent.
Since they were repaired in May of last year when it was announced that they would be used to maintain the pedestrianization of the area, the hydraulic pylons of the square have been damaged several times due to the passage of vehicles and trucks from the renovation work and the loading and unloading tasks.
---

---